***Updated on 18 June with Response to your replies at the bottom of this article.
***Updated on 14 July with More posts at the bottom of this article.
***Updated on 17 July with a new section called "Finding Help"
Please excuse this self-serving off topic post. I'm not sure why but I felt the need to share this today…
Today is Father's Day. I wish my Dad (Aaron) could appreciate it. He has been diagnosed with "mixed Alzheimer's and vascular dementia."
The problems seemed to start several years ago. At first I thought he was just getting old. A little over 2 years ago it became apparent it was more than that.
2 years ago I took him to his first Neurologist. While the young doctor seemed competent he lacked anything resembling compassion or "bedside manor". He scared the hell out of my Dad. We left that appointment with some pills and half-assed advice.
A year later instead of keeping the follow-up appointment, I took him to another doctor. This one was had a much better bedside manor. We left there with 2 prescriptions.
Last month we had our follow up. This time I was armed with a wealth of info. Given the fact it was a constant battle to get him to take the pills, I questioned the need for the pills at all. After a short discussion with the doctor he is no longer taking them. According to the Alzheimer's Association, "Although current Alzheimer's treatments cannot stop Alzheimer's from progressing, they can temporarily slow the worsening of dementia symptoms and improve quality of life for those with Alzheimer's and their caregivers." That may be true but the pills didn't help my dad one bit.
My Dad lives with us. He has an "in-law suite" in the basement with a large bedroom, bathroom, and TV room. The situation has become progressively… difficult. Although he is still able to dress himself and shower, my wife and I have to tend to most of his other needs. He is often paranoid and prone to lies and delusions. Usually I am the bad guy and that has been the case for some time.
My wife and I sometimes dread coming home. Often we can't even get from the car to the door without him charging out of the house with some sort of imagined emergency. While we are home there is no respite from having to deal with him. And, it is only getting worse.
I keep a running journal of sorts via Google calendar. I'll share some entries with you (warning, it's kinda long):

Feb. 18: TV and set top box unplugged. Remote control in truck again…
Almost every day, sometimes twice a day I hear, "Eric come here" . When I get downstairs the TV and the set top box are unplugged. For months I've told him not to unplug anything and yet, nearly every day, sometimes twice a day he unplugs it. Last week I put up a sign right over the plug yet he still unplugs it…
Mar. 5: Constant "issues" with TV. Keeps unplugging TV and says it doesn't work. A lot of "can't hear" type stuff. Doesn't understand volume up/down button.
Checks to see if door locked at least 3 times a night, often 4 or more times.
Doesn't remember going to basketball game a few weeks ago, often cannot state where he ate his last meal.
Was using paper towels instead of toilet paper.
Still hiding keys, phone, and wallet.
Mar 9: It isn't lost, it is hidden. Places to check.
Drawers: under stuff, inside socks, inside pockets…
Clothes in closet: pockets, etc.
Under furniture: bed, mattress, night stand, couch
Other: truck, fridge
example: "I can't find my money". Apparently last night he took of his pants, rolled them up, and stuck them in a drawer under other clothes. His phone, wallet, and truck keys were in them.
Mar. 17: Dad hidden / lost wallet. This is day 2 of searching for his wallet. He has most likely hidden it again for the umpteenth time although he could have lost it. My wife and I have spent at least 4 hours the last 2 days looking through everything in the basement. She called everywhere he eats and no wallet has been turned in. Credit card has been cancelled as a precaution although no charges recorded. Now I have to get his insurance cards, social security card, and license. I believe the wallet went missing the evening of the 15th.
Mar. 19: Dad's missing wallet appeared yesterday. He can't or won't tell me where he found it. He has always been, well he often does not tell the truth. With his dementia this makes figuring out what's what even harder.
Scammers constantly calling.
Hopefully I've found a way to block all callers except "trusted contacts". I made his trusted contacts:
Me, my wife, his daughter, his grandson.
Mar. 22: I've purchased and set up a device finding thing called Tiles. I've put one on each of his key rings (2), superglued one to his phone, and put a slim version in his wallet with "leave in wallet" written on it. Already had to use it twice…
His replacement credit card came today and I've changed the appropriate autopay accounts.
If I do not tell him where we go when we leave the house he worries. If I do tell him he sometimes forgets. If only one of us is here he wants to know where the other one is.
Lately he feels the need to announce to us when he goes to bed.
Will not stop fiddling with the thermostat and often screws it up. Locks coming…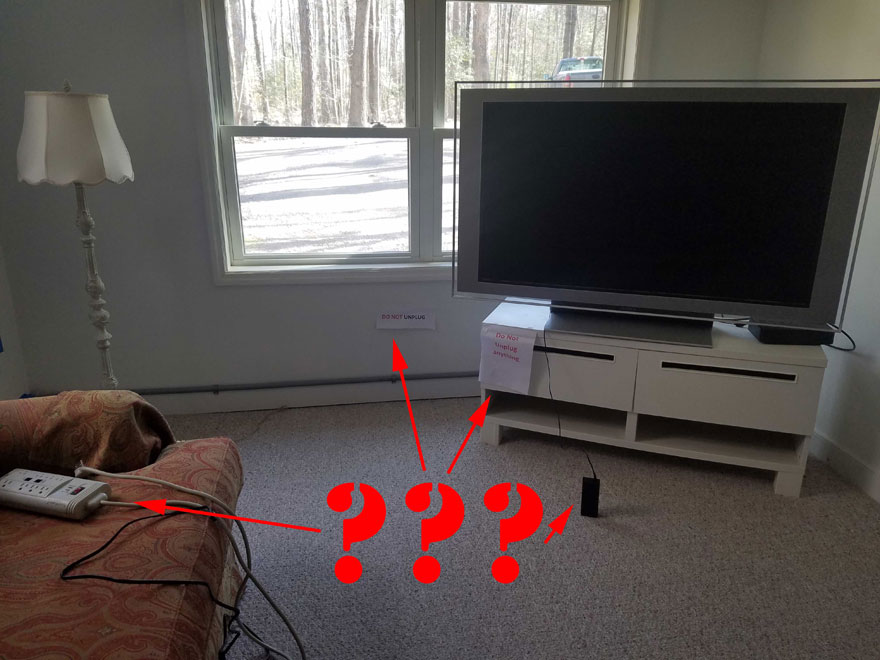 Mar. 27: Still unplugging the TV and cable box. Installed locking outlet and put cable box and surge strip in drawer. Drawer screw shut with 5, 2-inch screws.
Mar. 28: That didn't last long…
He moved the 55′ TV and unplugged it from the back. I ask why. His answer, "I didn't do it."
Next, heat… He said "I've finally got it working."
It is set to emergency heat, fan always on. I ask why he won't leave it alone, his answer, "I didn't do it." Lock coming for that. I don't know how to stop him from moving TV. It's 0658hrs and I've already had it.
1900hrs: Put lock on thermostat. Added Aunt **** to trusted contacts.
Wednesday, April 17: A few days ago he was depressed and asked "Do you hate me?". I asked why he would ask such a thing. Basically he gets upset because we don't hang out every day. I explained I have a job and do other stuff and I love him (I check on him several times a day). He said I hope so because you're my son and you and her (my wife) are all I've got. Thinking back I wonder if he can recall her name.
Today he just seemed a little off. I asked, "Dad, do you know who I am?" He said "It's right here… I just can't…" I said, "I'm your son." He just stared at me. I asked, "What's my name?" He fumbled around a bit, but could not come up with my name.
Yesterday I went to the Alzheimer's Association and talked to them, they are sending me more info. I can see it quickly getting to the point where we are going to need help.
Tuesday, April 23: Now he remember stuff that didn't happen. This is coupled with the fact that he can't explain things anymore. He communication skills have severely deteriorated.
Often it is "Well you said or did" or "So-and-so said or did" or "I talked to" or…
For instance yesterday:
My wife went downstairs to fix his TV (again with the volume). This turned in to, "She asked about my money" (his box of change). She didn't see it and didn't ask about it.
I have asked him twice if he wanted to hang out with people his age (adult day care). Not interested in the slightest.
Thursday, April 25: First thing in the morning, he is upset. He can't find his money. He took the cash out of his wallet and hid it. 20 minute search, screw it, write him a check. I watch him via Onstar, he cashed it.
Later he has his change out again. "What ya doing Dad?" "Counting my money, I'm broke." he says.
"Dad, you just went to the bank. Look in your wallet." $300+ in there.
I ask if he wants to cash his change, a few days ago the answer was no. Today it is yes. On the way to work we cash his change via Coinstar. The total is $310. He is a little disappointed because he always looked at it like it was a small fortune. Coinstar takes 11.5% . I usually write him a check for the total and get the Amazon gift card to save him the fee. I'm just not in the mood to repeatedly explain what he isn't going to understand.
I'm headed for work. I have told him twice where and when, I've put it on his whiteboard too. 30 minutes after I get to work he calls, doesn't know why.
Later I see he is at GC eating.
My wife got home, she is barely out of her car when he goes outside and says, "I think Eric is hurt." She reassures him everything is fine.
He comes upstairs not an hour later and asks, "Where's Eric?" She explains again and asks he if has eaten, he says no although he has. She makes him a sandwich. 1/2 an hour later he comes upstairs and asks, "Where's Eric?"
Not too long after that he states he is going to bed.
There is no respite…
Thursday, April 25 Saved video:
Last night I watched him go in to utility room checking doors and hiding stuff. There are 60+ videos of 40+ times he went in / through there between 4 and 9. One of the times he turned off the lights before hiding his wallet under the dresser. Bizarre, heartbreaking behavior.
Videos saved to zip file.
This morning:Keys hidden on top of dresser in utility room, wallet hidden under it.
Me:"Dad, I keep asking you to stop hiding stuff."
Dad: "I don't do it."
Me: "Who do you think does it?"
Dad: "I didn't do it."
Saturday, April 27: Haven't even finished my coffee. He whistles to me, which is super pleasant when you just wake up. He has phone and TV remote in hand. I can't get these to work. The phone is off so I turn it on. He pulled one of the 2 batteries out of the remote which I had to find.
20 minutes later he bangs on the wall. I jump up spilling coffee on the carpet…great…
Can't find phone and wallet. He hid them under the steps. He says something like, "It's like someone is coming in here and taking my things."
I explain, for the zillionth time, that he is hiding his stuff and yesterday I showed him a video of him doing it. Doesn't remember.
The statement above about someone taking his things is interesting. It seems to indicate he knows his stuff goes missing frequently yet when confronted about it he denies this happens often and denies any involvement.
Tuesday, April 30: I've been up at 5 am and gone until after 5 pm the last 2 days (up in NOVA). I get home tonight exhausted, My wife has pizza ready.
I go to check on Dad, Remote is gone. Video shows he walked out with it when he got dinner. No evidence he brought it back but it could be in his pocket. I look 1/2 an hour with him. During our search I find the hammer I took outside and put in the shed 2 days ago. He has hidden in his TV room under some rocks from outside. I'm at a frigging loss on that one. I get an old remote and give it to him. I tell him I'm tired and to leave me alone for the rest of the night.
10 minutes later, TEN, he bangs on the door, he is holding a mini mag light, "I need a better flashlight." I go down to see where his 2 large flashlights are. The mag lite is missing. The other has dead batteries. There are no more D cell batteries because I recently put them in his flashlights. I ask where the other flashlight is, he fumbles around and finally says, "Two guys from upstairs said they needed a flashlight." No such thing has happened, 2 guys haven't been in here.
I put 2 new batteries in the mini mag and begged him to let me be the rest of the night.
edit, next morning:
2104hrs, we have gone to bed. He is banging, BANGING on the wall. He has broken the HMDI cable because he yanked it out of the cable of the TV (see previous entries on this issue). I tell him I will fix it in the morning. Again I beg him to leave me be. I hear him opening/closing stuff for some time.
I check the video, 2120 through 2220 hrs, he comes out int to the utility room with flashlight at least 9 times. Don't know what he is looking for.
Thursday, May 2: My AC isn't working. It got very hot in here last night. He turned of part of the system in the utility room and it shut down. Once again, "I didn't do it"
He is running on backup TV remote (see previous post).Yesterday he came upstairs and took my TV remote and DVD player remote, again, "I didn't do it. I bought a new TV remote, this morning I customized it and fixed the HMDI cable. I tell him for the thousandth time to not unplug stuff, "I don't unplug anything".
He is convinced someone is doing all this stuff, insists he doesn't lose anything, usually blames me when confronted. I don't know how much longer I can do this. There isn't a moment of relaxation when at home. When away I'm always trying to check up on him.
– – – – – – – – – –
Well it has been an up and down couple of days
Thursday, May 9: Yesterday seemed to be good. I had to "find his Money" which was in the pants he wore the day before.
Last night I had to locate his flashlights. 2 were under is mattress, one in a sock drawer, the other I don't know.
Today…
Had to locate keys wallet again this a.m. Was under foot all day. Worried about nonsense all day.
This evening we get home and he is by his truck:
"What's wrong Dad"
"I left my keys…" *stutter…mumble*
"Dad, your keys are in your hand" Looks down puts keys in pocket, continues to look for keys.
"Dad, you have your keys, they are in your pocket." Pulls keys out of pocket, puts them back in pocket. We go through this a few more times. I finally walk away.
15 minutes later he yells upstairs, "I can't find my…" *stutter…mumble*
(Hang on, you ain't gonna believe this shit)
I go downstairs to find what is missing. It is his phone. I fire up the Tiles finder app. It hasn't seen the phone since yesterday… The phone isn't in house or truck. My wife says, "I watched him yesterday. He had his phone and went in to the shed. He was in there for a while and then went behind the shed."
I go to the shed, the Tile finder app tells me the phone is close by. I can't hear the Tile beeping. I get my Dad and make him help me look for the phone. We are actually pulling stuff out of the shed. No dice.
My wife said he went around behind the shed so I go back there. I finally hear the Tile beeping. He put the phone under a board behind the shed (on the actual ground).
Let me repeat, he put his phone out back, behind a shed, under a board, in the dirt…
What the actual F***?
I ask why and it is followed by the usual, "I didn't do it."
He asks, "What was back there?"
I reply, "Your phone."
"Was there a dead body back there?"
… … … (I'm just staring at him)…
… Baffled I ask, "Why would you ask that?"
His reply is *stutter…mumble*.
So I'm sitting there trying to figure why he hid his phone, not that there is a rational reason.
"Dad is there someone you don't want to talk to?"
"That girl", he replies.
"What girl?", I ask.
Him: *stutter…mumble*
I check the phone logs. The only person to call him aside from me is *******.
"Dad, do you not want to talk to ***?""
*stutter…mumble*
I ask again.
Him: *stutter…mumble* "I don't want to talk to her."
So, I pull her from his trusted contacts.
At this point it is almost 8 p.m. I tell him I'm tired and to leave me alone for the rest of the night.
Oh, we aren't done for the evening…
About 8:30 p.m.
He whistles up, I drag myself to the door, "What do you need Dad?"
"I lost my money" , he says. I go get my phone, fire up the Tile app, wallet is hidden in drawer.
Again, I tell him I'm tired and to leave me alone for the rest of the night.
10 minutes later… He is knocking on the wall, this time he can't figure out how to tun the TV off. I turn it off.
For the third time, I tell him I'm tired and to leave me alone for the rest of the night.
8:55 p.m. He is knocking on the wall. I'm now furious. I swallow it and go downstairs. His shirt is off and clearly he was getting ready for bed. He wants to know what we are doing and then wants to come upstairs. "Do you see what time it is?" I ask. "9 o'clock", he replies looking at the clock.
I just stare at him trying not to completely lose it.
I tell him, "Go to bed. Do not bother me again tonight."
Thankfully it is over for the evening.
– – – – – – – – – –
Dad. What a Charlie Foxtrot.
Sunday, May 19: Spent all day Thursday with him. First his truck "Change oil" light came on. Even after explaining it didn't need changing he was still in a tizzy. So we took the truck in and got a tune-up and oil change. While it was there they said in had an "error code" that said it needed a new transmission. $3000 plus labor. Not gonna happen.
I took him to breakfast and then we came home. I'm getting ready to head out because I've a ton of stuff to do. We whistles… The toilet pump-up system is broken and there is now shit and water all over the floor. It's broken because he was flushing paper towels down the toilet for a while and it isn't designed for that. Calling plumbers I got the same answer of 'it's gonna be days'… I explain to no avail that isn't an option, my dad will lose it. So, I call around and find the pump-up unit (Saniflo SaniBest Pro). I replace it myself and clean everything up It was as nasty a job as it sounds. Plumbers earn their $.
Friday we had a 2 day getaway planned to VA Beach / Bob Seger concert. I've stocked him with ready-to-eat food, just in case. I've talked to him several times about whats up. I've posted notes everywhere.
Friday night I check Onstar and he is at Golden Corral. Good. Later I check the security cameras and all is well. Saturday I cannot access the cameras…
We get home Sunday and he isn't here. I check Onstar and he is at GC again. His phone is here of course.
It is hot in the house, the AC is on but not working. I go downstairs and 1/2 the basement power isn't working. He couldn't figure out how to turn off the TV so he started shutting off breakers. Yes, the breakers in the panel box. Guess I'm gonna have to lock that too. Power for 1/2 the house was off. This includes his pump-up toilet that he unsuccessfully tried to bail out after shitting in it. So there is that mess for me to deal with too.
He claims he did none of that, I'm in no mood and we start to argue, he says, and I quote, "I'm gonna kill you". I clean his mess and leave him be. I'm over it right now.
Wednesday, May 22: Yesterday he asked if his wife was still alive. She died in 2010.
This morning he asked if we were working today. "We" haven't worked in like 9 months.
I ask why he is moping around. He says "I don't have no money". He has $131 in his wallet and I explain again he has a bank account and I'll give him a check whenever he needs it. The "I don't have no money" thing happens a lot and it really pisses me off for some reason.
His has been depressed the last few days. Again seems to think I'm supposed to hang out with him all day. I've stopped explaining I have a life and other things to attend to. Again I offer up hanging out with people his own age (adult day care), again he isn't interested. Doesn't want to hang out with "old people".
Friday, June 7: Day 2 of the search for his TV remote (no this isn't a repeat entry). My wife and I spent 1/2 an hour last night and again this morning looking for it. He denies knowing what it is. Denies hiding it. Says he doesn't hide anything.
Blames me as usual. I'm crazy. I'm hiding it. I'm taking it…
Right now he is searching for it. Brought me the picture of it with instructions on it I made for him a while back. I say we need the actual remote. He says, "I don't even know what that is." I say the thing you change the TV channels with. He says, "I've never seen it." I've had enough and say, "Let me know when you figure out how to change the channel" and I leave.
He is getting worse and making our lives worse in the process. Often we come home and we can't even get from our car to the door before he darts outside with some kind of issue. Can't relax in our own home.
"I don't have any money" He is constantly saying it. Often this is while his wallet full of money is in his pocket.This happened 3 times yesterday. Once when my wife left for work. Once when I got home from work. Once when I got home from dinner. Each time his wallet is in his pocket. The last time it had $133 in it.
2 nights days ago he had eaten dinner about 3 o'clock. At 7 he tried to leave the house and my wife had to stop him, told him it was too late to leave. He said "I haven't eaten, what am I gonna do?" So she made him a sandwich and cookies.
Saturday, June 8: He keeps coming having these weird dreams and often thinks they are real. This of course must have an effect on how he perceives things, and us. I fear the world he exists in is becoming further separated from reality.
Friday, June 14: His communications skills continue to deteriorate. Often you have to decipher what he is trying to say.
This morning he wanted to know what Mom died of and how long she had been gone. Beyond weird since today has been 9 years since she died. He has no clue of this, doesn't know the day or date of what today is let alone when she passed.
Said he needed money and although he had $85 in his wallet I wrote him a check. I had been getting money out of his account myself and giving it to him as he often seems confuse at the process.He said he was fine to cash it but then wanted to know where the bank was. I said by Golden Corral and he claimed not to know where that is. I said you eat there almost every day. He seems to have no clue. I said just go eat hoping that will lead him there. Update: He found GC but not the bank. I had to give him cash.
Saturday, June 15: Last night – I know me not being here sends him into a tizzy. In the past I have multiple videos of him checking the basement exit door over and over, checking the truck over and over. Walking around inside and outside with a flashlight… Last night was the worst. We were gone approximately 2.5 hours. He spent the ENTIRE time doing the above (87 video alarms saved in dad_whenwearegone_2 folder) . When we came home he immediately came out of the house. He had a tape measure in hand and said he wanted to keep us from a "boom". I've no idea what that means.
This morning – It has become routine that EVERY morning he "has no money". EVERY morning I ask where his wallet is. EVERY morning the answer is "I don't know". I have to fire up Tiles app and find his wallet, phone, and keys.
– – – – – – – – – – – – – – – – – – – – – –
Edit, updated 18 June –
I am very touched by the responses I have received both through comments and email. I am honored and humbled by your support and advice. Truly, it is/was emotional for me. Just as this post was open I wanted my responses to be as well. I do recognize we are very, very near the point of bringing in outside help and not to far away from more than that.
Respite care (day time) – I plan on taking advantage of this soon. I actually just applied for and received a positive response for the Virginia Lifespan Respite Voucher Program which gives up to $400 for respite care. A small thing but it is a start.
Nursing home – He isn't quite at that stage yet. I understand this will be necessary in the near future.
Driving – He actually drives quite well. Seems aware of his limitations (though we wont admit it). Only goes to 3 places, all just of the main drag. How long this is to be the case is anyone's guess. The moment I take his license will be beyond devastating for him and akin to pushing him towards the grave. Again, I understand this will come soon and I monitor him closely.
Veteran – I've researched his situation and he falls under the following category which makes him eligible for the VA Aid & Attendance Program:
Vietnam era (February 28, 1961 – May 7, 1975 for Veterans who served in the Republic of Vietnam during that period; otherwise August 5, 1964 – May 7, 1975)
I will be applying for this the minute he hits that stage.
Counseling – I never have been able to do that. Not that I couldn't have used it on occasion but it isn't in me and never will be. You guys have already helped me more than you know. Working on this site and hearing from you all is very much therapy for me.
Thursday, June 20 Eric working
He was roaming around outside for over an hour. My wife made several attempts to get him inside
Edit by Eric next morning.
9:15 he tries to force his way upstairs. I won't let him. He says, "This world *mumble*". He is HIGHLY agitated. I said go to bed, he whispers "she's crazy". My wife came into the situation, he said, "where's the other one?". "The other one who?, I asked. The gist is he thinks some other crazy woman was here, when pressed he said a friend called him and warned him. He has no living friends. I checked the phone logs just to see…hasn't had a phone call for 9 days, it was me. We argued. He denied roaming around the outside with a flashlight. I showed him some of the videos of him roaming around the outside of the house with the flashlight. He seemed to realize that at least part of what he said never happened and apologized.
Friday, June 21 Dad got a ticket
I had been watching him via his Onstar. I thought he was at McDonald's but after an hour I grew concerned and zoomed in on the map. He was actually next door at the Exxon service station. I hopped in my truck and headed there. He is just walking out. I ask what's up and he can't tell me, says he needs more money to pay (he has a credit card is his wallet). I go inside to see what is wrong. They are familiar with him, apparently he has gone in there every so often, sometimes with completely non-existent issues. They are good people there and they watch out for him.
The story is:
– He got pulled over and issued a ticket for an expired inspection sticker (expired end of March).
– Apparently a month or so ago he had been pulled over and issued a warning. He went to the Exxon and was told it would be an hour or so wait so he just left (didn't tell me and denies this happened).
– They inspected truck and rejected it for several legitimate and serious issues. Total was about $450 I think. He doesn't have that much cash, doesn't remember how to use a credit card. He tells them he need take out a loan to pay for it and proceeds to leave.
– I get there and find all this out. I go inside and make arrangements to drop the truck of Monday. I have given them my contact info in case he shows up there again.
Tuesday, June 25
Constantly forgets we aren't working. Thought we were this morning. Have not in many, many months.
Keeps forgetting truck is in shop. Was panicked lat night about it.
Doesn't feel well (I don't think it is serious but will monitor). Doesn't want to see doctor.
Today is our 25th wedding anniversary. Had hoped to get away for just a night. Ain't gonna happen. Makes me sad. I'm sorry angel.
Saturday, July 6
Eric at work
I return from shopping at 5:30. Dad is in the driveway.
*Video – wants to know when his grandson is coming. He is agitated and says it is important.
(note – He hasn't seen his Grandson in approx 2 years).
5:45-6:30 TV remote in his hand
Walked to end of driveway with it twice
I saw him put it to his ear like using a phone. *Should be on outside camera
I asked him to stay in the house.
6:45 outside to shed-told him to come inside *Video
7:20-asked me if I had anything he could drink- He did not know where or what his refrigerator was.
*Video
7:45 outside to truck with flashlight
* video – begging him to stay inside
7:55 *videos- He said "If someone comes in here you just scream."
"Have you seen my gun? "
I was very stern and told him " I am not answering the door anymore. Please leave me alone."
Sunday, July 7 Dad hygiene
He is able to still shower and shave although he frequently needs to be reminded.
Yesterday I cut his hair and trimmed some back and arm hair. Last week I saw his bare feet. His toenails were nasty. I asked when the last time he cut his toenails were, all I got was a blank stare. I asked about his finger nails. He showed me he was biting them…
I trimmed his finger nails. I cut his toenails which took some work. He has what I believe was fungus on a few. I have had him soak his feet in apple cider vinegar for 1/2 hour on 3 straight days so hopefully that works.
We have to make him change clothes as he will put dirty clothes back on after a shower.
Always chewing gum instead of brushing teeth. We have to remind him to brush his teeth.
Sunday, July 7
He is getting worse. Bad few days. Yesterday I was at work and he was extremely unsettled. 162 videos on 3 cameras in less than 4 hours. Convinced someone is gonna break in, convinced he needs to watch. I had a talk with him about it yesterday. It does no good.
Walks around with the TV remote in his hand all day (when he can find it after he has hidden it). Sometimes he thinks it is the phone, sometimes he doesn't know what it is.
Tuesday, July 9 Dad Very Weird
Swapped out Dad's cable for amplified antenna so I could switch him to the Flipper TV remote (a simple 5 button remote). He can't even operate that. He unplugged the TV to turn it off.
Came home from dinner at at 1925 hrs. He was in the driveway with the shovel moving gravel because he spun the tires. The truck is half way up the driveway. I ask what he was doing and he can't answer. I make him park truck and go inside. I go inside to start checking camera footage to see what he was up to.
All of a sudden he is back in his truck. I run out to stop him. I ask where he was going and after stammering and mumbling he claims he was gonna park it. It was already parked. I took his keys.
I start checking footage. I don't know why put at some point the decided to park the truck out on the street. He couldn't explain.
I try and talk to him about what is going on. All I get is " I didn't" or "I don't know" or a complete lie. I get him down for the night…
5 minutes later, he yells "hey, Eric". I go down and the pants he just took off are inside out and he says he can't fix them… Is he deliberately trying to piss me off? I tell him I don't want to hear from him any more tonight. It's about 2020 hrs, 20 minutes past the 2000 hrs quite time I've established.
5 minutes later… He is banging on the wall… He can't find his wallet. It was in the pants he JUST took off which means he JUST hid it and forgot. It is at the bottom of his sock drawer.
Again I tell him I don't want to hear from him any more tonight. Thankfully that was the last of it.
This morning…
As has been the case the last few mornings I can't even get my first cup of coffee before he starts banging on the wall. I think he sits down there listening for me.
Thursday, July 11 Dad Doesn't Know Who I Am
He is knocking on the wall before we wake up. I ignore it. After I get up he shouts up, "Hey Larry". That is his brothers name. I open the door and ask, "What is my name?" He answers, "Larry". I say, "No" and close the door.
I go down 10 minutes later and ask, "What is my name?". He says, "Mr. Raymond". That is his other brothers name. I ask again, same answer. I ask, "What is the name of the woman upstairs?" He says I never talk to her". I tell him he talks to her every day (she is making his breakfast as I write this).
I ask, "Who am I?" He says, "You're my brother"…
I had to find his wallet. In the process I found a knife under his mattress. It appears to have been stolen from a restaurant.
Friday, July 12
Again can't remember my name or who I am.
Last night I was at work. My wife had a hell of a time with him. Long story short he is paranoid (often to extremes), delusional, communication skills shot, often panicky.
Saturday, July 13⋅4:30 (First section written by my wife)
Won't leave me alone. Eric leaving-getting dad to go eat
The usual… feels he must stay home and watch me
Aaron told me he was going to get food real close so he can get back quick. I took his keys when he got home. He wanted to come upstairs.
I said maybe later, I had groceries and clothes to put away. He wants to know why he can't come up now. I told him we live up there and he lives down here. Eric and I spent two afternoons with you. Give me some alone time." Aaron says "He told me to stay upstairs and watch you, he's gonna shoot my ass if I don't"
I'm fine, we are fine, talk with Eric tomorrow.
He went out to the shed and was trying to bring the shovel in the house.
Cuz… You know, the person is coming to get us. (He's been saying Raymond)
I was upset and told him he is not bringing it in the house. I put it in the shed and said we were going to get some locks.
Back in. He comes up steps, I talk to him about same stuff (alone time, etc.) and ask him to go back down please. Now Raymond is gonna kill him. He needs to stay upstairs. Are all my windows closed?
Still haven't put anything away! He has flashlight and is irritated. I let him in kitchen now and I kinda lose it and yell and cry…. go downstairs and leave me alone. He says I'm crazy and he will call the police and Eric. I locked him out.
I text Eric for a heads up. I really didn't want to, but felt he should know b/c next Aaron got forceful with the door and said he would knock it down.
Next is the toilet plunger and a belt
Aaron is walking around behind the deck and in front of the house.
This is Eric writing now. It is the next morning (July 14th).
I had to come home from work. He is paranoid and out of control. His agitation is increasingly confrontational. He lies all the time. In reference to my wife's post above. The very last thing I said to my Dad before I left was to leave my wife alone.
He was carrying around the belt and toilet plunger as defensive weapons.
The 3 of us sat down at the kitchen table. I attempted to find out the "why" of his behavior. He can't explain his actions, indeed he denies most of them. It is obvious the attempt is pointless.
Sunday, July 14
We have looked at 2 adult day care centers. The only 2 a reasonable distance from us. They are $90-$100 per day. I haven't figured out how to pay for that and there seems to be no government or insurance assistance available for this. Friday we took him for the first half of his physical that is a requirement for entry into adult day care (as well as full time care for later). I will be contacting several agencies next week about this.
I am not a joiner nor am I interested in a shrink but my wife and I need to talk to someone. We have no help from anyone. We have signed up for a support group so we will see how that goes.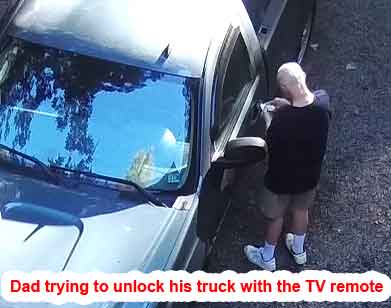 ---
Wednesday, July 17 Dad SocSec & VA
We went to the Social Security office in Sandston to check Dad's benefits and get a printout of them. Wait wasn't too bad and the guy was very friendly and helpful. A+ experience.
The VA…
I am speaking specifically about the Hunter Holmes McGuire VA Medical Center.
After being directed to the wrong place by the info desk we finally found our way to the Virginia Department of Veterans Services office there. The office seems to be basically 2 rooms. You aren't invited in, instead you have to talk to them while standing in the hallway behind a 1/2 door. The guy I was talking to never got up from his desk, he stayed there kicked back in his chair with his hands behind his head. I inquired about what kind of benefits my Dad could get, he asked what is income was and I said $1,900 a month Social Security. He said that was too much and he couldn't get anything. I responded with something like, "So he is a wartime vet and y'all aren't gonna help him?" His boss, eavesdropping from them other room comes out. He wants to know if we are applying for medical benefits and I reply "No he has Medicare. My Dad has Alzheimer's and I want to know what kind to respite or long term care assistance he is eligible for". Basically he said he isn't but you can come here for medical care. We live 45 minutes away with no traffic. It can be twice that around morning and evening rush hour. I'm not driving there for care he can receive 10 minutes away for the same cost.
My experience with them was obviously not good and I would like to personally tell them both to kiss my ass. The dude that wouldn't get out of his chair can go fuck himself. If my wife and Dad weren't there I would have said it to their faces.
The search continues…