Page 4 – 20 JUNE – 14 July, 2019
Thursday, June 20 Eric working
He was roaming around outside for over an hour. My wife made several attempts to get him inside
Edit by Eric next morning.
9:15 he tries to force his way upstairs. I won't let him. He says, "This world *mumble*". He is HIGHLY agitated. I said go to bed, he whispers "she's crazy". My wife came into the situation, he said, "where's the other one?". "The other one who?, I asked. The gist is he thinks some other crazy woman was here, when pressed he said a friend called him and warned him. He has no living friends. I checked the phone logs just to see…hasn't had a phone call for 9 days, it was me. We argued. He denied roaming around the outside with a flashlight. I showed him some of the videos of him roaming around the outside of the house with the flashlight. He seemed to realize that at least part of what he said never happened and apologized.
Friday, June 21 Dad got a ticket
I had been watching him via his Onstar. I thought he was at McDonald's but after an hour I grew concerned and zoomed in on the map. He was actually next door at the Exxon service station. I hopped in my truck and headed there. He is just walking out. I ask what's up and he can't tell me, says he needs more money to pay (he has a credit card is his wallet). I go inside to see what is wrong. They are familiar with him, apparently he has gone in there every so often, sometimes with completely non-existent issues. They are good people there and they watch out for him.
The story is:
– He got pulled over and issued a ticket for an expired inspection sticker (expired end of March).
– Apparently a month or so ago he had been pulled over and issued a warning. He went to the Exxon and was told it would be an hour or so wait so he just left (didn't tell me and denies this happened).
– They inspected truck and rejected it for several legitimate and serious issues. Total was about $450 I think. He doesn't have that much cash, doesn't remember how to use a credit card. He tells them he need take out a loan to pay for it and proceeds to leave.
– I get there and find all this out. I go inside and make arrangements to drop the truck of Monday. I have given them my contact info in case he shows up there again.
Tuesday, June 25
Constantly forgets we aren't working. Thought we were this morning. Have not in many, many months.
Keeps forgetting truck is in shop. Was panicked lat night about it.
Doesn't feel well (I don't think it is serious but will monitor). Doesn't want to see doctor.
Today is our 25th wedding anniversary. Had hoped to get away for just a night. Ain't gonna happen. Makes me sad. I'm sorry angel.
Saturday, July 6
Eric at work
I return from shopping at 5:30. Dad is in the driveway.
*Video – wants to know when his grandson is coming. He is agitated and says it is important.
(note – He hasn't seen his Grandson in approx 2 years).
5:45-6:30 TV remote in his hand
Walked to end of driveway with it twice
I saw him put it to his ear like using a phone. *Should be on outside camera
I asked him to stay in the house.
6:45 outside to shed-told him to come inside *Video
7:20-asked me if I had anything he could drink- He did not know where or what his refrigerator was.
*Video
7:45 outside to truck with flashlight
* video – begging him to stay inside
7:55 *videos- He said "If someone comes in here you just scream."
"Have you seen my gun? "
I was very stern and told him " I am not answering the door anymore. Please leave me alone."
Sunday, July 7 Dad hygiene
He is able to still shower and shave although he frequently needs to be reminded.
Yesterday I cut his hair and trimmed some back and arm hair. Last week I saw his bare feet. His toenails were nasty. I asked when the last time he cut his toenails were, all I got was a blank stare. I asked about his finger nails. He showed me he was biting them…
I trimmed his finger nails. I cut his toenails which took some work. He has what I believe was fungus on a few. I have had him soak his feet in apple cider vinegar for 1/2 hour on 3 straight days so hopefully that works.
We have to make him change clothes as he will put dirty clothes back on after a shower.
Always chewing gum instead of brushing teeth. We have to remind him to brush his teeth.
Sunday, July 7
He is getting worse. Bad few days. Yesterday I was at work and he was extremely unsettled. 162 videos on 3 cameras in less than 4 hours. Convinced someone is gonna break in, convinced he needs to watch. I had a talk with him about it yesterday. It does no good.
Walks around with the TV remote in his hand all day (when he can find it after he has hidden it). Sometimes he thinks it is the phone, sometimes he doesn't know what it is.
Tuesday, July 9 Dad Very Weird
Swapped out Dad's cable for amplified antenna so I could switch him to the Flipper TV remote (a simple 5 button remote). He can't even operate that. He unplugged the TV to turn it off.
Came home from dinner at at 1925 hrs. He was in the driveway with the shovel moving gravel because he spun the tires. The truck is half way up the driveway. I ask what he was doing and he can't answer. I make him park truck and go inside. I go inside to start checking camera footage to see what he was up to.
All of a sudden he is back in his truck. I run out to stop him. I ask where he was going and after stammering and mumbling he claims he was gonna park it. It was already parked. I took his keys.
I start checking footage. I don't know why put at some point the decided to park the truck out on the street. He couldn't explain.
I try and talk to him about what is going on. All I get is " I didn't" or "I don't know" or a complete lie. I get him down for the night…
5 minutes later, he yells "hey, Eric". I go down and the pants he just took off are inside out and he says he can't fix them… Is he deliberately trying to piss me off? I tell him I don't want to hear from him any more tonight. It's about 2020 hrs, 20 minutes past the 2000 hrs quite time I've established.
5 minutes later… He is banging on the wall… He can't find his wallet. It was in the pants he JUST took off which means he JUST hid it and forgot. It is at the bottom of his sock drawer.
Again I tell him I don't want to hear from him any more tonight. Thankfully that was the last of it.
This morning…
As has been the case the last few mornings I can't even get my first cup of coffee before he starts banging on the wall. I think he sits down there listening for me.
Thursday, July 11 Dad Doesn't Know Who I Am
He is knocking on the wall before we wake up. I ignore it. After I get up he shouts up, "Hey Larry". That is his brothers name. I open the door and ask, "What is my name?" He answers, "Larry". I say, "No" and close the door.
I go down 10 minutes later and ask, "What is my name?". He says, "Mr. Raymond". That is his other brothers name. I ask again, same answer. I ask, "What is the name of the woman upstairs?" He says I never talk to her". I tell him he talks to her every day (she is making his breakfast as I write this).
I ask, "Who am I?" He says, "You're my brother"…
I had to find his wallet. In the process I found a knife under his mattress. It appears to have been stolen from a restaurant.
Friday, July 12
Again can't remember my name or who I am.
Last night I was at work. My wife had a hell of a time with him. Long story short he is paranoid (often to extremes), delusional, communication skills shot, often panicky.
Dad "barricaded" the door: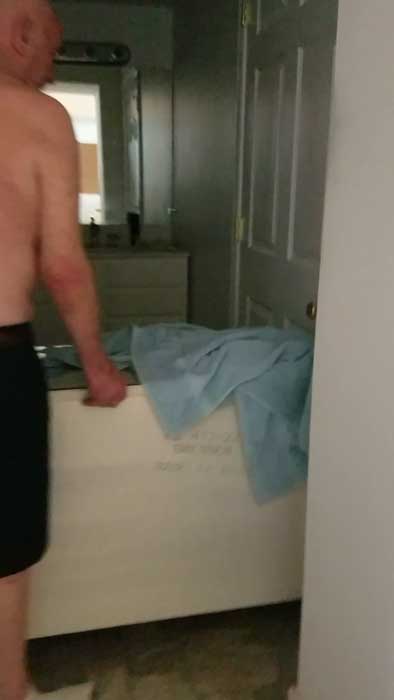 Saturday, July 13⋅4:30 (First section written by my wife)
Won't leave me alone. Eric leaving-getting dad to go eat
The usual… feels he must stay home and watch me
Aaron told me he was going to get food real close so he can get back quick. I took his keys when he got home. He wanted to come upstairs.
I said maybe later, I had groceries and clothes to put away. He wants to know why he can't come up now. I told him we live up there and he lives down here. Eric and I spent two afternoons with you. Give me some alone time." Aaron says "He told me to stay upstairs and watch you, he's gonna shoot my ass if I don't"
I'm fine, we are fine, talk with Eric tomorrow.
He went out to the shed and was trying to bring the shovel in the house.
Cuz… You know, the person is coming to get us. (He's been saying Raymond)
I was upset and told him he is not bringing it in the house. I put it in the shed and said we were going to get some locks.
Back in. He comes up steps, I talk to him about same stuff (alone time, etc.) and ask him to go back down please. Now Raymond is gonna kill him. He needs to stay upstairs. Are all my windows closed?
Still haven't put anything away! He has flashlight and is irritated. I let him in kitchen now and I kinda lose it and yell and cry…. go downstairs and leave me alone. He says I'm crazy and he will call the police and Eric. I locked him out.
I text Eric for a heads up. I really didn't want to, but felt he should know b/c next Aaron got forceful with the door and said he would knock it down.
Next is the toilet plunger and a belt
Aaron is walking around behind the deck and in front of the house.
This is Eric writing now. It is the next morning (July 14th).
I had to come home from work. He is paranoid and out of control. His agitation is increasingly confrontational. He lies all the time. In reference to my wife's post above. The very last thing I said to my Dad before I left was to leave my wife alone.
He was carrying around the belt and toilet plunger as defensive weapons.
The 3 of us sat down at the kitchen table. I attempted to find out the "why" of his behavior. He can't explain his actions, indeed he denies most of them. It is obvious the attempt is pointless.
My wife has to endure this kind of behavior EVERY time I am gone near or after sunset.
Sunday, July 14
We have looked at 2 adult day care centers. The only 2 a reasonable distance from us. They are $90-$100 per day. I haven't figured out how to pay for that and there seems to be no government or insurance assistance available for this. Friday we took him for the first half of his physical that is a requirement for entry into adult day care (as well as full time care for later). I will be contacting several agencies next week about this.
I am not a joiner nor am I interested in a shrink but my wife and I need to talk to someone. We have no help from anyone. We have signed up for a support group so we will see how that goes.