Page 5 – 18 July, 2019 – 21 July, 2019
Thursday, July 18 Dad, The Continuing Saga
His bizarre wandering behavior continues whenever we or I leave. 2 nights ago he spent the entire 2 1/2 hours we were gone going from his living area to the back door or outside checking his truck door, looking around with the flashlight in broad daylight…
Last night we were gone 1 1/2 hours and ditto.
We went to the Social Security office and VA Center yesterday. Despite being told several times him didn't understand why we were there.
There is a constant tiff over is truck keys. We take them away every night and he gets upset. Every morning it's, "I can't find my keys." This morning he is baffled as to how to put gas in his truck. I followed him to the station and did it for him.
Amazingly he continues to drive well.
My wife noticed his alarm clock on the dash of his truck. He acted surprised it was there. When she went out to retrieve it she found (in addition to the clock), a flashlight and 4 towels (pic attached). I quipped, "Is he gonna run away?"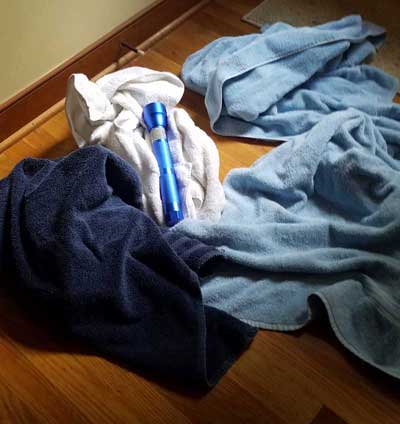 Personal Hygiene
I've addressed this before but I wanted to add a few things.
Has to be told to use soap on areas other than is face.
Has to be reminded to shave.
Yesterday he was trying to scrub his underwear on the hood of his truck???
Saturday, July 20 Dad Wants To Go Home
Wanted to know when we are going home. I asked where home was, he said "Richmond". I said , "We are home. You've lived here over 7 years." He asked where his Mom and Dad was… They've been dead for 30+ years. He wanted to drive around where he grew up to find if anyone is there. He used to do that, they're all gone.
I asked if he knew my name and who I was. Nope.
Saturday, July 20 Dad refuses to listen
I've asked many, many times for him to:
Stop hiding wallet
Stop hiding remote
Stop going to Exxon
Stop chewing gum all day
Stop leaving doors open
Stop whistling at us
When I say many, many I mean daily or multiple times a day.
He has always been, I'll be polite, "stubborn". But this is over the top even for him.
edit: The next day…
My wife and I are both away. I check on Dad via the security cameras. Again, ALL the doors are open. It's 100 degrees outside.
Called him at 1729hrs, call lasted just under 4 minutes.
Asked him to close all doors.
At 1739hrs he attempts to prop open door with a stool.
1 minute later he attempts to prop open door with a small table.
At 1745hrs all doors are still open
We discuss this next morning. He swears he will stop.
Less than an hour later he attempts to prop open door again.
When that fails he starts yanking on the door.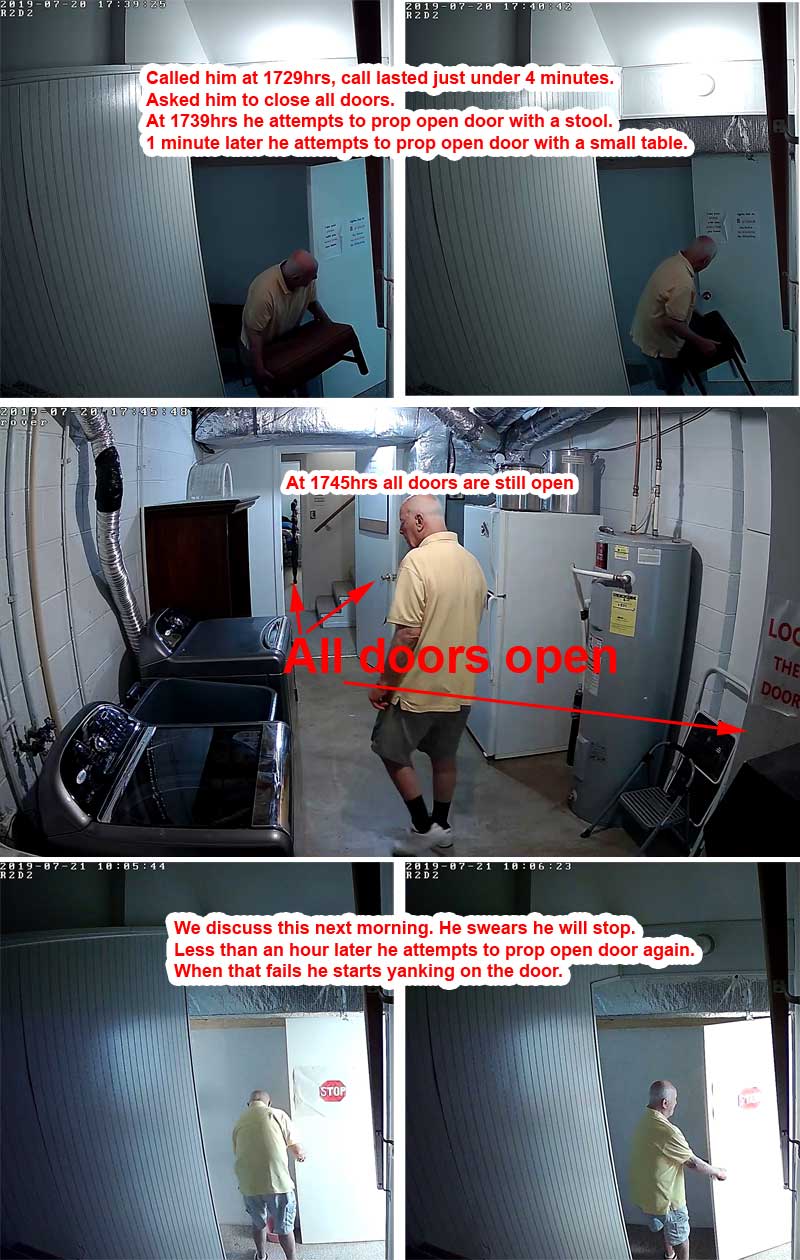 Sunday, July 21 Dad had a good day
The 3 of us drove up to the mountains and had dinner at Blue Mountain Brewery. On the way home we stopped off at Decipher Brewery. He seemed happy and went straight to bed when we got home.