Page 7 – 22 July, 2019 – 03 August, 2019
Monday, July 22⋅2:30 – 3:30pm Dad wandered from home
We were coming home from the grocery store.We came across him 0.4 miles from home walking along the side of a major road.
Carrying: a roll of paper towels with a pen tucked inside, yellow notepad.
It's mid to upper 90's outside.
Can't explain himself.
This is what I would call the 1st true wandering episode.
Wednesday, July 24⋅10:00 – 10:30am
Went to our first Alzheimer's Support Group meeting. They were all great, got some good info, and we will go again.
Again this morning with, "Where are my keys, why can't I have them?" I told him again he can't drive anymore. Pissed and depressed about it. Threatens to leave and/or call the police. I just said, "OK".
I'm fearing wandering but I/we cannot stay here all the time. We have lives too.
Thursday, July 25 – Dad – Driving no longer
Told him a few days ago he could no longer drive. He argues and pouts about it.
I am one step lower than a shit-eatin' dawg right now.
Thursday, July 25 – Dad – Intro to adult day care
Took him over for a look-see. He ain't buying the "they need you to help out" thing. He is pissed, suspicious, and scared about the whole thing but has agreed to try it…
Saturday, July 27
He went to Adult Day Care yesterday and seemed to enjoy it.
Driving…
As my wife was giving him breakfast this morning he whispered to her, "Is he up there? Can I have my keys?'. She told him no and then I told him no. He whispered because he damn well knows he isn't supposed to have them.
I gave him some chores to do, and then told him to get in the shower. "Please put the dirty clothes in the hamper and use all clean clothes when to get out". Afterwards he said he wanted to, "Go to that place to eat". I told him he ate 2 hours ago. He said, "I want my keys." I told him no and I wasn't gonna argue anymore. He replied, "Don't ask me for anything ever again" and shut the door.
So, I have made an, *ahem*, "Official" letter from the state police (PIC ATTACHED). I printed it out on nice paper and I will show this to him next time he asked.
I didn't want to get rid of his truck but maybe removing it will remove a trigger. I'll be doing that in the next week or so.
This afternoon we made him lunch and then we all washed the Jeep. He has had plenty of activity. We attempt to take a short nap. No. Fucking. Way. I hear him head out the door, i jump out of bed and catch him going up the driveway. I tell him it's hot and I'm trying to take a nap, please go back inside. Less than 10 minutes later he heads out the door again. I stop him, ask him to stay inside again, obviously there will be no nap… 5 minutes later he is meandering around the outside of the house.
I go outside and get him back inside. Despite taking a shower earlier he has a little B.O. and is wearing the same pants he had on this morning and yesterday. His belt… 80% of the time he cannot put on a belt correctly. This time it was around his stomach, not only not through the belt loops but not even touching his pants. I have him strip and take another shower and ask him to "please use soap this time". I put all his clothes in the wash.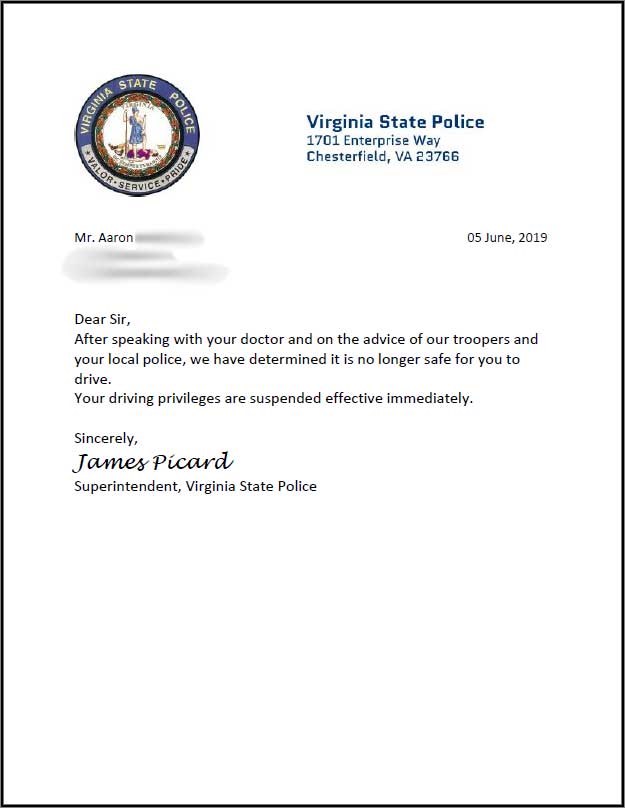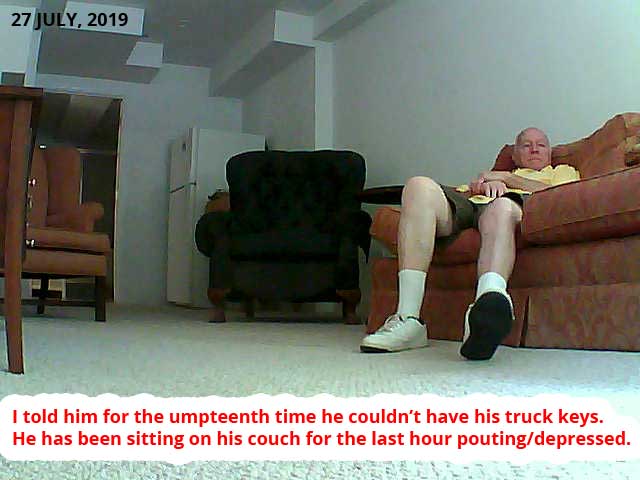 Thursday, August 1 Dad-dressing
Wife goes downstairs to give him breakfast.
He whispers, "I can't find my clothes." He doesn't know where his belt is, either. I told him his shorts are in the drawer. He goes over to the bathroom drawer. I walked him over to his bedroom dresser and showed him his shorts.
Saturday, August 3 – We are miserable
It's been an up and down week.
He went to day care two more times. Still complains and suspicious about it but they say he does well there.
After one day care trip we stopped and got a burger then he went straight to bed. The next time he was up for hours.
LAST NIGHT
My wife and I just wanted to go out and get dinner alone. Just for a few hours. I begged him to stay in the house. He promised me several times he would not leave the house.
Videos (dad_lefthouseagain):
1753 hrs – We left the house
1812 hrs – He walks out side door
1832 hrs – Neighbors are at door
1836 hrs – Neighbors call. They found him hiding in the woods by the road. He told them, "he was playing a hiding game" because he cannot tell the truth about anything. Would not return to house.
We return home (picked him up at neighbor's house driveway). Our night ruined again.
We have resigned ourselves he can never be alone again.
This morning he denies any of this took place. I showed him the videos and he still denied it. He tells me I'm crazy…
In home sitting – Found an older woman who will do $13 per hour, cash. She is not a professional but has taken care of Alzheimer's people before.
In-home professional and overnight – $23 per hour, 4 hour minimum.
These rates may not seem like much to some people but they will add up very quickly. It would make an overnight trip over $500. We can't afford that.
Family –
For various reasons he has no and/or wants no contact with any immediate family members except us.
For various reasons he has no and/or wants no contact with any family members on his side of my family except for us.
I am sure there are people on my mom's side of the family that would help if they were near but they are not. We are talking the nearest ones are like 750 miles away.
We are both stressed, depressed, and basically without any positive outlook. We have no help and no one to turn to for help.
Monday, August 12, Eric at work-I got Aaron from daycare
Day care worker "L" said he was agitated , anxious
Didn't want Eric to be mad. "I need to be on time for him"?
Aaron cussed(not sure what word) and she said "no, you don't do that, say that" and he told her "you're right"
She had him walk around, and tried outside, too. He said too hot.
The car ride wasn't great. I was trying to focus on driving and he was not happy. He said "I'm not going back to that damm place again." "How many days have I been there?" He rambled on…had trouble understanding him. Busy with heavy traffic and I had to focus on driving.
He said "do you know my daughter, said he used to have two cars, do I know kenny….?? We are almost home…. On Manakin rd and he said
"where are you going? "
I asked him to come up and eat with me, well, I was just keeping him company really. He was anxious about a wreck. I asked, what wreck?" He said, "don't wreck your car"
And, of course he had to make sure the doors were locked. And…. When is Eric coming home?
Wednesday, August 14, Dad's B-Day
He turned 79 today. He has had a bad day.
– This morning he pulled all his clothes out of his closet.
– He cannot put on or release a seat belt without help.
– We worked on replacing much of the front porch. He tried hard but only lasted about 4 hours. He went to take a nap and woke up disoriented. Does not remember us eating lunch or working on the porch.
– Had him take a shower, brush teeth, and shave. He doesn't clean his razor so I had to do that and lay out his clothes, and get him a "thing to wipe with" (a towel).
– Took him out for a quick dinner, it was about all he could handle today. He asked at least ten times in 1 hour how old he was.
Thursday, August 15, Another Bad Day
Today was day 2 of redoing the front porch. Every minute he "helps" he cost me at least a minute. Cannot follow basic instructions. Being around him is becoming increasingly stressful and it is taking a toll on me.
When finished I told him to go back in the house. He said, "Don't leave me here." I asked what he was talking about, he said, "I want to go home". I told him we were home.
An hour later I roused him from a nap and had him shower. I'm basically having to dress him now, can't zip his fly or put on a belt. He doesn't need the belt but insists on wearing it. I told him he didn't need it as we aren't going anywhere. He said, "I want it god damn it." He was both angry and ready to cry. We got him slip on shoes.
I'm trying to cook dinner and he has knocked on the wall 5 or 6 times demanding I help him, wanting to come up here. I told him I have stuff to do and I've spent most of the day with him already.
While I am typing this I am watching him on the security camera. He is roaming all over, looking under stuff, and fumbling with the remote that he cannot operate. Sundowning in full swing.
Monday, August 19, Dad delusional
Bedtime. He gets out of bed not 10 minutes later. On video I see him roaming around with a spray bottle of bathroom cleaner. I go down and ask him about that and his razor next to the bed. He whispers, "I think the real person that killed…". I said, "Stop right there. We are all fine. There is no boogie man."
Where the hell does he come up with this stuff?