TweakHound Reviews
Mandrake 9.0
A "Newbie"ginning
posted 11-19-02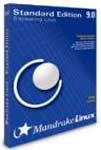 With all the hoopla surrounding Linux lately I wanted to give it a try. Several people told me that for a newbie Mandrake was the way to go. As luck would have it MandrakeSoft was about to release their newest version, 9.0. I requested a copy to review from them and it was here in less than a week. A big thank you to the team at MandrakeSoft for the CD's and for their help.
Let me make a couple of things clear from the start of this review. With the exception of one Unix class which was actually run from a Linux server, I am a total noob when it comes to Linux. I have watched others use it. I even spent a few minutes using an older version of another distro but that doesn't even qualify as being familiar with Linux .I am also NOT a Microsoft hater. I happen to like Windows XP. That is not however an endorsement of MS policies or practices. This review will focus on a newbies first experience with Mandrake 9.0 and I will compare and contrast it directly to Windows XP. I have used Mandrake 9.0 for two weeks now. That out of the way, let's get started.
System Specs

Motherboard
ASUS TUSL2-C
Processor
Celeron 1.2 gig
Memory
256mb Crucial pc133 sdram
Video
ATI Radeon 7000
Audio
SB Audigy Plat. w/live drive
Hard Drives

hda=Maxtor 40gb ata100 7200rpm

hdb=Maxtor 20gb ata66 7200 rpm

CD/CDRW

CD= Acer 50x

CDR= Yamaha 8x8x24
Installation
The first thing I did was start surfing the web for info on Linux and Mandrake 9. I also asked for and received feedback from Linux users through the use of a survey. I received 3 Cd's in the mail from MandrakeSoft and armed with some info from other Linux users and the manuals I download I began my install. The way I prepared for my install should be considered unique for my situation and needs. It should not be considered a guide.
I booted into the BIOS setup and changed my 1st boot device to my CDROM. Then I turned the Plug and Play OS option to NO. I also disabled the serial ports and printer ports since I wont be using them. I exited out of the BIOS setup and put in Mandrake 9.0 Installation CD 1. The installation was similar to Windows. I choose the recommended installation all the way. I will save you the agony of viewing all the installation save 2. This is the installation packages screen and the individual packages screen. I choose about every option I could except the server options. On advice of another user I hunted around and found the gnomba option which will later help me on my Windows network. Click on the screens for a larger view.
*note (posted 12-01-02)
Carlos Morimoto and Leon Brooks informed me that you can take screenshots during installation by pressing F2. The picture is stored in memory. I thought about changing the pictures but I'm going to leave them as is. They show a newbies ignorance!
As I stated before I opted to let Mandrake 9.0 do things the way it wanted to and I was not disappointed. Installation was, in my view, near perfect. It correctly identified all my hardware and installed the drivers for them. Now I thought I was gonna throw Mandrake a curve with my Audigy sound card. Members in some forums seemed to be having a problem with it on various distros of Linux. However Mandrake 9 swatted my curve right over the centerfield fence. It got that one right too!
The last part of the installation asks if you want to get the latest updates. I opted not to do this because I run ICS on a separate Windows XP computer with a Satellite USB modem. I didn't think Mandrake 9 would figure that out. I was about to find out I was wrong again!
First Boot
With the installation finished, Mandrake 9 rebooted and a desktop configuration wizard popped up. (I had chosen to have 2 accounts. 1 ROOT and one USER. See the manual for more on ROOT. I had also chosen to automatically launch the USER account at startup.) I picked KDE as my desktop (again on the advice of others for a noob) and then canceled out of the NON MANDATORY registration! Hmmm. I say to myself, kinda looks like a Windows desktop. Well, at least it is familiar enough to be able to navigate around. I spent the better part of 2 hours just pushing buttons to check things out. My first surprise was when I launched Konqueror (a web/file browser). What the? How did Mandrake manage to find its way out to the web? The automatic setup actually did it itself! My Windows XP boxes didn't even find its way out without my intervention!
Now I was gonna have to figure out how to format the second hard drive. I launched the Mandrake Control Center (more on this later) and entered my ROOT password. Hmmm...Boot, Hardware, Mount Points...I remember reading about those, let me try there. A Hard Drives icon, OK 'click', yep that's it. The rest is every bit as easy as Windows.
Time to check for updates. Although not as sophisticated as Windows Update it is similar and it does get the job done. I did have one freeze during an update but I have had those with XP too. 72mb worth of updates was a little annoying but I am using a pre-release version so I can't complain too much.
Mandrake 9 comes with a handy little menu item in the Start Menu. It is called What To Do? It is a great idea for helping a noob find their way around. Want to listen to a CD? Go to What To Do? Enjoy music & video > Listen to a CD. The appropriate application will launch. This is a great tool for noobs. I can't tell you how impressed I was with it.
<Page 1> * <Page 2> * < Page 3> * < Page 4>