TweakHound Reviews
Mandrake 9.0
A "Newbie"ginning
page 3
Multimedia
Sound
The first sound related task noobs are going to do is play mp3's. Mandrake 9.0 ships with a "winamp" style player called XMMS. It looks and acts like winamp with one exception. The sound is incredible! I don't know why it sounds better. It might be Mandrake, or the sound card drivers, or the program itself. Heck it might be a combination of the three. I really don't care. It isn't my imagination either. I have the SB Audigy Plat. in my main computer (XP) too (with the latest drivers). I loaded the same 320kb mp3 file on both machines and played them both for my wife (using logitech z560's). Then I asked her which sounded better. She pointed at the computer running Mandrake 9.
XMMS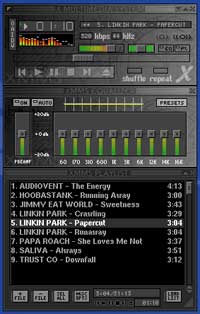 KMix and aumix allow you to configure your sound card. I would equate them with Audio HQ for SoundBlaster cards more or less.
KsCD is the built-in CD player. It takes a little configuring to get it up and running.
KsCD (top), aumix (left), KMix (right)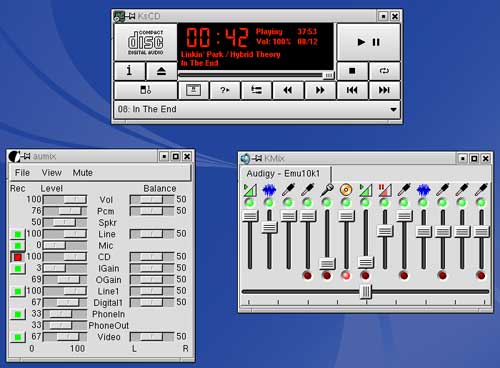 Ripping Cd's
What about ripping? I think I actually fell in love with a program called Grip. I'm not going to get into specifics as that would be an article unto itself. Suffice it to say that it is an awesome and highly configurable program. I currently use 3 programs in Windows to do what I can do with Grip.
Many other sound programs are included, I've only touched on the highlights.
Pictures
gPhoto is an like MS Picture It. It allows you to download images from a camera as well as edit them. Kooka is a scanner and OCR tool. Feel like drawing? Kontour is for you. KIconEdit allows you to create/edit icons. KSnapshot allows for screen captures. My favorite is The Gimp. It is just shy of having all the power of Photoshop! There are several other graphics tolls included.
Video
xine is an incredible tool that acts much like PowerDVD. While I do not have DVD player on this system I do have an SVCD ripped from a DVD. The playback and audio quality are excellent.
XMovie is a multimedia file player. It is basic in its function but gets the job done very nicely.
xine control panel

Office Applications
I don't want to get into too much detail here. There are enough apps in Mandrake 9 to make you cringe at the hundreds of dollars you spent on MS Office. Word processors that have all you need from MS Word. Presentation tools that are like Power Point without the bloatware. PDA tools, calculators, graphing tools, organizers, spreadsheets, address books, etc. Not only do I feel there is more than enough here for the home user, but I can see where companies may want to look at this as well.
CD Burning
As you no doubt saw in my system specs I have an older burner. Mandrake 9 had no problems with it. The only program I tested was GnomeToaster, just because I liked the interface better. I burned a data CD, a Music CD and a mixed CD without a hitch. There are several applications in Mandrake 9 that allow you to burn to CD.
Gaming
Mandrake 9 comes with enough games to keep an occasional gamer busy. Mostly the arcade type. Hardcore gaming with the newest and most popular games isn't quite Linux's forte yet. Some games are available, most aren't. None are what I would consider an easy install. After two hours of trying, I gave up on trying to get Unreal Tournament GOTY installed.
<Page 1> * <Page 2> * < Page 3> * < Page 4>