A Look At Mozilla For Windows Users - Page 2
Mozilla 1.7 Beta

Mozilla 1.X
Mozilla 1.X is a "software suite" that includes a web browser, e-mail and newsgroup client, IRC chat client. You could consider the various parts as alternatives to Microsoft's Internet Explorer, Outlook Express, and MSN Messenger. The Mozilla browser has been around for quite some time and it's lineage extends back to the Netscape family. It is the base of the Mozilla family.
Mozilla 1.7 Beta (release notes)
I'll be showing you version 1.7 Beta. On the surface it is very similar to the last "final" version 1.6 but contains changes to make it faster and has a few improvements too. Among the browsers features is a pop-up blocker, and "tabbed browsing". Tabs are secondary windows opened in the same browser window. You'll see an example below. Before installing Mozilla you'll want to check out the Getting Started With Mozilla page.
Anyhow, with my system backed up (that was a hint) it's time to install Mozilla 1.7 beta. Installation is as easy as a click of a button. You are presented with standard option screens: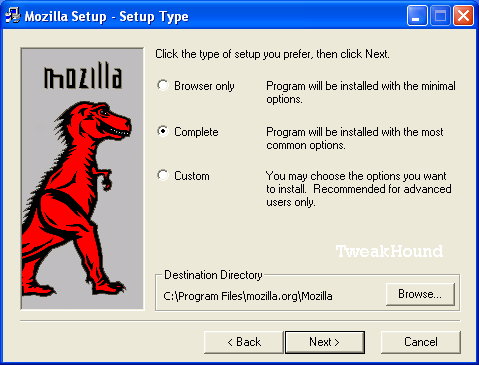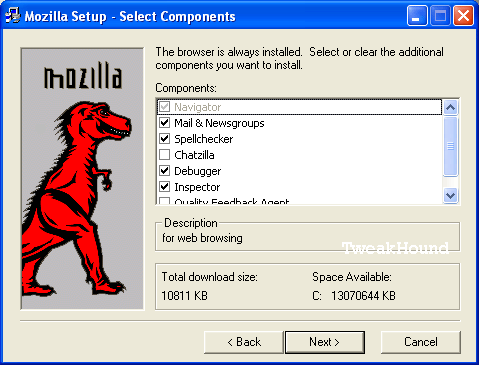 Installation complete, I launch Mozilla. Everything you would expect is here. It even brought my bookmarks over from Internet Explorer! The interface is a little bare for most people's liking. You can easily fix that my adding themes. Check out the preferences menu for more on that. Also, I REALLY...REALLY hate those stupid little green "bookmark ribbons".
More On Mozilla's Features
Mozilla is as configurable as Internet Explorer. Version 1.7 is still a beta and as such shows a few bugs. Notice above that it only loaded the Favorite Icon from some sites and not from others, despite my reloading the pages several times. Rather than go on endlessly about the setup and how easy and familiar it will be to you, I'll show you a couple of screen shots so you can see for yourself.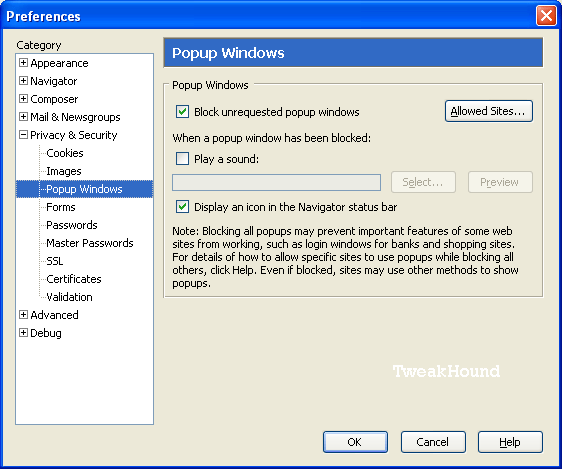 Plug-Ins
Like IE 6, Mozilla may need plug-ins. When you see a picture on a web page like the one below, simply click on it to go to the appropriate download page.

Mozilla Mail
Nothing all that exciting here. It's an email client. It works. It will import your settings from Outlook. I don't think it's any better or worse than Outlook Express. It does have a junk mail filter. I haven't used it because for it to be of any use you have to "train" it. FWIW- haven't seen a spam filter on the client side that was worth messing with to date. You wouldn't believe the amount of spam and virus laden emails I get a day. Give me a shout if you have used these filters with success.
* Apr.14, 2004 - The reason I don't use the junk mail filter is that because of the amount of testing I do I image/restore my computer on almost a weekly basis. Basically, this would mean having to retrain the filter every week. I fully realize that my situation is somewhat unique. I've received several letters that were very pleased with the filters.
Mozilla Mail Window
(click on the thumbnail for a full-sized image)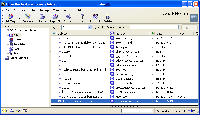 My Thoughts On Mozilla 1.7 beta
Many thousands of users use Mozilla 1.X as their browser of choice. I don't like it and that's why this section is a little short. Aside from the fact that it isn't very pleasing to the eye, it isn't any faster than IE 6, and it just seems a little "heavy". A glance at the system resources confirmed my feelings. At all stages Mozilla 1.7 beta uses more resources than does IE 6. I just can't recommend anyone use it at this point.
Stay tuned you MS hating fanatics! Things are fixin' to get more to your liking in the next few pages.

Article Menu