Logitech MX1000 Laser Cordless Mouse "Review"
By Eric Vaughan
October 04, 2004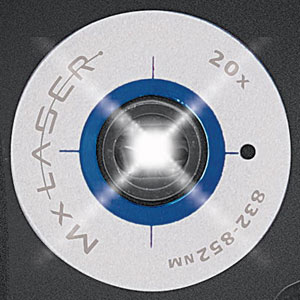 Laser! Mention the word laser and every geek on the planet will turn an ear and listen. Logitech has certainly grabbed headlines of late with the release their new MX1000 Laser Cordless Mouse. Most, if not all of you have heard of and seen the reviews of this mouse. This "review" is simply meant to be one geeks opinion of the MX1000, nothing more and nothing less. As a sort-of "disclaimer", let me say that most of the many computers I own have Logitech keyboards and mice. What can I say, they've got great products that have never failed me. Heck, I even have the Logitech Z560 speakers. That out of the way, lets get started.
I set up a new computer for my wife and needed a mouse so I thought I would check out the MX1000. This article will make frequent comparisons to the last great mouse to come out of Logitech, the MX700. It's the mouse I still use (you can see my review of it here).
First Impressions
The MX1000 is a slightly smaller in length than the MX700, but is taller and wider. I thought this might be a problem however after putting my hand on it and moving it around it was not. This is because the MX1000 has a far better ergonomic design than does the MX700. You'll find your hand simply "fits" better. It's a decent looking mouse but I'm not crazy about the blue color. The MX1000 is supposed to be available in both "gunmetal silver" (ahem...it's blue, at least to me) and "onyx black" but I've only seen the "gunmetal silver" on the shelves. If you haven't noticed I love black and silver and I think the MX700 looks better.
While unpacking the mouse and accessories I immediately noticed the base. It was a huge disappointment. It simply looks and feels cheap. I think Logitech noticed this too because as of this writing there are no pictures of the base in the press images and the only picture of it I can find on the Logitech website measures a scant 115x115 pixels (white space included). This despite the fact that pictures of the MX700 base were front and center on its release. Anyhow...here are the pictures of the MX1000 and MX700 side-by-side, you can decide for yourself.
(All pics came from the Logitech press downloads except the MX1000 base. They are not to scale.)
Using The MX1000
The strength of the laser and thus the MX1000 is supposedly in the fact that it reads better on smoother surfaces. I use the Ratpadz GS for both my and my wife's PC's because not only is it the best gaming surface I've ever used, it is IMHO the best mousing surface period. I noticed absolutely no difference between either mice using the Radpadz GS in any situation. So, I had to ditch it and try some other surfaces. On a semi-smooth desktop, if I tried REAL hard I could notice the slightest difference between the 2 mice. On a very smooth surface (top of a metal file cabinet ) the difference was more pronounced, especially when using faster moves playing UT2004. Like many of you I don't have a large piece of glass laying around so to test using a glass type surface the best I could do was to pull the plexiglas window off my case. While both mice "worked" on it, neither had what I would call acceptable functionality on it. Testing the range of both mice I was able to use both at approximately 12 feet (3 meters) away. That is as far as I can go and still see my monitor.
The Buttons
I gotta tell ya up front, I normally don't load the software that comes with the multi-function mice. Windows automatically loads all the functionality I need for them (front, back, scroll, etc.). After using the included Setpoint software I can tell you I'm still not going to use it. For those who want the added programmability that it offers (gamers) it can be a good thing. One annoyance for me is I really don't like the tilt wheel. I can't pinpoint why, maybe I just can't get use to it. Then again, I'm not a very good gamer. Most of you could frag my butt in no time.
A non-Geeks View
As I stated earlier, I really needed a mouse for my wife. Having used a smaller, non-MX Logitech wireless mouse for some time she enjoys using the MX1000. My wife is only 5 feet tall and has tiny hands. She was unable to use the MX700 but is very happy with the MX1000. The improved ergonomics seems to have paid off. Her comments: comfortable, smooth movement, more accurate.
My Thoughts
Excellent mouse, fast, accurate, smooth, comfortable. One improvement that I like is the built-in battery (some reviewers didn't like it). I'm one of those people who keep forgetting to put the mouse back in the cradle and recharge it. While I'm in the middle of doing something the red light on the MX700 will start blinking and I'll have to switch in some non-rechargeable batteries. The MX1000 has a battery meter right on the top to tell me when its getting low. I haven't had to recharge it yet and it has been 10 days since the first full charge. I've not encountered a single negative issue with the MX1000.
Recommendation
The MX1000 is one awesome mouse. But then, so is the MX700. I could have used the MX1000 and left my wife with her old mouse and she wouldn't have been the wiser. To be quite honest I wasn't all that much impressed with it over the MX700. Besides, I'm used to my MX700. If you desire the bleeding edge of computer hardware, wanna be able to say "I've got a laser mouse baby!", need a more "comfortable" mouse, or if for some strange reason you have to use a super-smooth surface for your mouse and need the utmost precision then the MX1000 is for you. For the rest of you I still highly recommend the MX700. The MX700 averages in the mid $40 range while the cheapest I've seen the MX1000 is around $70, that's a pretty steep price for a mouse. Unless you are one of those people mentioned above, I just don't think it's worth the price difference. Me? I'm keeping my MX700.
Comments? Send me a reply (+ or -) to " etc " at this domain and if it's good I'll post it at the end of this article (keep it clean

).