X-Setup Pro 7.2 Reviewed
by Eric Vaughan
Updated from the previous version, September 29, 2005
Earlier this year X-Setup Pro became a pay-for program with the release of version 7. Considered by many to be the "mother-of-all tweaking programs" I'll take a quick look at what X-Setup is, what has changed, and if it's worth purchasing. About 2 years ago I had reviewed an earlier version of X-Setup along with several other tweaking programs. That version had earned the Editor's Choice Award. Can it pull it off again?
What is X-Setup?
X-Setup is a tweaking program. That is, it allows you to make changes to your computer's settings. X-Setup can modify both the OS interface for both appearance and usability as well as change various performance and security settings. It can also make changes to a whole variety of 3rd party programs. Some of these changes are usually only available by direct editing of the registry. X-Setup supports Windows 95 all the way up to Windows Server 2003. You can choose the Classic mode or Wizard mode to use the program although the Classic mode offers access to more tweaks.
X-Setup Pro 7.2 main screen shots.

(click on thumbnail to view larger image)

Main Screen

Wizard Screen

Classic Screen
An example of tweaks I use that can be done from X-Setup (more info here):
Speed Up Windows Explorer and desktop screen refresh
Stop Windows from looking for Scheduled Tasks when browsing network
Disable 8.3 Name Creation
Disable NTFS Time Stamp

Disable Thumbnail Cache
Add a "Start program in High Priority" to context menu for .EXE files
Execute 16bit Applications In Separate Process
Automatically Restart Explorer After Crash
Make Internet Explorer Behave
Make Windows Media Player Behave
Clear The Prefetch Folder

Keep Messenger From Running

Change Windows Media Player Title

Show user and computer name on "My Computer"
Activate/Deactivate Tool Tips
Name/Rename your computer!
Create a logon message
Make the "Find Files" Interface Cleaner and TURN THAT DAMN DOG OFF!
Allow Windows Media Player To Rip MP3's
Print drive and folder contents Context menu
Add NTFS Encrypt/Decrypt Context menu
Show hidden devices in device manager
Disable Windows Key
For my geek friends, X-Setup supports "plug-ins". A plug-in is an add-on feature that isn't available with the regular program. You can see a massive list here. You can also write your own. X-Setup also can be put on a BartPE CD or UBCD for Windows.
What is new?
These are the changes from the last free version, 6.6. Let me qualify this before I start. As of this writing X-Setup contains over 1,800 tweaks. There isn't any way I can realistically track all those changes so I'll give you what I've come up with that I consider to be significant. You can see the changes overview here. (If you have found more additions, please contact me)
#1 and IMHO the most significant: Restore Log Player added.
While the previous version of X-Setup has had the ability to restore settings, the new Restore Log Player makes restoring settings quick and easy. The Restore Log Player tracks the changes you've made and allows you to view and restore them from a single intuitive screen. No need to worry about always making an image backup, no messing with System Restore, just click the change to undo. Very cool.
#2: Better search function.
It is simply faster and does a better job than before. For instance, a search for "memory" turned up about 10 more items than before.
#3: Automatic Updates allows for more user intervention.
The Automatic Updates function now allows you to view, find out about, and control your updates.
#4: More tweaks!
System restore tweaks added. (System\System Restore\Timing)

Windows MFT tweak. (System\File System\Windows NT/2K/XP Options\Windows Master File Table Allocation)

Disable low disk space checks. (Appearance\Desktop\Options\Low Disk Space Notification)

Adobe Acrobat Reader 7 tweaks. (Program Options\Adobe\Acrobat Reader 7.0)

Many others.
#5: Better organization.
Some tweaks seemed to have been shifted to different categories and are better organized.
Still contains some bad tweaks and errors. See this page for more info.
The last review of X-Setup contained the following complaints (I've edited the ones they fixed):
AlwaysUnloadDLL - Fixed!

Paging of kernel - Bad idea. Now contains better warning!

Boot Optimization - Wrong!

Thumbnails enabled - Fixed!
Conclusion
The Cons
Still a few bad tweaks in there. Just about every other tweak program has them too.

Time to ditch support for anything less than Windows 2000. While the default for X-Setup is to hide tweaks that don't apply to what OS you are using, this would reduce the overall size of the program. Maybe a separate version?

Would like to see a centralized location for all visual tweaks. Kind of like TweakUI.

Would like to see some Firefox tweaks.

It cost $ now.
The Pros (lets just make this the conclusion)
Unchanged from the pervious version.
Hmmm...Let me just be straight up with you.
X-Setup Pro 7.2 is an ass-kicking tweaker. Plain and simple it is still the best tweaking program there is. Yup, it costs money now. A whole $8 (U.S.) for 1 year of updates and you can use it on every computer you own. IMHO just the inclusion of the Restore Log Player is worth the money. The next version of my tweak guide will definitely make use of it. I've even put my money where my mouth is. I managed to scrape up the measly $8 and bought it for myself. Worth the cost? Lemme ask you this. If you like the program, want it to continue to exist, want it to continue to improve, you bet it's worth $8. I like X-Setup Pro 7.2 so much I'm bringing back my awards. X-Setup Pro 7.2 earns the TweakHound Editor's Choice Award!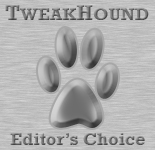 X-Setup Pro 7 Home Page - Free to try for 30 days.