Settings For User Accounts

Types of Login

Windows 8 has 2 basic types of logins for home users, a Microsoft Account and a Local Account.
The differences are significant and you should read about them here:
Which user account is right for me? and Create a user account
A couple of things here:
1 – You DO NOT need to sign up for a Microsoft email address. You can use a non-Microsoft email like Gmail, Yahoo, etc.
2 – You DO NOT have to login with a Microsoft Account in order to use the store, or share. You do have to create a Microsoft Account to use the store.
Create A User Password

During a standard setup Windows asks if you to set up a password. If you didn't this is for you.
As a side note, I did a "reset" on my Windows 8 Virtual Machine and going through setup again it did not ask for a password. Odd, yes. Bug, dunno?
Anyway, press the Windows + I keys > Change PC Settings > Users > Create a password.
Enter the password twice > and add a freakin' hint > click Next and you are done.
How To Change The User Account Picture

The best size for a picture is 448×448 (source). You should edit the picture beforehand in the editor of your choice. I usually save something like that to a folder called "stuff" that I create at the root of my OS drive. Typically that is C:/stuff.
To change the account picture click once on your user name on the Metro Screen and choose Change account picture.
How To Login Automatically

Setting your computer to Auto Login is a serious security risk. I recommend not doing this but I know there are those out there who want this.
Press the Windows + R keys and type netplwiz . In the resulting screen uncheck the box next to Users must enter a user name and password to use this computer and then click Apply.
Powers User Menu

This is also referred to as the Win + X menu because you can access it by pressing the Windows + X keys.
You can also access it by right-clicking on the bottom left corner of your screen.
This works from both the Metro screen and Desktop.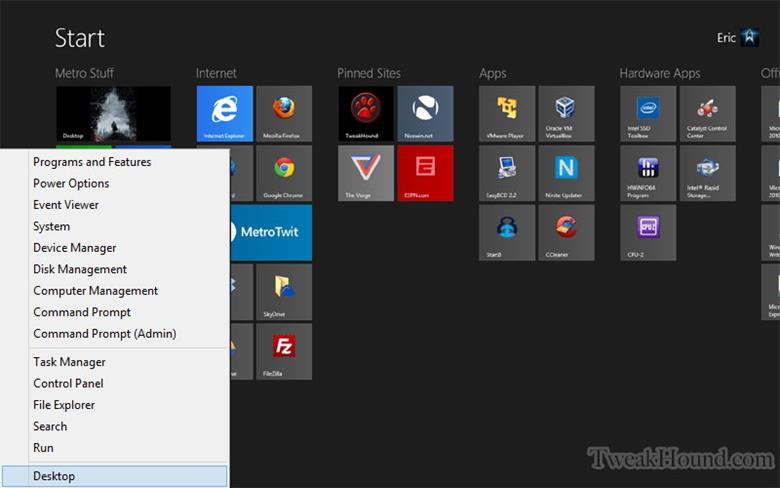 Power User Menu default shortcuts:

Programs and Features
Power Options
Event Viewer
System
Device Manager
Disk Management
Computer Management
Command Prompt
Command Prompt (Admin)
—————————
Task Manager
Control Panel
File Explorer
Search
Run
—————————
Desktop
If you want to customize the menus check out Win+X Menu Editor for Windows 8.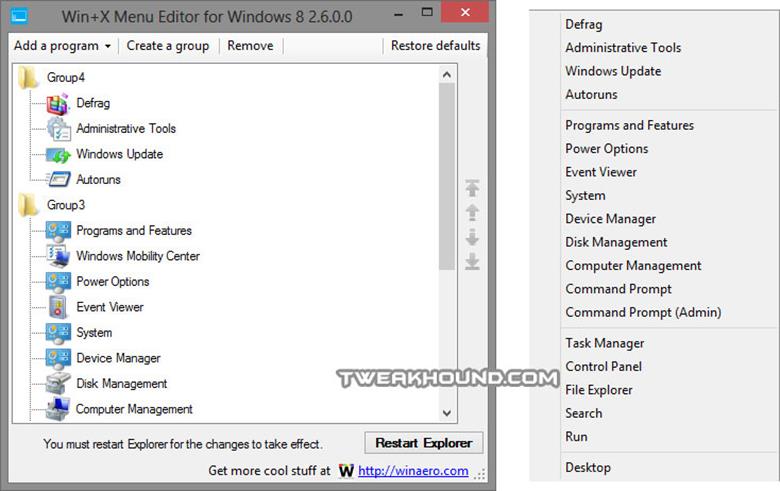 Add a Start Menu Button

There has been a major debate about Microsoft's decision not to include a start menu in Windows 8. Since most of my work is done on the desktop and without a touch screen I add a start menu via a 3rd party tool. Though there are many start menu replacements for Windows 8 I prefer the following:
Start8 – This is $5 (U.S.).
Classic Shell – Free.
Start8 offers a Window 7 or Windows 8 style theme and hybrid/modified versions of them. Classic Shell offers a choice of Classic, Windows XP, and Windows 7 themes. They each offer menu and appearance customization options. Both are fine programs but when push comes to shove I prefer Start8 for my main computer. It all comes down to personal taste.
If desired these programs can also take you straight to the desktop at login, skipping the Metro screen.
Start8
Classic Shell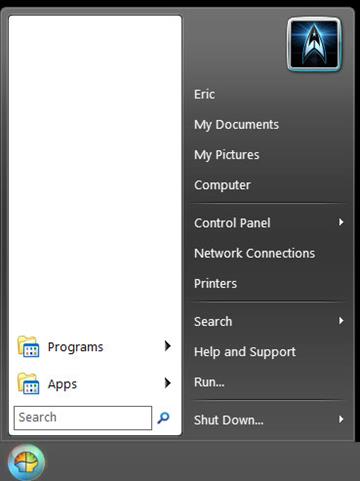 Disable System Sounds
What this does is disable the Sound Scheme. The sound scheme contains things like the sound you hear when you click on something. I'm really not concerned so much with the resources it uses but I just find the sounds to be annoying. Either way…
Right-click on the Volume icon in your System Tray and choose Sounds > First save your current scheme, click on the Save As… button, enter a name, I used "1", and click OK > Next, under Sound Scheme: choose No Sounds and click Apply at the bottom, right.