Customizing Metro

By now you know that the Metro start screen is a collection of gnarly looking tiles. We'll just have to make the best of it.
Arranging Tiles

You can move tiles by simply doing a click-and-drag.
Resizing Tiles

Right-click on the tiles > choose Larger to make a small tile big, or Smaller to make a large tile small.

Naming Groups

Slide your cursor to the bottom right of your screen. A minus sign will appear, click it > right-click on the group you wish to name > click the Name group icon that pops up > type a name in the box > click Name > when you're done, click a blank space to return to the start screen.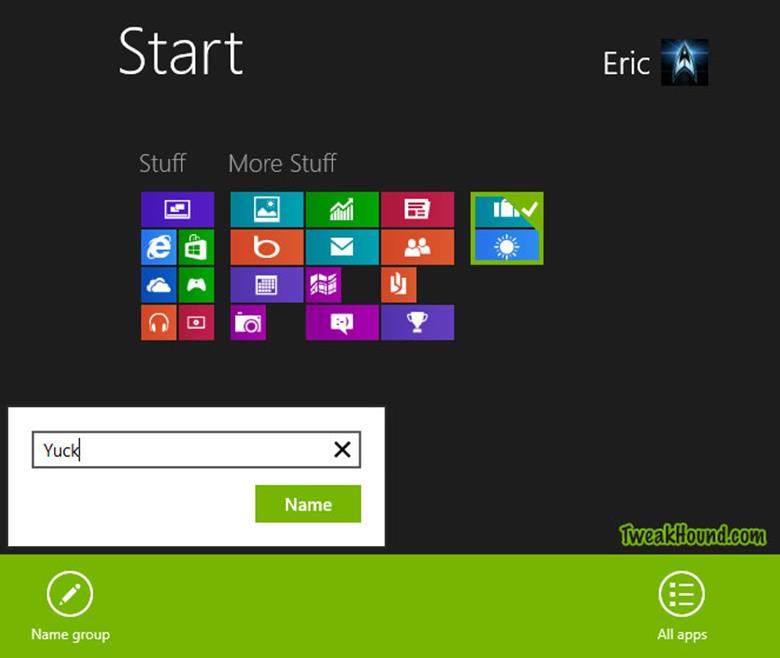 Getting Rid Of Tiles

If you aren't using tiles then get rid of them.
To remove a tile right-click on it > choose Unpin from Start. I recommend you do not Uninstall default tiles, just Unpin.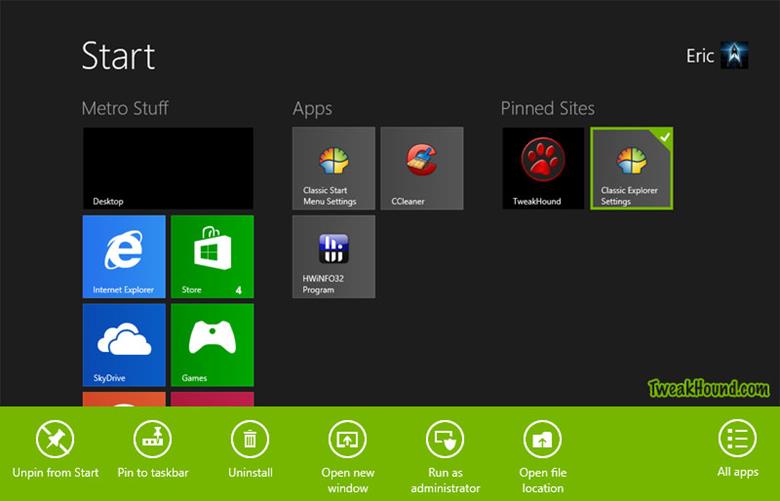 Restoring Default Tiles

If you delete tiles and later find you want to restore them here's how.
Right-click on an empty space in the Metro start screen > click All apps at the bottom right corner > All the default Metro apps will show first > right-click on the ones you want to restore and click Pin to Start > when finished click All apps at the bottom right corner to go back to the regular start screen.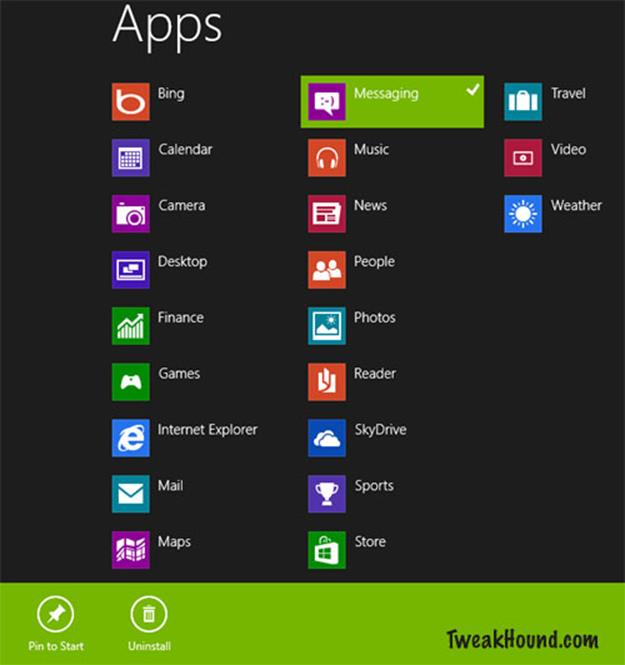 Show Administrative Tools

Settings charm > Tiles > Show administrative tools > move slider to Yes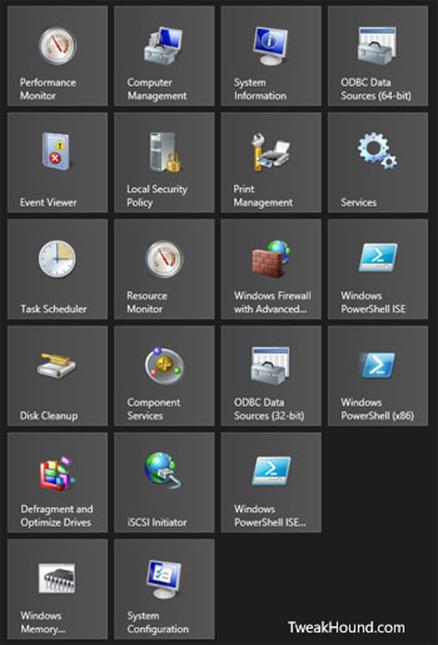 Charms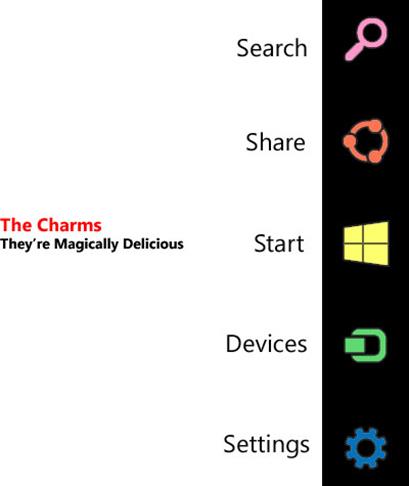 Nothing to tweak here. For what each charm does, here is the description from Microsoft:
Search. Search for anything. You can search just the app you're in (like finding a specific message in Mail), search another app (look up something on the Internet), or you can search your entire PC (for an app, setting, or file)
Share. Share files and info with people you know or send info to another app, without leaving the app you're in. You can email photos to your mom, update your Facebook status, or send a link to your note–taking app.
Start. Get to your Start screen. Or if you're already on Start, you can use this charm to go back to the last app you were in.
Devices. Use all of the devices that are connected to your PC, both wired and wireless. You can print from an app, sync with your phone, or stream your latest home movie to your TV.
Settings. Change settings for apps and your PC. You'll find settings, help, and info for the app you're in, plus common PC settings—network connection, volume, brightness, notifications, power, and keyboard. These PC settings are the same no matter where you are in Windows, but the app settings are different in every app. You can also change settings for your PC when you select Change PC settings. It's where you change your lock screen picture, manage notifications, and more.
Customize Folder Options

This is the largest section of this guide. The changes in Windows Explorer are significant and you should know your options. In addition I wanted to show as many of the options I could to the folks who've been scared to try Windows 8 because of all the FUD written about it all over the internet. IMHO this new interface makes the options most folks use far more apparent than in previous Windows versions, and thus more user friendly. (Still, it wouldn't have killed them to make the old menu style available.) Long ago I adopted my "when in doubt, right-click" strategy and I right-click everything. All the right-click options you are used to are still there.
This is the initial view from my computer.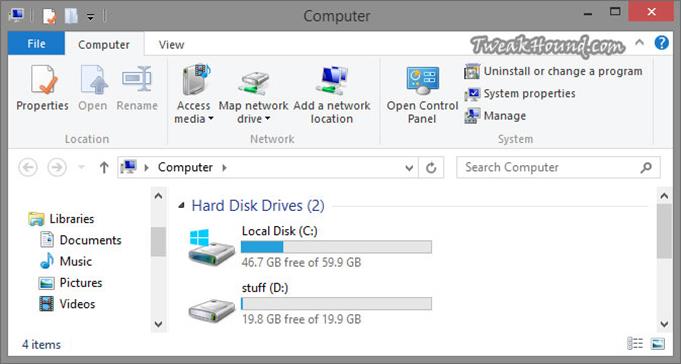 Opening the drive brings more options. This is the Home tab.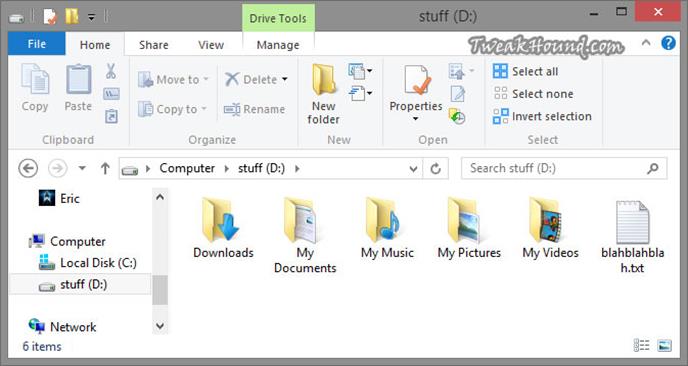 The Share tab. I like how Advanced Security Settings are one click away.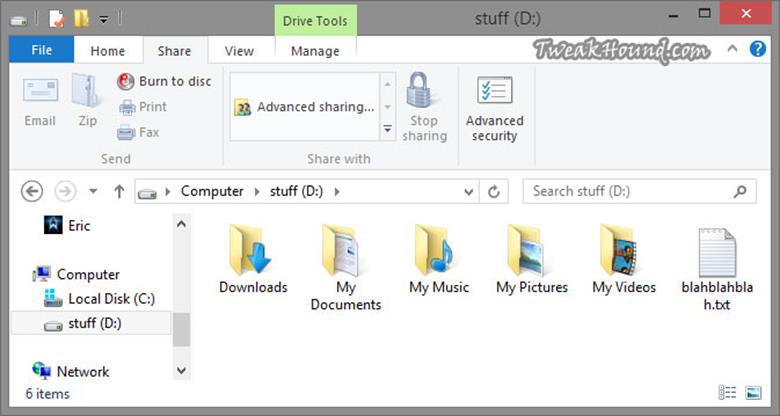 The View tab. Options are pretty much unchanged from Windows 7 but now you don't have to navigate with a menu. It's all where you can see it. Rolling over an option will immediately show you a preview of what that option looks like. See the next section entitled Folder View Options for more on this.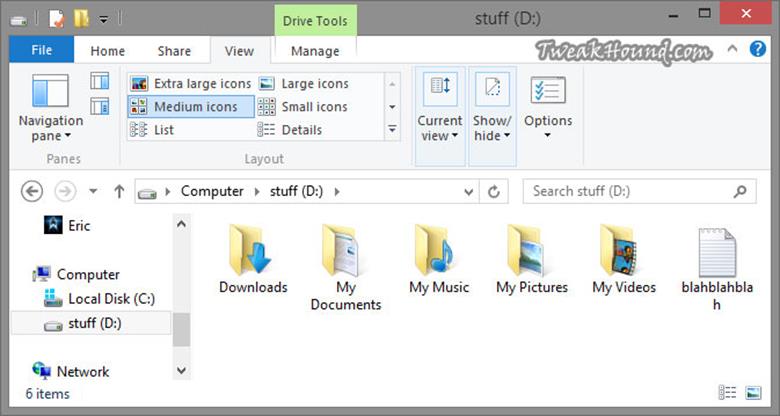 The Manage tab. I would like to see an Error Checking option here like in Properties > Tools.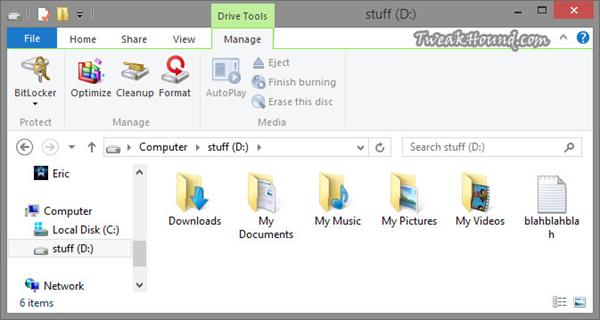 Opening the folder brings more options in the menus.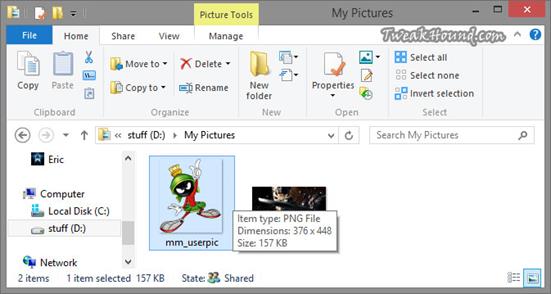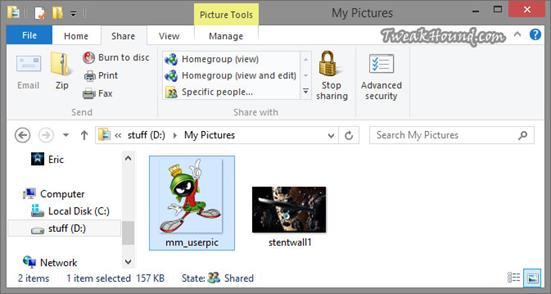 Folder View Options
While most users won't need to go further than the options in the View tab The Folder Options window has more settings. Get there by clicking the Options icon > Change folder and search options.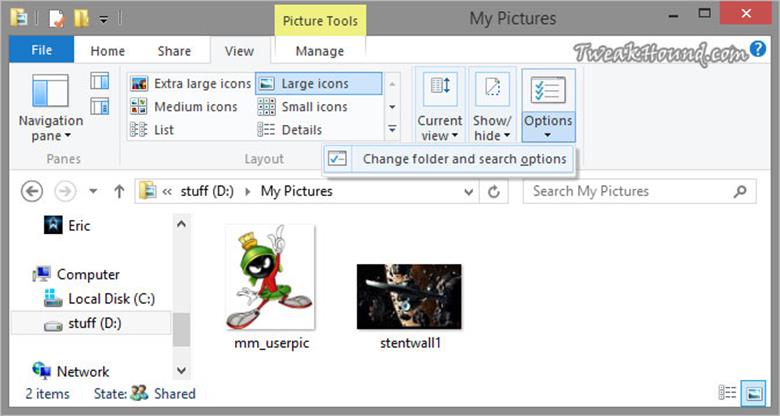 Here are all your Folder view options. My preferences are as you see below.
It should be noted that if you uncheck the Hide protected operating system files box you'll have to look at those desktop.ini and thumbs.db files everywhere including the desktop.
Oh, and for the love of all that is Geeky. Checking the Launch folder windows in separate process box is not a performance tweak. It is a legacy stability setting that actually uses more of your memory. Please see by Bad Tweaks page.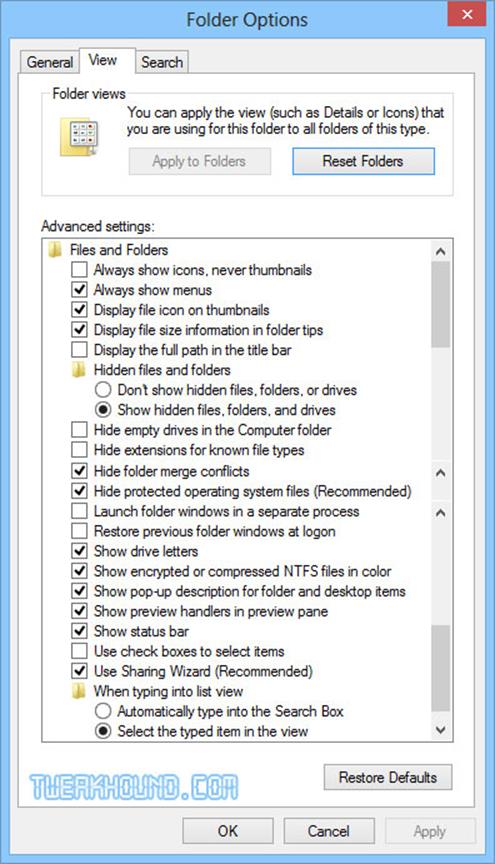 About the above setting Hide folder merge conflicts. This is a good a time as any to discuss it. Virtually every bit of advice at every site I've seen gets this wrong. The only thing this setting changes is that unchecking it adds a completely pointless Window to the mix. See pics below. While we are here let's discuss the folder merge box. You can see you have 3 options when Windows detects files and/or folders with the same name: Replace the files, Skip these files, and Let me decide for each file.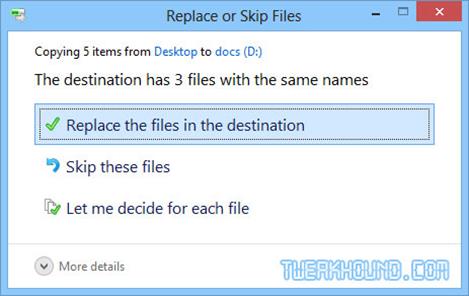 Choosing Let me decide for each file brings up the following window. You can see a thumbnail and description of each and choose.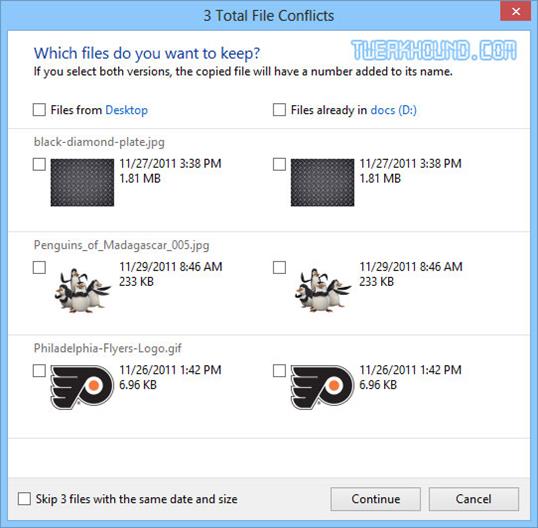 Back to that Hide folder merge conflicts box. Default is checked. Unchecking it brings up the Windows below. If you click Yes you get the two previous Windows. I don't even understand why this option even exists.