The Windows XP Security Center
By Eric Vaughan
Oct. 17, 2004

With the introduction of Windows XP Service Pack 2, Microsoft introduced the Security Center. There are many opinions about this new feature but in general I feel that it's a good thing. My fellow geeks view it as an annoyance and like me they have disabled it altogether. However, the intent of the Security Center isn't to help those who know how to secure their computer but rather to assist those who do not. By creating the Security Center, Microsoft has made an attempt to make the web a better place for geeks and non-geeks alike by, for lack of a better phrase, "protecting people from themselves". I like the fact that it is there, even if I don't use it on my personal computers. I do have it fully operational on my Mom's computer. This is a simple introduction and how-to for the Security Center. I'll introduce the Security Center to you and show you how to enable/disable the main settings.
Disabling The Security Center
Let's get this one out of the way first. To disable the Windows XP Security Center open the Services MMC:
Press the Windows and R keys > in the resulting window type services.msc > in the resulting window scroll down to Security Center and double-click on it > In the "Startup type:" box use the arrow to scroll down to choose "Disabled" click Apply and reboot, or, click Apply and click the button that says Stop.
Configuring the Security Center
Before you go any further...
-Run Windows Update.
-If you are using a 3rd party firewall, update it now.
-If you are using an Anti-Virus program, update it now. If you aren't, shame on you, get one! (I use AVG.)
To open the Security Center open Control Panel:
Press the Windows and R keys > in the resulting window type control.exe > in the resulting window double-click on the Security Center icon.
What my Security Center looks like fully operational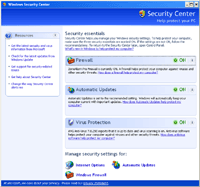 (double-click for full sized image)
If you're using the Windows or 3rd party firewall, have Automatic Updates turned on, and use an anti-virus program all windows should show on with a green light.

If you have a 3rd party firewall and/or an anti-virus program and the Security Center isn't seeing it you should make sure those programs are fully updated and then check the vendors support site.
Other status displays you might see.

You'll see this if Automatic Updates or the Firewall is turned off (and you aren't using a 3rd party one).

You'll see this if an Anti-Virus program isn't found.

You'll see this if you've told XP not to monitor your Firewall or Anti-Virus settings.
The Options
Firewall
The best thing you can do is to get a 3rd party firewall. Microsoft's firewall while much improved still lacks several key elements, including the ability to monitor/block outbound communications. 3rd party firewalls offer this essential protection. Popular ones include Zone Alarm, Norton, McAffe, Kerio, Sygate, and many others. Many of these are often integrated into "suites" that include anti-virus and other programs. I've my personal preferences on why I don't like some of the solutions but that topic is for another day. The important thing is that you use one.
If you desire a free 3rd party firewall, Zone Alarm has a decent free version, you can get it from Major Geeks.
If you use a 3rd party firewall, turn off the Windows Firewall. To do this, in the Security Center double-click the Windows Firewall button at the bottom of the window.
In the resulting window select the "Off" option and click "OK".
If for some reason you choose not to use a 3rd party firewall, there are several options that you should know about that are beyond the scope of this article. See these Microsoft articles fro more info:
Understanding Windows Firewall
Troubleshooting Windows Firewall in Microsoft Windows XP Service Pack 2