How To Samba With openSuse 10.3 And Windows XP
Formerly, How To Samba With Suse 9.3 And Windows XP and then How To Samba With Suse 10.1 And Windows XP .
This guide will work with Suse / openSUSE Linux versions 9.3-10.3.
Version 2.2
Last edited October 05, 2007
This guide is intended for those using Suse 10.3 and Samba with the firewall (SuSEfirewall2) enabled. It applies to machines in workgroups only, not domains. Samba works great out of the box with Suse 10.3 however the firewall adds some complexity to the issue. openSUSE 10.3 has made vast improvements in Samba networking and some of the work is already done for you. This guide was created from my attempts to make accessing all shares and printers on my Windows/Linux network work perfectly. My network is a bit more complicated than the average persons and following these steps I have created a trouble free network (you can see the computers on my network here). I can access every share and print to every printer from any machine. The operating systems on my network are Windows XP Home, Windows XP Pro, Windows XP Media Center Edition, Windows Server 2003, and Suse Professional 10.1. I am not, nor do I pretend to be, a Linux guru. These steps worked for me so I thought I would pass them along. Please do not contact me with questions about this. The best place you can go to ask questions on this subject is the Suse Linux Forums. There are many folks there that know more about Linux than I ever will. Some of the steps I'll take here may seem a bit redundant to those familiar with the subject. I've done this so that those not familiar with the subject can see the various tools/options available. Please note, this article will not attempt to show you all the file sharing variables from Windows. If you do not know the basics of Windows networking I suggest you start with the links on my Windows XP page.
*Note- Before we go any further. I've had several comments from folks saying this or that works. Not a single suggestion that has come in has worked. Not a single suggestion has managed to punch a hole through the Suse firewall to allow it to fully network with XP (not Windows 95 or 98 or whatever insecure Microsoft OS, we're talking Windows XP). Also, this guide is for machines in a workgroup, NOT a domain. As for the suggestion that you allow your Suse box to be a PDC. 1 - Why would you want your PERSONAL computer doing this? 2 - It completely screws up the Windows network from the XP boxes. I watched it happen on my own network.
**Updated Note - After following the steps in this guide I can now browse my network in openSUSE 10.3. Way to go openSUSE / Samba guys!
*Tip - Due to the way Windows handles browsing I recommend shutting down each box (both Windows & Linux) after you configure it. For best browsing results you are usually better off booting XP (or higher OS) before Linux, at least initially. Also, depending on your network it may take some time for everything to propagate around the network.
From the Windows XP box
We need to get some info from our Windows box and manually set it's IP Address.
Go to Start > Run > type cmd > press OK. At the command prompt type ipconfig /all. You'll get the resulting screen, leave it open but be sure to write down the Host Name and IP Address...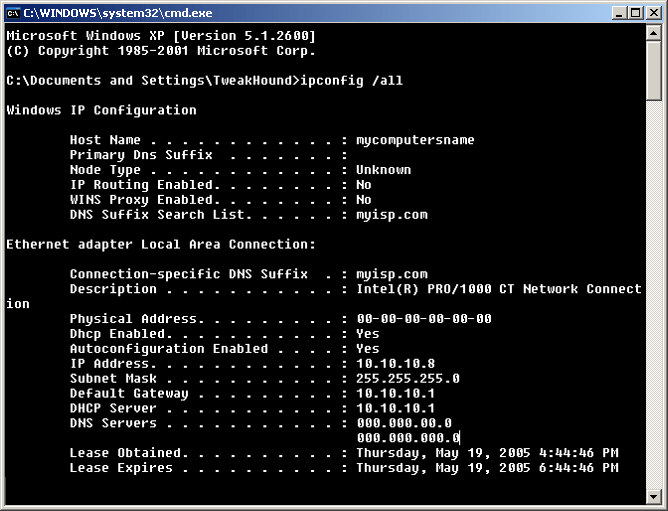 Now right-click on My Network Connections and choose Properties. In the resulting screen right-click on the connection you wish to modify and choose Properties.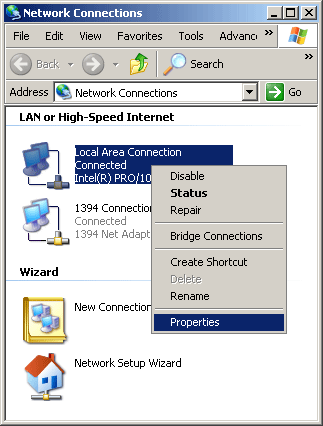 In the resulting screen double-click on Internet Protocol (TCP/IP).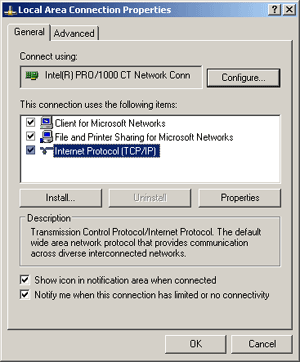 In the resulting window check the button next to Use the following IP Address. Now copy all the appropriate information from the command window you opened to the corresponding boxes. Do the same for the boxes under Use the following DNS server addresses. Click OK when finished and exit out of all the windows.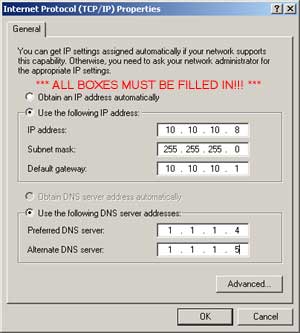 Again, go to Start > Run > type cmd > press OK. At the command prompt type ipconfig /all. Your screen should look something like this:
Repeat these steps for all XP boxes. You MUST have file sharing enabled on these boxes for everything to work correctly! Now shut down the Windows box. On to the Suse side of things...