TweakHound Reviews
Plextor's PX-504A DVD Recorder
Manufacturer: Plextor
Supplier: Plextor
Reviewer: Eric Vaughan (April 17, 2003)
Price: $299 (Retail)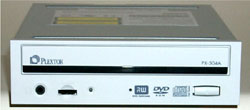 Does your CDR leave you wanting for more space? Wanna back up that expensive DVD collection? DVD recorder drives are finally affordable! Plextor's new PX-504A DVD+R/RW CDR/RW received enough press on it's release to get my attention. They were kind enough to supply this drive for review. Anyone who has been around computers knows Plextor has a reputation for quality drives. Having said that I have high expectations for this drive and I'm going to throw everything I can think of at it. For those not used to TweakHound reviews, I don't get overly technical. I try and get down to business without the hype and fluff. Supergeeks can peruse the links provided.
Specs:
6-in1 Combo Drive, 4.7GB, Buffer Under Run Proof
4X DVD+R, 2.4X DVD+RW, 12X DVD-ROM, 16X CD-R, 10X CD-RW, 40X CD-ROM
Full specs here: http://www.plextor.com/english/products/pdfs/504A.pdf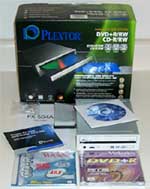 Included Stuff:
Ribbon cable, 4 mounting screws, ejector pin, Verbatim 4X , 4.7GB DVD+R and 48X 700MBCDR, manual, Quick Reference Guide.
Bundled Software:
East CD Creator 5 DVD Builder
PhotoSuite 5 SE
Roxio DirectCD
Dance Retrospect (30-day trial)
PowerDVD XP 4.0.
Minimum System Requirements:
CPU: PIII 800 MHz or equivalent (min.),P4 1.6 GHz or equivalent (suggested)
RAM: 128MB, HDD: 800MB-1GB, Monitor display resolution: 1024 X 768 16-bit color (requires 16MB or better graphics card)
First impressions:
The Drive: A little better looking than the average drive. I wish it was black! (It is available in black) Black CD tray is supposed to cut down on reflection and reduce chance for making coasters.

The Software: I'm a little leery of the Roxio 5 stuff. I think there have been 4(?) updates and numerous problems with it. PhotoSuite 5 SE can be cool. PowerDVD 4 XP is, IMHO the best DVD player there is (I already own it!). As for Dance Retrospect, I don't do trail versions.
Installation:
It's just a standard drive folks. Pop it in and attach with the provided screws. It, like most recordable drives, wants to be the the master drive if possible.
Windows XP Home SP1 picked up the drive with no problem.