How To Install And Configure Norton SystemWorks Pro 2003
(I'm told this guide works for Norton SystemWorks Pro 2004 too. Since I find product activation personally offensive I won't even consider upgrading until I have to...maybe)
by Eric Vaughan
Dec. 21, 2003
I often hear people say "I hate Norton SystemWorks, it's a resource hog." That is an accurate statement if you do a full install and keep all the default settings. This guide will show you how to install and configure Norton SystemWorks Pro 2003 so that is not a "resource hog." The settings I'll show you are what I use on my personal computer. I have NSWP2003 installed on all 6 of my computers and each situation and installation is unique.
You should consider the user and role of each computer before continuing.
Instead of making this more confusing than it needs to be, I'll let the pictures do most of the talking. When you see a screen shot simply make yours look like mine.
Before Installation
I prefer to install NSWP on a fresh install. Install everything else first, but do not use your email. Then reboot into safe mode. Do the following:
Start > Run > enter cleanmgr /sageset:50 check all but the bottom two boxes, click ok.
then Start > Run > enter cleanmgr /sagerun:50. Now run disk defrag (while still in safe mode).
***If you have applied the "Disable 8.3 Name Creation" tweak you must undo it before you install NSW or the install will fail. Resetting the value in the registry value below will do it. Change the value from "1" to "0".
[HKEY_LOCAL_MACHINE\SYSTEM\CurrentControlSet\Control\FileSystem]
"NtfsDisable8dot3NameCreation"=dword:00000001
For one reason or another people are often afraid of installing the whole NSWP until they have a full backup of their computer. Given the complexity of the program, and what a nightmare it is to completely uninstall, this isn't a bad move. You can do this by using Ghost which is on the CD. To do this:
Insert the SystemWorks CD and click exit when the install screen pops up > Now open My Computer > right click on the drive containing the CD and choose Explore > navigate to the Ghost folder > you can copy the folder to a separate drive or launch the installation from the CD and do the following > open the Ghost folder and double click on the GHOST.MSI file, this will start the installation. After installation, be sure to run Live Update, 3 times. Now you can make a Ghost image of your computer before continuing with the full NSWP installation.
Installation
When you get to this screen during installation, choose Complete and click Next.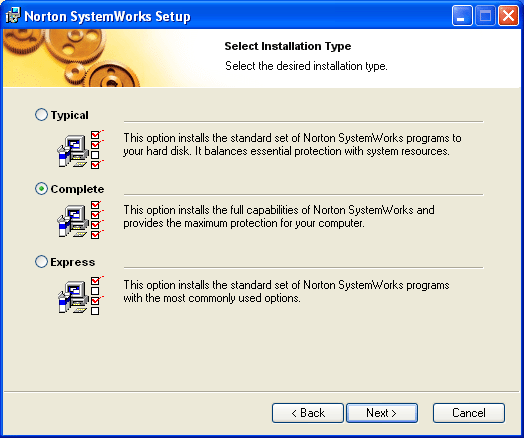 In the resulting screen, right-click in the box next to Norton CleanSweep and choose the red X.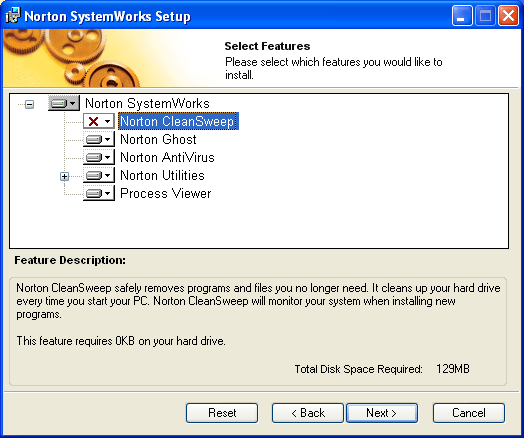 Now click on the plus sign next to Norton Utilities to expand the group. Right click in the box next to Norton Disk Doctor and UnErase Wizard and choose the red X. Click Next. Installation will begin.