A Look At Acronis True Image 2009
October 20th, 2008,
It is no secret I'm a big fan of Acronis True Image. I believe that it is the best backup and imaging software there is. I'm not alone. TI has received many accolades and awards. So, version 2009 is out and I'll show you what TI is, what has changed since version 11, and what I think about it. I spent several days using this program I and I could probably write a mini-book about it. But, I don't want to write it and you don't want to read it. So, I'll try and keep this short and sweet.
What It Is
Acronis True Image is, at its core, backup imaging software. What this means is it doesn't just copy and replace files. It actually does a complete bit-by-bit copy of a partition or disk, an exact picture-in-time if you will. This picture-in-time is shockingly known as an "image". Maybe it will help if I explain how I use it...
After I install an Operating System I begin making images. I'll make an original image, just the OS and it's updates with no other programs. Then I'll install all my programs and make another image. Next I tweak everything and make another image. Getting the gist of this? For every major change I'm making an image, if something goes awry I can quickly revert to the previous pristine state. New programs and new versions of programs are released all the time. I sometimes think I try more programs than any human alive and most of them, well, they stink. Of course I'll update as needed as I go along but I'll have what you can call "update days". I'll put aside an hour or so every 4 to 6 weeks. First I restore the computer from the latest backup then begin updating (Windows Update, program updates, new programs, new drivers, etc.). Then run a full cleanup and defrag and make a new image. This assures me of a clean and optimized computer and I know I can revert to that state in minutes. Now, as I use my computer I do so in complete confidence, knowing that I can recover from anything.
What Has Changed
Straight from Acronis:
One-click™ protection
Initially, you decide what, where and when to back up. After that, backups occur automatically or with just one click.

Full text search
You will be able to search for files through multiple archives by name or by a part of the name and then restore individual files easily and quickly. You can also perform searches of the files content.

Zip archive format support available
In addition to Acronis' powerful TIB data compression backup format, one of the most densely compressed backup file types available to consumers, Acronis True Image Home 2009 also supports the popular ZIP® format.

Windows Vista® -style interface
The new, sleek interface of this product works on Microsoft® Windows XP and Vista operating systems.

Auto backup based on destination availability
Users can decide to back up automatically or as soon as a destination drive is available. Works jointly with existing scheduling.

Automatic computer shutdown after backup or restoration finishes
You can now perform a backup at night and go to sleep without bothering about turning off the computer. The PC will shut down when the back up is complete.

Archive to various places
You can save full, incremental and differential backups almost anywhere. You now you have ultimate flexibility in choosing a place to store from the same data series: on a network share, CD/DVD, USB stick, FTP-server, any local internal or external hard drive. You can now also give meaningful names to incremental and differential backups, for example, "C-drive-before-repartitioning".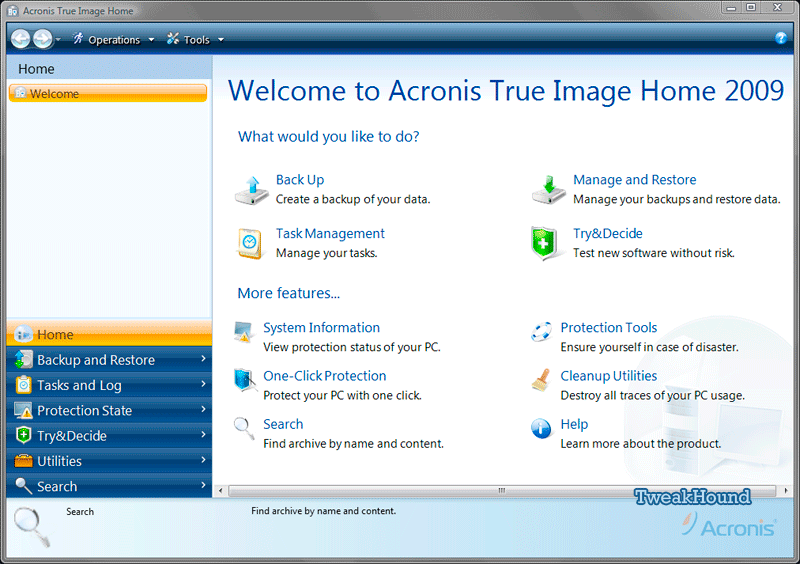 What I Think
I'm going to do this feature by feature. I'll give a grade to each one and a weighted overall grade at the end. Please keep in mind that this is simply my opinion based on how I use a computer and do backups.
One-click™ protection grade = A
In one sense this is just a scheduled backup. But! Now you can create a backup job and either run in on a schedule OR you can create a job and run it with a simple click. This saves you the hassle of having to go through all the configuration options again for backups you do regularly. For some one like me who doesn't schedule anything, this feature is great.
Full text search grade=A-
It works and works well. However, any worthwhile search application needs a engine of sorts. In this case the engine it uses is either Windows Desktop Search or Google Desktop. I understand that many of you find these applications useful. I do not. I'm extremely organized and pretty much know where I put everything. For me, search applications are an unnecessary drain on system resources.
Zip archive format support available grade = B+
YeSss! Finally a format other than .tib for backup! You can backup to a .tib file (Acronis's proprietary, zip type format), a .tib AND a .zip file, OR, just a .zip file! SWEET! I've just got one more request. I would like the ability to just do a straight, uncompressed backup (like Microsoft's SyncToy ). Please???
Windows Vista® -style interface grade = C
OK, it's pretty. Being used to the old interface it is a tad difficult to get used to. If you are new to TI, let me know what you think.
Auto backup based on destination availability grade = untested
I can find no further info on this but I would assume it means that if the destination of your backup is busy or offline then TI will run a scheduled backup when that drive is available.
Automatic computer shutdown after backup or restoration finishes grade = A
Start your backup and go to bed. Nice!
Archive to various places grade = B
If the destination drive (of whatever type) runs out of space then you have the option of continuing that backup to another location. Well...alright, I can see how this may be of use to some folks.
Conclusion grade = A
Some folks complain that True Image has become bloated. To a certain extent they have a point, but, darn near every other program has done the same (Nero, Roxio, Vista, etc). Not to be too jaded but IMHO the main reason for this is to give folks a reason to upgrade, or to say "we have more features than the other guy". I can't think of a single software vendor that isn't guilty of this so forgive me if I cut Acronis some slack, it's how you stay in business. Yes, there are some features I've no use for. Often, one mans feature is another mans bloat. I reckon it's all in how you look at it.
I use Acronis True Image to image my drives, that's it. I'm currently using 5 computers, 2 of which dual-boot, 1 multi-boots. The operating systems I use are XP, Vista, openSUSE, Kubuntu (yes, TI does Linux too). I spend a lot of time testing software, tweaks, and hacks. The current machine I'm on hasn't gone more than a 2 weeks without reimaging since I built it in April (2008). With all the various configurations I have TI has never let me down in the imaging department and I could not do what I do without it. Acronis True Image has been and continues to be the best imaging software there is.
My recommendation (as before) is to ignore the fluff and the applications that you have no use for and use it for what it is great at, imaging your computer.
Eric
You can make or read comments here.