It was time for a new desktop PC. My newest PC was put together 3 years ago out of parts that were basically 2 years old then. I haven't had a top of the line PC since my CUSL2 system around 2000-2001. So, I decided to treat myself this time out.

This new computer will not be a "gaming rig", it will be an all-purpose workhorse. I expect it to play games, edit multi-media, run virtual machines, etc. I also expect it to last several years. In short, I expect it to be both tool and toy.
I wanted high quality, highly rated parts. I set an initial budget at $1500 and I went over that.
A solid week of research went into narrowing down the parts list. Next was trying to find some deals.
---
Part #1
i7-8700. I wanted as fast as I could get. Overclock? Hmmm… Guys seem to be hitting 5Ghz pretty easy. So yeah, I'll need a "k" (that means it is unlocked and overclockable).
So I start shopping for an i7-8700k. I didn't realize there was a shortage of these CPUs. Went to Amazon and prices were over $500 and no Prime. Uh…No. Googled "i7-8700k" and found it for $400 at Micro Center in Fairfax, VA. Bookmarked.
Part #2
Motherboard. z370 Chipset. Lots of good options out there. I needed to start narrowing down things. I've had good luck with ASUS, ASRock, and Gigabyte so that is my first filter. Wouldn't mind dual-lan so I can dedicate one to VMs. Don't want wifi. Want two M2 slots. After hours of bouncing back and forth between Google, Amazon, and Micro Center and settle on the Gigabyte Z370 AORUS Gaming 7. It was on sale for $200 and it had a $30 rebate to boot.
Part #3
Memory. I hate shopping for memory. Too many options, too many specs, just plain confusing. Screw it, I have good luck with G.Skill and I know I want 2x16GB. I popped over to their RAM Configurator. Honestly there were too many options there too. I went to my mobo memory support list. Criminy, they cant even order it by brand. After an hour or so of cross-referencing I decide on the G.Skill F4-2133C15D-32GVR.
Part #4 & #5
M2 SSD. 2 of them. There will be no spinning hard drives in this rig. Samsung period. Have bought over a dozen Sammy SSDs and had zero issues. It is between the Samsung 960 PRO or EVO. The PRO is faster but also more expensive. IMHO the EVO is a better value and I doubt I will notice the difference. I get a 250GB and 500GB. Smaller one for OS drive, larger one for data.
Part #6
CPU Cooler. Water. I'm gonna OC but I'm not gonna get crazy. Really liked my Corsair H60 cooler. A little research and I decide on the Corsair Hydro Series H80i.
Part #7
Power supply. Modular only. I haven't been impressed with PSUs since Enermax went downhill many, many years ago. The guys at [H]ardOCP seem to dig Sea Sonic. I've always been prone to overkill with my PSUs. I decide on the Seasonic FOCUS Plus Series SSR-650FX. It is quiet.
Part #8
Grrr… Not impressed by cases right now. Whats on sale? The Corsair Carbide Series SPEC-02 Mid Tower Gaming Case fits the bill. It's OK. You'll see in the pics below I yanked the hard drive cage cause I don't need it. It's freaking plastic anyway. Yes, plastic. I don't think I would buy this case again because the water cooler fans/pump just barely fit. It took some finiggling to get it in there and there isn't a millimeter of room to spare.
Part #9
Video card. I've already decide to go Nvidia. I'm also already at the end of my budget so the GPU will not be high end. Maybe this summer. I decide on the Zotac GeForce GTX 1060 AMP! Edition. At $270 it is a great bang-for-buck.
Operating System
Windows 10 Pro.
Linux was an abject failure. This PC needs kernel 4.13 plus to run. True support for this PC will be in kernel 4.15. Mint wouldn't even boot to Live CD (kernel 4.10). Under Fedora KDE I was able to install Nvidia drivers but not VMWare Player. 3D and VMWare are a must. Fedora's KDE was buggy as heck and I don't do Gnome. I'm betting I don't see this for a year. No biggie. openSuSE in a VM is fine for now.
Full List
Core i7-8700K Coffee Lake 3.7 GHz LGA 1151 $399.99*
Z370 AORUS Gaming 7 LGA 1151 ATX Intel Motherboard $199.99 – $30 rebate = 169.99
Zotac GeForce GTX 1060 AMP! Edition $269.99*
Corsair Carbide Series SPEC-02 Mid Tower Gaming Case $59.99
Seasonic FOCUS Plus Series SSR-650FX 650W $89.90
Corsair Hydro Series H80i v2 Extreme Performance Liquid CPU Cooler $86.50
G.SKILL Ripjaws V Series 32GB (2 x 16GB) DDR4 SDRAM 2133 (PC4 17000) Desktop Memory F4-2133C15D-32GVR $349.99
Samsung 960 EVO Series SSD – 500GB NVMe M.2 Internal SSD $240.00
Samsung 960 EVO Series – 250GB NVMe M.2 Internal SSD $114.99*
Pre-Tax Total 1,781.34
Tax 96.00
Total $1,877.34
All links are to Amazon.
All prices are what I paid.
* means purchased at Micro Center and were "In Store only" deals.
edited 17DEC2017 – forgot to subtract $30 rebate on mobo
---

Pics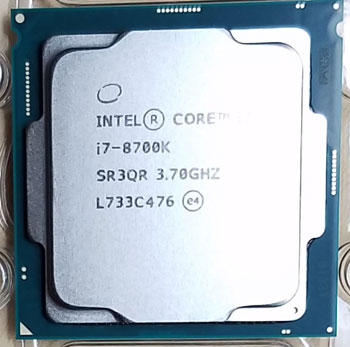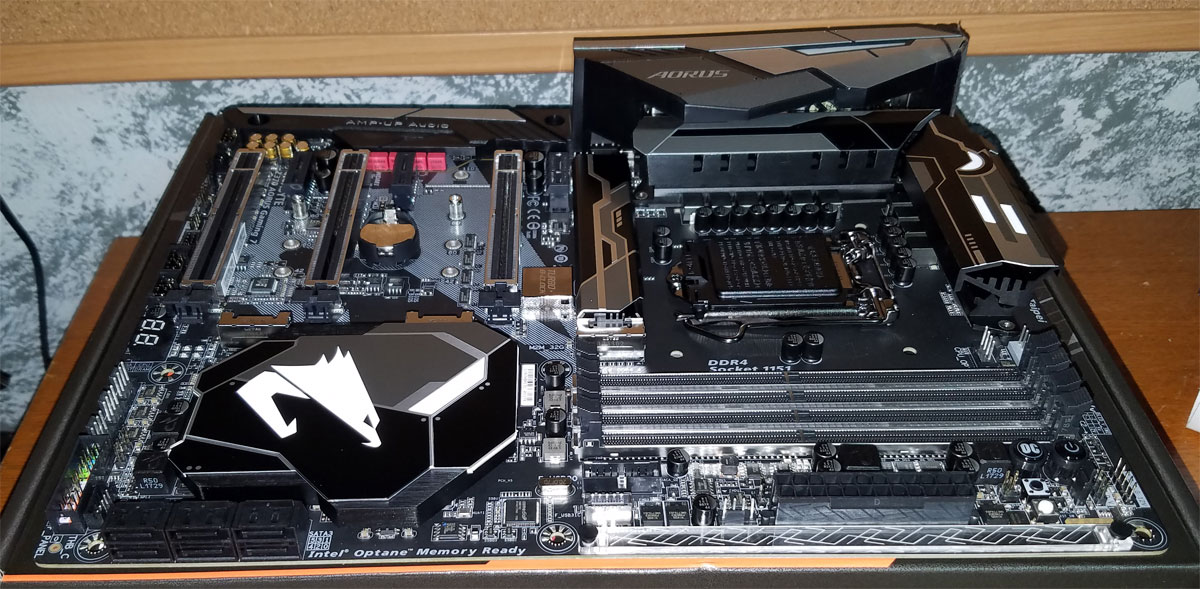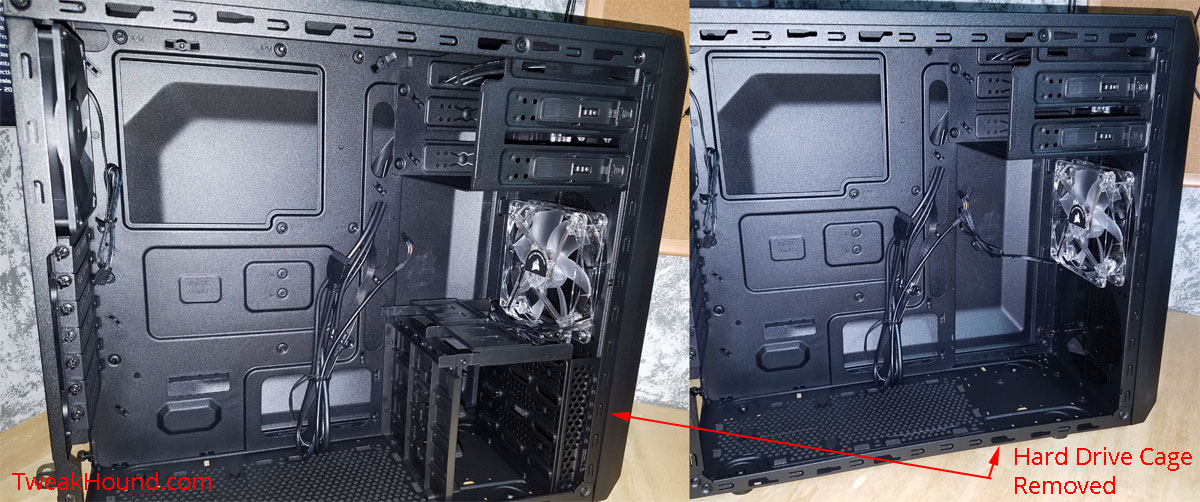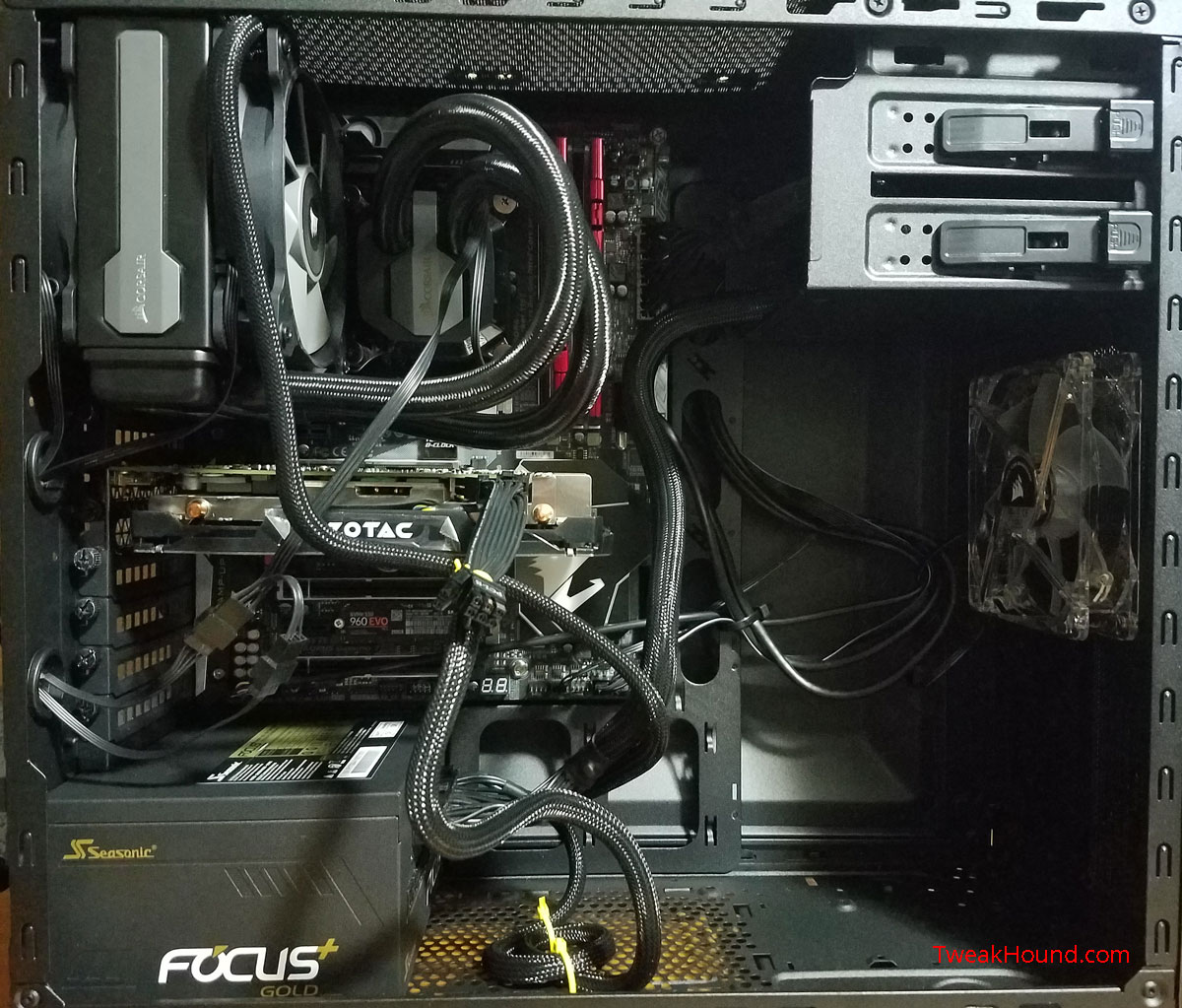 ---
Overclock
5Ghz with one click.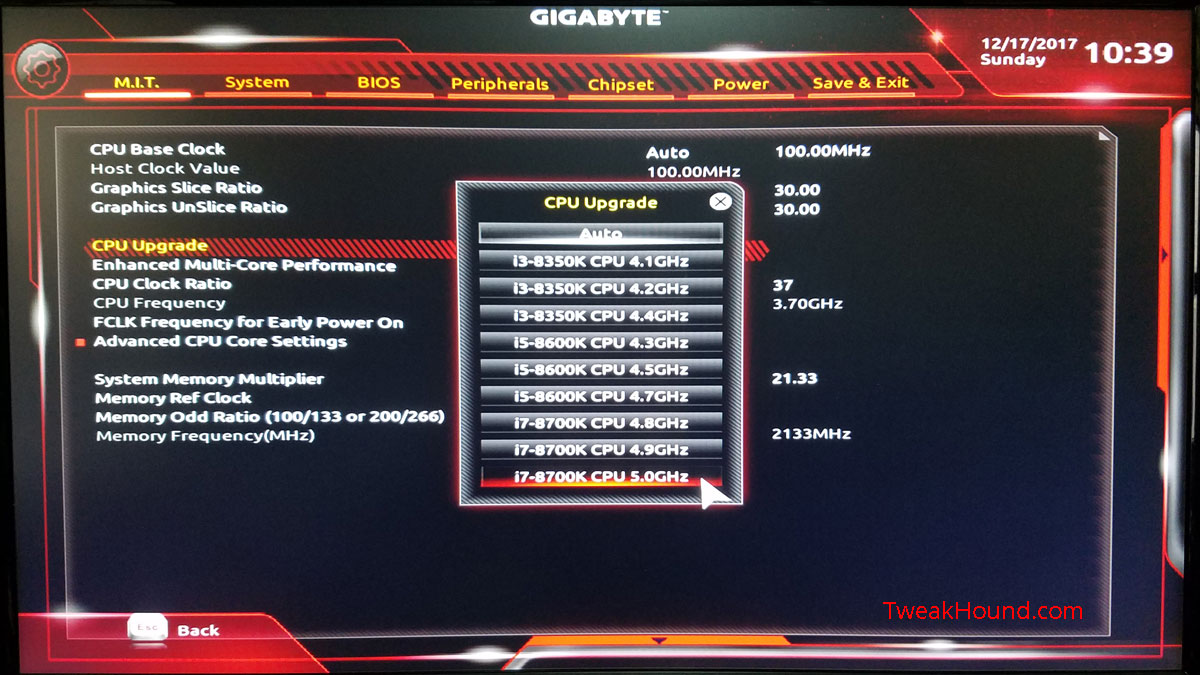 Overclock Settings
First and only attempt. Completely stable.
CPU: 5GHZ
RAM: 2400MHz
GPU: 1905MHz
Pic just for info. Adjustments made in BIOS.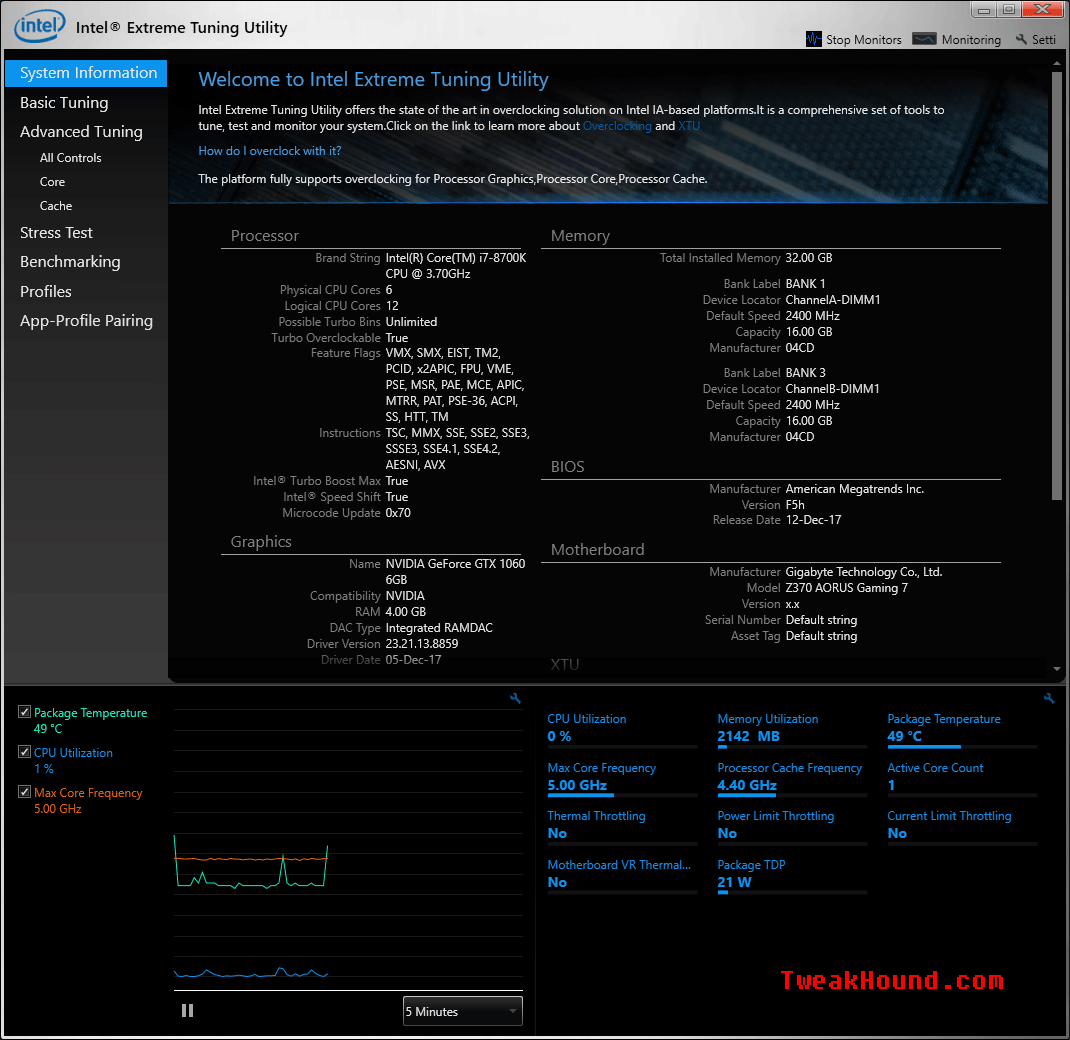 Video card OC via manufacturers app.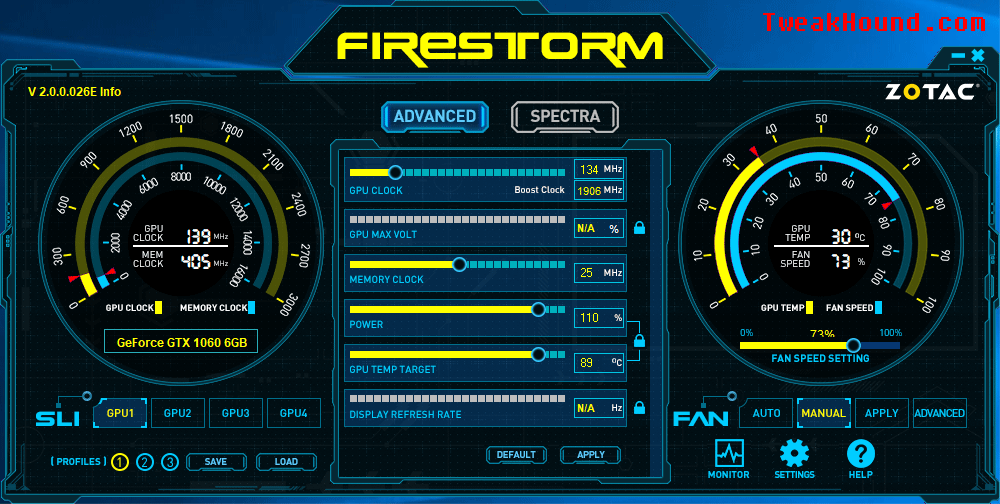 ---
Benchmarks
Just a few. Not gonna kill my new board
PC Mark
Stock: 5701 PCMark 8 Home Accelerated
Overclock: 5985 PCMark 8 Home Accelerate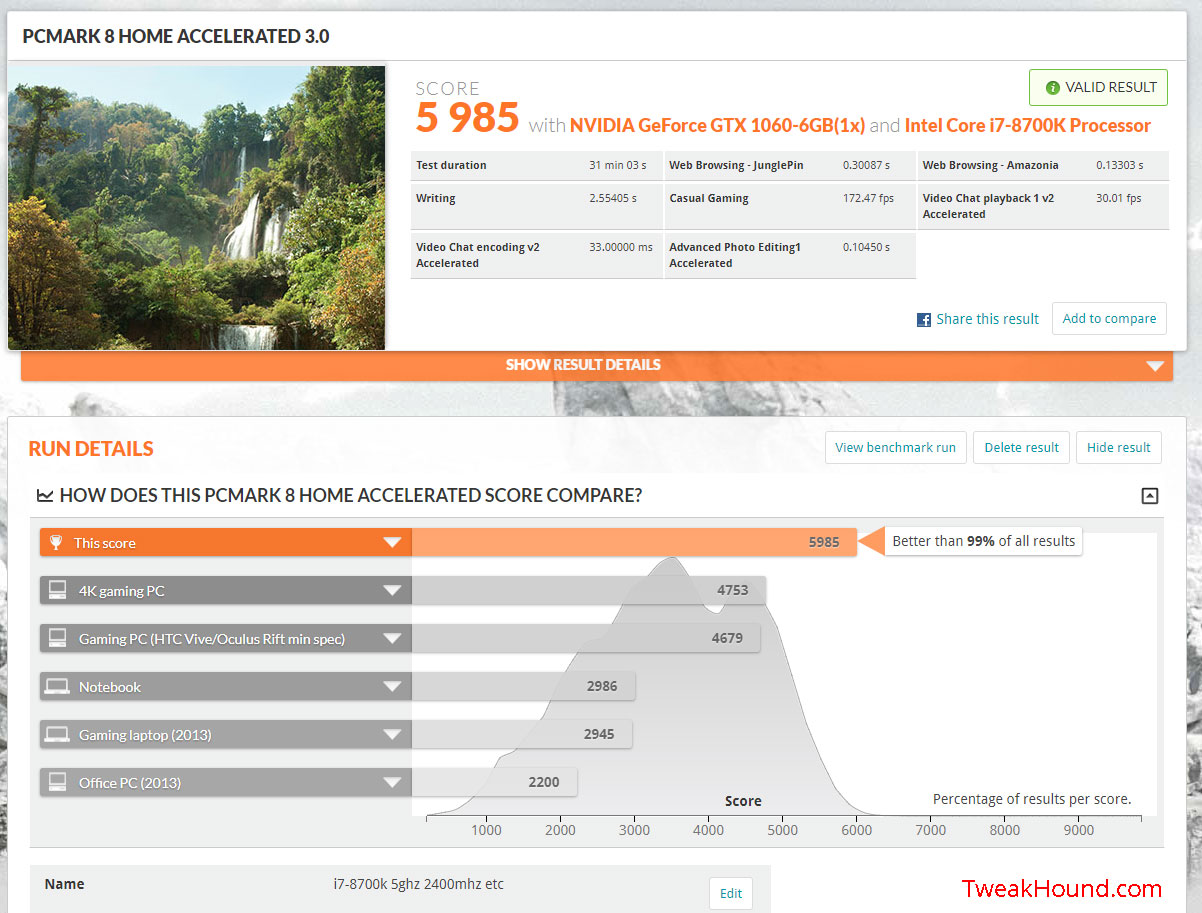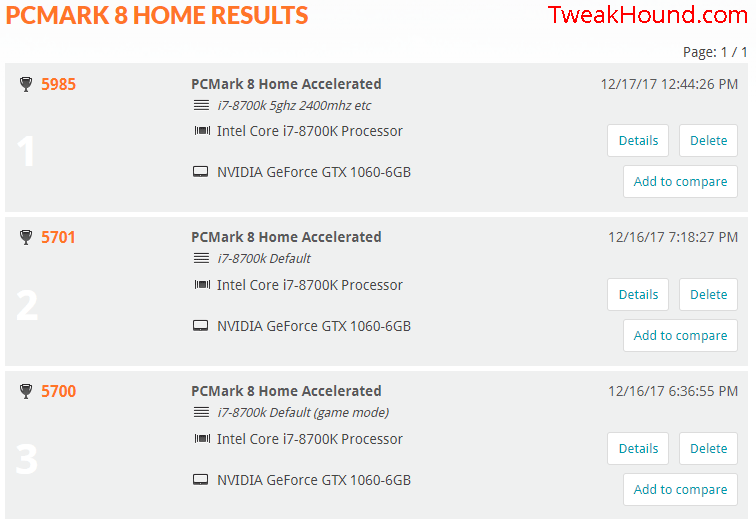 M2 Drives
AS SSD and Crystal Disk Mark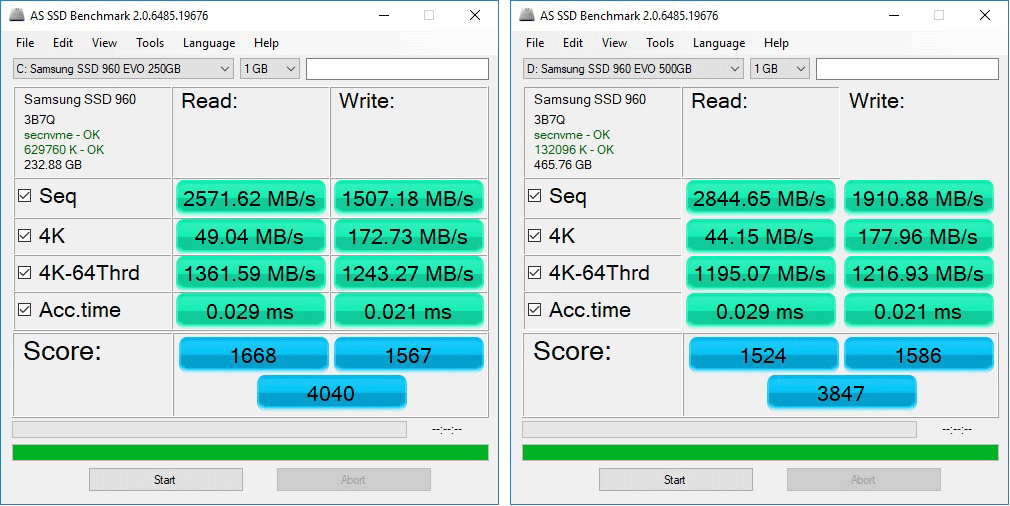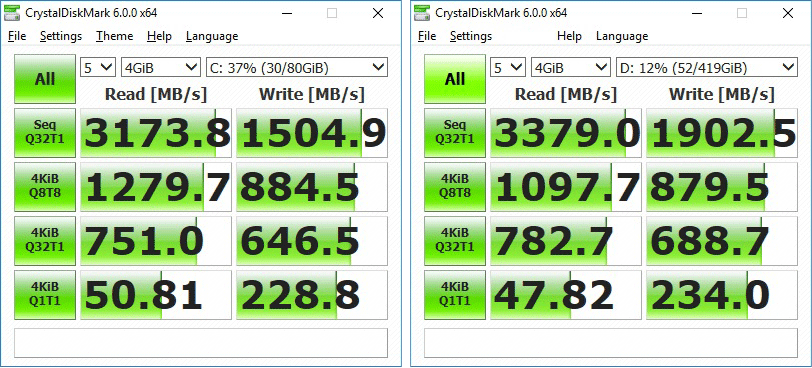 -END-