Customize The Desktop
Oh man, where do I start…
Because even at this point, 5 years on, Win 10 isn't close to being finished. Many settings are in 2 different places (or more). Usually at least some settings are in the same place they were in previous Windows versions, but some settings are in the new Settings app.
Display Settings
Right-clicking the desktop reveals two controls for the display. Right-click Desktop > Display Settings opens the Display page under the System menu of the Settings app and controls for brightness, color, and scale. Right-click Desktop opens the Personalization menu of Settings app and controls for background, colors, the start menu, and taskbar, among other things.
The Start Menu
The vast majority of Windows users rebelled against Windows 8 Metro design and lack of start menu. Microsoft brought back the Start Menu in Win 10, but it wasn't quite what we asked for. This section will show you how to tweak the default Start Menu as well as explore a third party option.
Default
Gone is the Windows 7-style start menu. Microsoft just can't seem to live without tiles.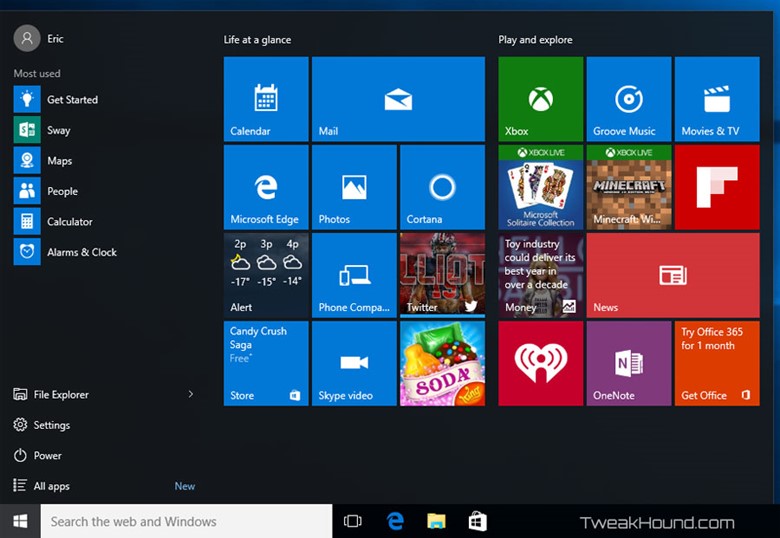 Lots of options. By right-clicking you can: remove, resize, turn off, and uninstall.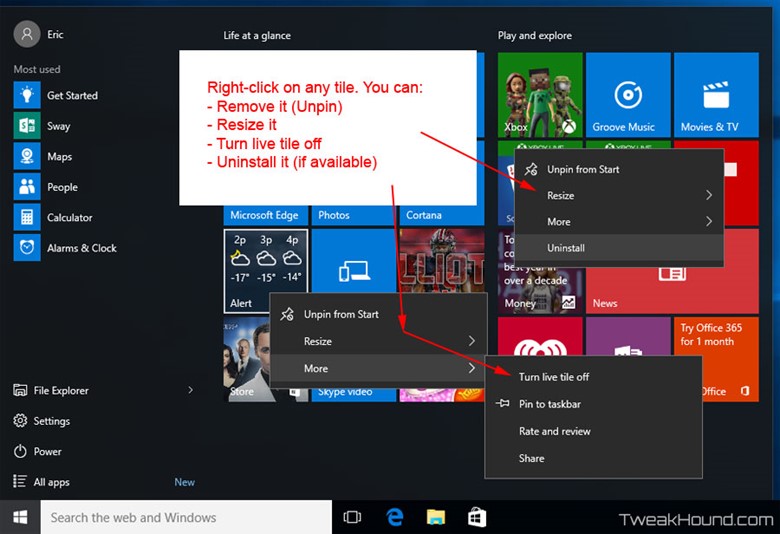 See the All apps button just above the Start Menu button? Click it to get the All Apps menu.
Here you can add that app to the regular Start menu or taskbar via right-click.
---
Start Menu Settings
Click on the Notification Center / Action Center icon > All settings > Personalization > Start.
Here you can tweak your settings. Turning everything Off will strip the Start menu to the basic settings.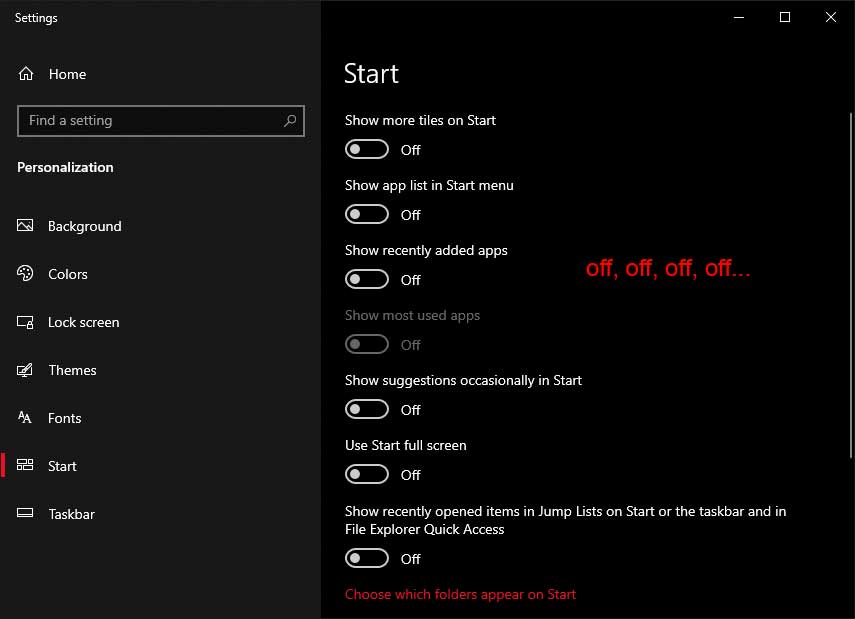 Start Menu Groups
You can create your own groups in the start menu.
Just drag one tile on top of another and release.


Stripped
Here is my Start menu with everything unpinned, uninstalled, turned off. To resize the Start menu, slide cursor over the right or top edge and click / hold / drag.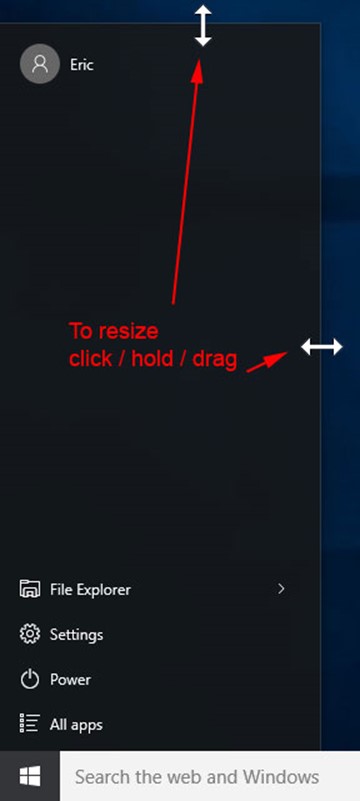 ---
The Win + X Menu
Earlier I said there were 2 start menus. Alternatively called the Power Menu or the Power Users Menu, I call it the Win + X Menu. If you right-click the Start button or press the Win + X keys, you get this.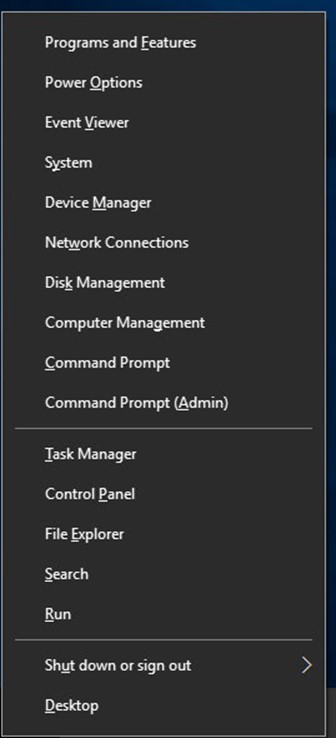 This is a very useful menu, but you can make it more so. There is a program by the fine folks at Winaero called the Win+X Menu Editor for Windows 8 that works just fine under Win 10. Below I added a few programs and removed a few too.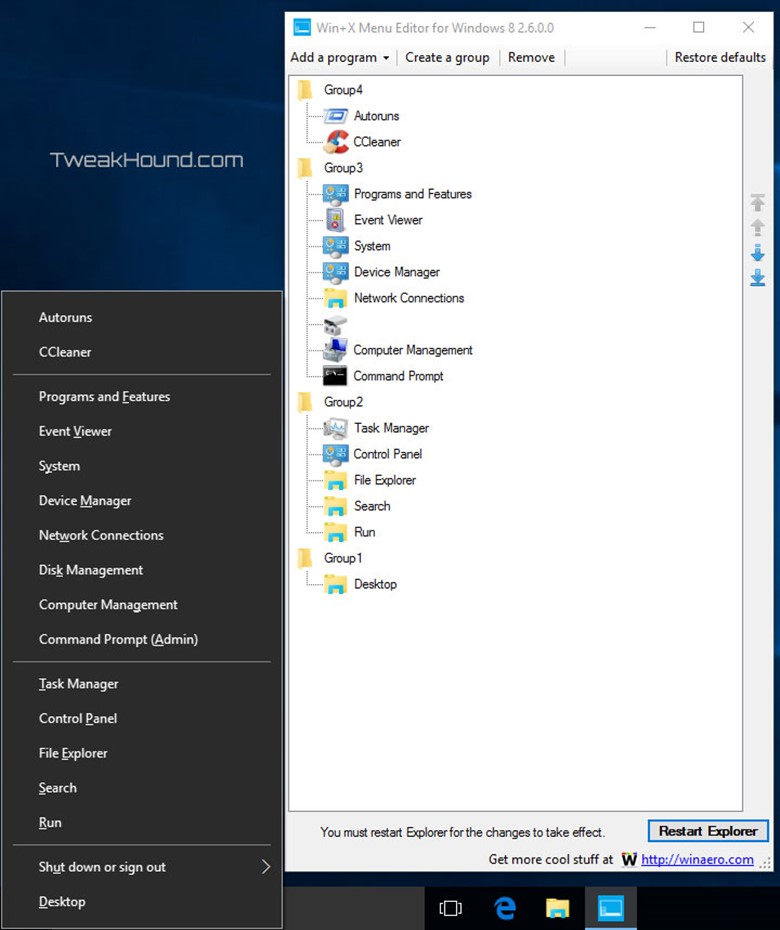 ---
3rd Party Start Menus

There are many start menu replacements for Win 10. It's the only one I use and will be the only one I cover.
Start10

Start10 is my preferred Start menu replacement. It costs $5.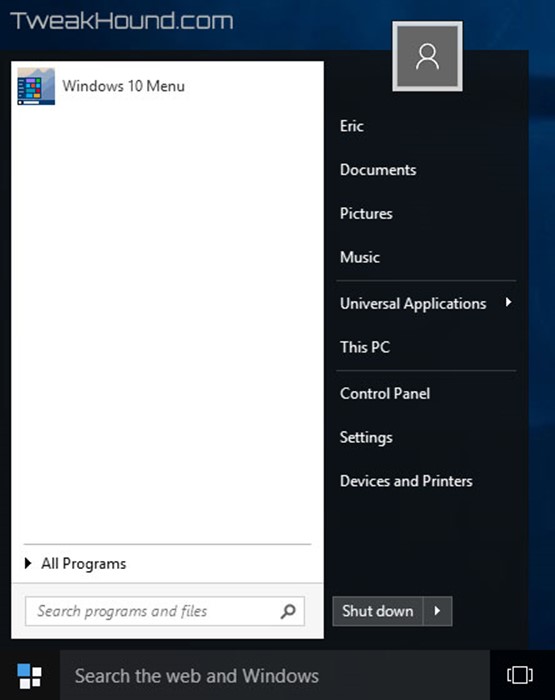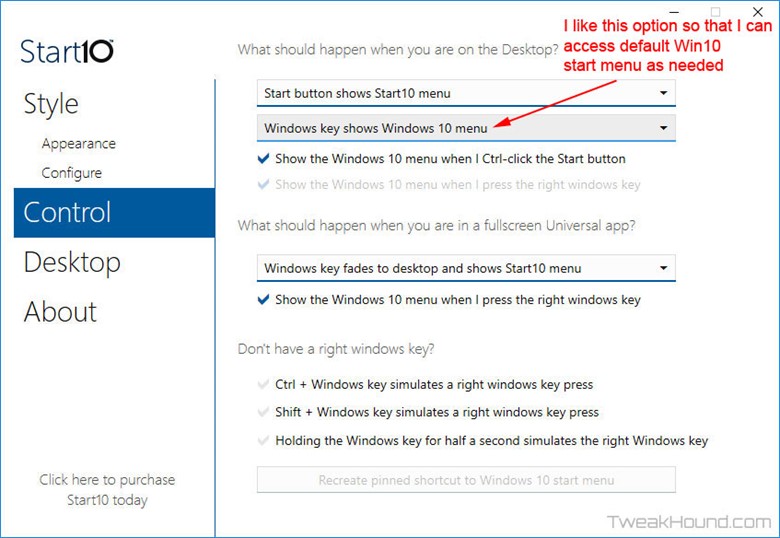 More tweaks can be found by launching Start10tweak.exe.
64bit folder – C:\Program Files (x86)\Stardock\Start10
32bit folder – C:\Program Files\Stardock\Start10