I get a lot of questions on disk partitioning, or more specifically, how I partition my disks. This post is meant to clarify any questions on the matter.

1 – The tool I use for partitioning is Acronis Disk Director.
2 – The only exception to that is for an initial install of Windows 7. For this I use diskpart. See the section entitled Windows 7 Installation Advanced Drive Formatting on this page.
3 – My partition strategies depend on you moving your My Documents / Libraries to another partition.
– For Windows 7 see this page.
– For XP: Right click on the My Documents folder > choose Properties >
Click on the Move… button > Expand My Computer and choose the drive you want to move it to >
click the Make New Folder button and name it anything you like > click Apply > a screen will pop-up, click yes.
4 – When I refer to OS: "OS dirve", "drive OS is installed on", "Windows drive". EVERYTHING gets installed on that drive.
5 – Partition Size. This very much depends on the size of the drive and how many operating systems you're going to install. For example, if I'm going to install 2 OS's on a multi-drive setup I will simply split the OS drive in half. Please see #4 above. Remember, having more than you need is better than pushing the issue and running into issues later. On mutli-drive setups I always prefer to have the OS (OS's) on their own drive.
Official Hard Drive Space Requirements:
Windows 7 – 16 GB (32-bit) or 20 GB (64-bit)
Windows Vista – 15 GB
Windows XP – 1.5 GB
openSUSE (latest) – 2.5 GB
Ubuntu (latest) – 5 GB
6 – The tool I now use for managing the boot loader is EasyBCD.
Examples Of Disk Partitioning:
*note – The Linux partitions are formatted, Acronis DD just can't see it while in Windows (use the boot CD).
Single Disk (click on thumbnail for larger image)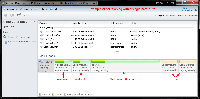 Multi-disk (click on thumbnail for larger image)