Company Claims To Produce China's First Web Browser System, But It's Actually A Chrome Shell
"Even if you want to deceive the government and obtain subsidies, please do at least some basic work to have the appearance of producing something different. The browser is exactly like Chrome with every detail just the same," one Chinese netizen commented on social media."
Alexa, define karma.
Clonezilla 2.5.6-21 Released
"Clonezilla is a partition and disk imaging/cloning program similar to True Image®. It saves and restores only used blocks in hard drive. Two types of Clonezilla are available, Clonezilla live and Clonezilla SE (Server Edition)."
Download
Stuff I bookmarked recently. Some off topic, some not:
More Strikeouts Than Hits? Welcome to Baseball's Latest Crisis
1 – More pitchers are throwing harder.
2 – Nearly every batter is swinging for the fence.
3 – The Shift.
– – –
Chick-fil-A fans are getting fired up over new spicy chicken strips
Love me some Chick-fil-A Spicy Chicken Sandwich and a Diet Lemonade. Bring on the strips!
Caramel Chocolate Chip Cookies Are Coming to a Girl Scout Troop Near You
I hereby formerly accuse the Girls Scouts of America of trying to make me fat. I already can't stop eating Thin Mints and now this!
This spaghetti-breaking problem stumped physicist Richard Feynman. Two MIT students have now solved it.
If you are breaking spaghetti you are doing it wrong. You don't break it, you don't cut it.
Where did I learn that? My Grandma on my mothers's side was Anna Favara (Favara like the town in Sicily). Her parents were Dominic Favara and Euphemia Trentacoste Favara. They married in in 1913 in Brooklyn, NY, then moved to Saginaw, Michigan. Her parents were Antonio and Maria Trentacoste, both of Sicily. So…
You use a fork and twirl it, period, the end.
The spoon question, or how to eat pasta like an expert.
Video – How To Eat Spaghetti | Fine Dining Lovers by S.Pellegrino & Acqua Panna

– – –
The proper way to use the Can Opener! You have been using the can opener all wrong

We I'll be a suck-egg mule! I went looking for a manual can opener in my house. We don't have one. I do however have several P-38s. They were what the U.S. military gave out with canned rations. Here is one still attached to my old dog tags: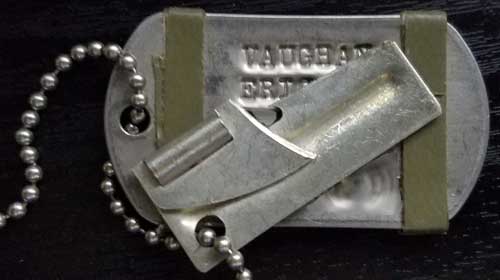 edit – You can pick these up at Amazon (FYI a P-51 is a larger version of a P-38):
P-38 Can Opener and P-51 Can Opener 1 each for $4.29
or
GI P-38 Can Opener (5-pack) for $5.48
or
U.S. MADE P-51 & P-38 Can Opener 20 Pack- 10 of each for $12.19 (for the money I would go with this and hand them out to friends/family.