Recently I asked for help on measuring the effects of the noguiboot tweak. A big THANK YOU to the 4 people who sent in their results. I know doing this stuff can be a PITA.
This is the followup to that article with an explanation of the tweak, the test results, and my conclusion.

What The No Gui Boot Tweak Does
This tweak disables the display of the bitmap animation on startup (and driver). They look like this:


How To Apply The No GUI Boot Tweak
Press the Windows + R keys > type msconfig (or type msconfig in the start menu search box) >
Click the Boot Tab > enable No GUI boot.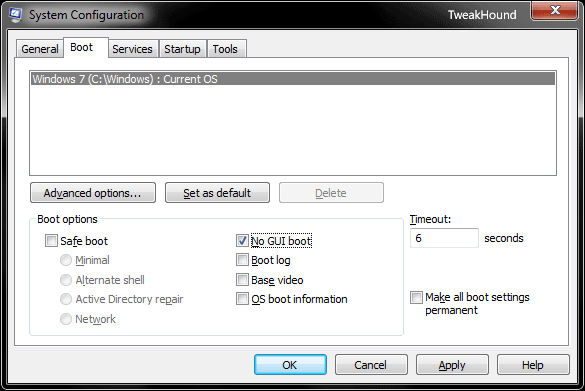 Does It Work? The Test Results
It depends. Results seem to very widely. Most seem to show at least some improvement.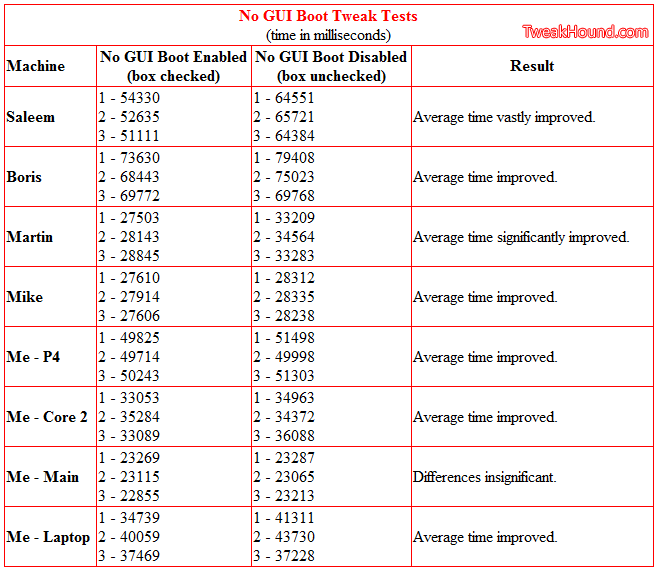 Test It Yourself
You will need to go to Event Viewer > Applications and Services Logs > Microsoft > Windows > Diagnostics-Performance > Operational.
You can do this by:
1 -Typing event viewer in the start menu search box. Then navigate down to that log.
2 – Press the Windows + R keys and copy/paste this:
%SystemRoot%System32WinevtLogsMicrosoft-Windows-Diagnostics-Performance%4Operational.evtx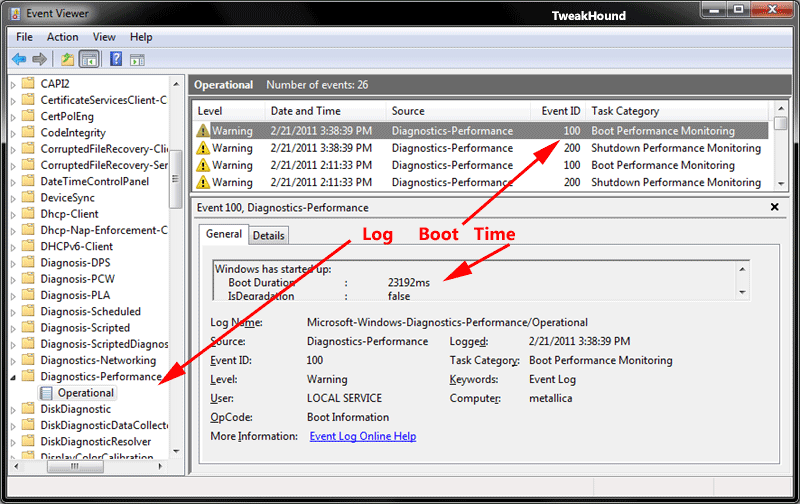 A Few Seconds? Really???
Really.
The Downside
As a commenter stated in the previous discussion on this, "what if something happens where windows won't boot? You are unable to find out as the info is not displayed". Yep, in the event of an error you can't see the error occurred or any error messages displayed. To check this you can schedule a disk check on your OS drive. When No GUI Boot is selected (enabled) you will not see the disk check running on reboot.
Is It Worth It?
You are going to have to make that decision yourself.
The first thing you will need to do is test the results on your system.
Next you will have to weigh The Downside (above) in your decision making process.
Is the time you gain worth the risk you take (or even worth the effort)?
My Recommendation
I cannot recommend this tweak to the average user (hence it will not show up in the tweak guide). It would just be irresponsible.
I will recommend Advanced Users go ahead and try it. Geeks will be able to weigh the risk/reward and they know how to get out of trouble.
*edit – For Super Geeks. The noguiboot / No GUI Boot switch for Vista and Seven is actually "quietboot" in BCD. See here.
-END-