How to backup Internet Explorer 7, 8 & 9

.

Passwords
IE 7, 8 & 9 store passwords differently than previous versions of IE.
The passwords are encrypted and that encryption is tied to the logged on users account.
The location is:
[HKEY_CURRENT_USER\Software\Microsoft\Internet Explorer\IntelliForms\Storage2]
I have found no way manually backup AND restore IE 7-9 saved passwords using free programs.
The program mentioned around the web to do this is BackRex Internet Explorer Backup.
I have not had success restoring passwords with this. Please let me know if your experience differs.
IE PassView will allow you to backup your passwords.
warning – You will most likely need to temporarily disable your anti-virus to download and/or run this program. DO NOT add an exception or "allow" it.
To temporarily disable Microsoft Security Essentials either uncheck Real Time Scanning within the program or stop the Microsoft Antimalware Service (from services.msc).

Backup Internet Explorer Favorites (bookmarks)
The easy way:
Your Favorites are located here: C:\Users\YOUR_USER_NAME\Favorites . Simply copy that folder somewhere to back it up.
The hard way:
Import or export favorites in Internet Explorer
Backup Everything
BackRex Internet Explorer Backup will backup and restore:
– Internet Explorer 6.0, 7.0, 8.0, 9.0
– Favorites
– Proxy & connection settings
– Security zones
– User customizations
– Cookies
– History
– Dialup accounts
– Form Autocomplete entries (see comments above in the Password section)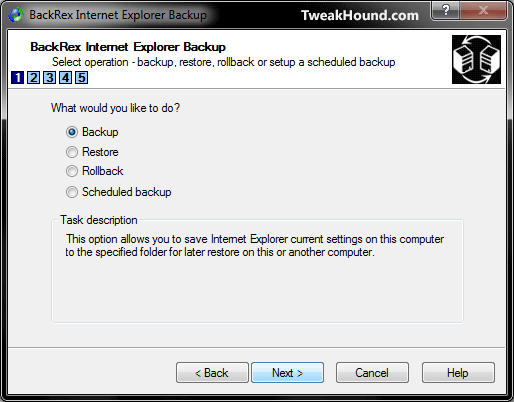 -END-