Finding good album art (or cover art) can be a hassle. Although many CD ripping programs and various digital music stores can provide album art, they are often not the best size or quality. This quick post aims to help you find the best album art your needs.

Size Matters
You will find album art at various sizes. Generally 600×600 pixels is the best size to save in even though various programs display it in various sizes.
Resizing The Picture
Sometimes the best picture for your needs will often be larger than 600×600 (I often save this size too).
Although I use Photoshop CS2 many programs will resize images:
Image Resizer for Windows – Freeware, allows you to right-click a picture or pictures to resize.
GIMP – The "poor mans photoshop".
Paint – Comes with Windows, resize button right on the toolbar. (Windows + R keys, type mspaint).
Where To Find Album Art
1 – Google Image Search – type in the artist and album title and the word cover i.e. def leppard hysteria cover. Rolling over each thumbnail will show you the size.
You can also try Google Advanced Image Search.
2 – Album Art Exchange – Cool site, often lots of image sizes, often has 600×600 pics, images are rated by users for quality. I really like this site.
3 – If these methods fail you you can try the artists website directly. Some actually have decent album art there.
Adding Or Changing Your Album Art
I use a free program called Mp3tag. Navigate to the directory of your file, highlight the file or files, right-click on the album art square, choose your options.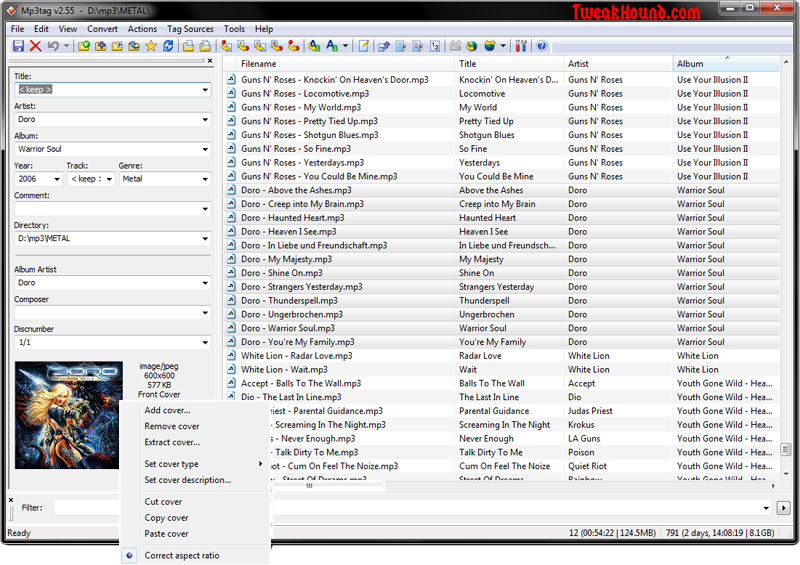 Save It
Put all your album art in its own folder and save it, you may want it again later.
Be sure to name it to something you might recognize to make it easier to search for. i.e. doro_warrior.jpg.