Samsung has pulled firmware EXM02B6Q for the 850 Pro SSD.
Some folks seems to be having issues.
I'll post more info as I have it.
*** Update 1, 1817hrs ***
Since several hundred folks have made their way to this post I thought I would update it.
1 – The forum thread above at Anandtech will probably be your best bet on updated info.
2 – In that forum thread there is talk of a Facebook group to address this issue. Since I don't/won't do Facebook I can't see it.
3 – As I showed last Thursday I successfully updated my SSD using the boot CD. Apparently some time after that the firmware update started showing up via Samsung Magician.
*** End Update ***
*** Update 2, 1145hrs 27FEB2015 ***
The Register has an article on this issue (even mentions TweakHound!).
They also have a statement from Samsung."…SSD 850 PROs experiencing the problem may be exchanged or provided technical support through our customer service centres…."
Also, reader Jayne Samuel-Walker sent this email:
"The worst part of the sorry story is that Samsung was informed that there was a problem with the 850 PRO firmware update at about 10:00 on 19 February, but didn't remove the software from its website until 24 February…most of the members of our group (https://www.facebook.com/groups/samsungssd850death/) firmware updates were applied AFTER 19 February."
*** Update 3, 1145hrs 0745hrs 28FEB2015 ***
Reader Jayne Samuel-Walker is keeping me updated and sent this in:
1 – Posted info on this matter at Amazon.
2 – A member of the Facebook group from Mexico received a response: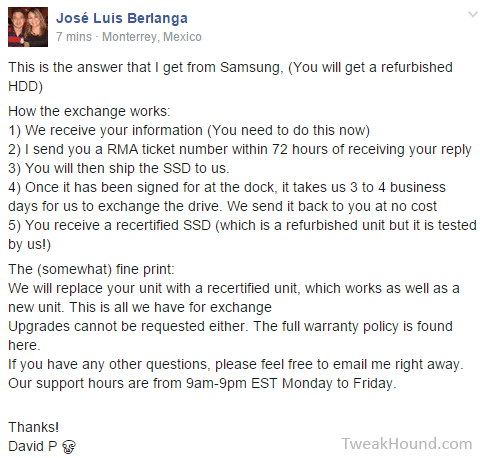 *** Update 4, 1020hrs 02MAR2015 ***
The Samsung SSD 850 Pro firmware death Facebook group has posted an open letter to Samsung.
I've uploaded the PDF here: https://www.dropbox.com/s/cfzdufmm6wvdqed/Samsung%20letter.pdf
---
Q – Why all the updates?
A – I'm hoping/waiting for Samsung to publicly acknowledge this issue and make it right.