Nvidia Geforce Game Ready 411.63 WHQL Drivers
"Provides the optimal gaming experience for Assassin's Creed Odyssey, Forza Horizon 4, and FIFA 19"
Download | Release Notes
AMD Radeon Software Adrenalin Edition Optional 18.9.2
"faster performance" in F1, Fortnight, Shadow of the Tomb Raider, Star Control: Origins.
Download | Release Notes
CCleaner v5.47.6716
As mentioned the last few days, CCleaner 5.47.6701 was pulled because of a bug. A company rep said, "The bug relates to a user preference not correctly saving. It does not affect cleaning in any way."
Difference in changlog between the 2 versions is this:
"Calling the Windows 'ping' function is now done explicitly from the /system32/ directory (fixes a potential vulnerability)"
Download (I use the portable version) | Release Announcement
Other Software Updates
EMDB 3.22
Tor Browser 8.0.1
Stuff I bookmarked recently. Some off topic, some not:
Google Says It Continues to Allow Apps to Scan Data From Gmail Accounts
"Google Inc. told lawmakers it continues to allow other companies to scan and share data from Gmail accounts, responding to questions raised on Capitol Hill about privacy and potential misuse of the information contained in users' emails."
Nowhere to run to, baby, nowhere to hide
Apple gives you a TRUST rating – and it's based on your phone call and email habits
"To help identify and prevent fraud, information about how you use your device, including the approximate number of phone calls or emails you send and receive, will be used to compute a device trust score when you attempt a purchase," Apple explained…The revelation comes exactly one month after the Washington Post revealed Facebook was also giving users trust ratings."

A public relations nightmare': Ticketmaster recruits pros for secret scalper program
"Box-office giant Ticketmaster is recruiting professional scalpers who cheat its own system to expand its resale business and squeeze more money out of fans, a CBC News/Toronto Star investigation reveals."
I don't think any non-criminal person anywhere likes anything about Ticketmaster.
Credit freezes are now free. Here's why you might want one
"Many experts agree that freezing your credit report is the strongest way to protect against identity theft.
Starting Friday, you'll be able to do it free of charge.
In the wake of a massive data breach last year at Equifax that exposed personal information for about 148 million Americans, Congress amended the Fair Credit Reporting Act to require reporting agencies to freeze reports for no charge. Equifax is one of the three major credit reporting agencies in the United States."
Thanks to Dan S. for the heads up!
KISS End Of The Road World Tour
"After an epic and storied 45 year career that launched an era of rock n roll legends, KISS announced exclusively on NBC's America's Got Talent tonight that they are hanging up their 9-inch tall touring boots. The news was delivered in trademark larger-than-life KISS style with a blistering performance of "Detroit Rock City", proving why the band is known as one of the most iconic live performances that simply can't be missed. The Rock & Roll Hall of Famers who have sold more than 100 million albums worldwide have toured to nearly every city on the planet and played every venue imaginable. Having played for Kings & Queens, for U.S. veterans, and for millions of devoted KISS Army fans, they will play their final shows as part of the multi-year END OF THE ROAD WORLD TOUR. Dates have yet to be announced but KISSonline.com will have all the updates in the weeks to come."
Kiss Announce Final 'End of the Road' World Tour
"All that we have built and all that we have conquered over the past four decades could never have happened without the millions of people worldwide who've filled clubs, arenas and stadiums over those years," Kiss said in a statement. "This will be the ultimate celebration for those who've seen us and a last chance for those who haven't. KISS Army, we're saying goodbye on our final tour with our biggest show yet and we'll go out the same way we came in… Unapologetic and Unstoppable."
Kelly, this one goes out to you brother.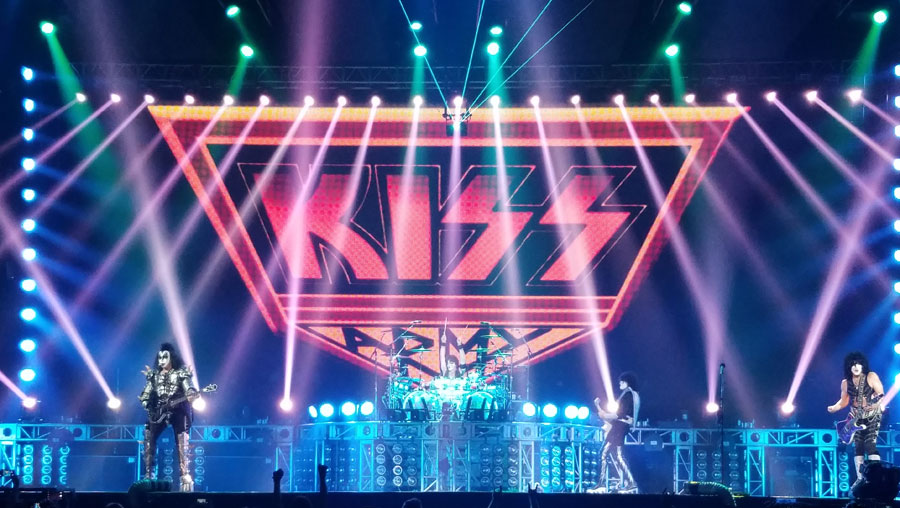 Photo from KISS Richmond, Virginia. September 9th, 2016