Intel Solid State Drive Toolbox
Version: 3.5.10 (Latest) Date: 3/18/2019
Download & Info
Windows 7 Nagware Update
KB4493132 showed up on my lappy running Windows 7 Ultimate. Apparently it will not show up on Pro and Enterprise editions. Hide it and be done with it. IMHO this issue isn't a big deal.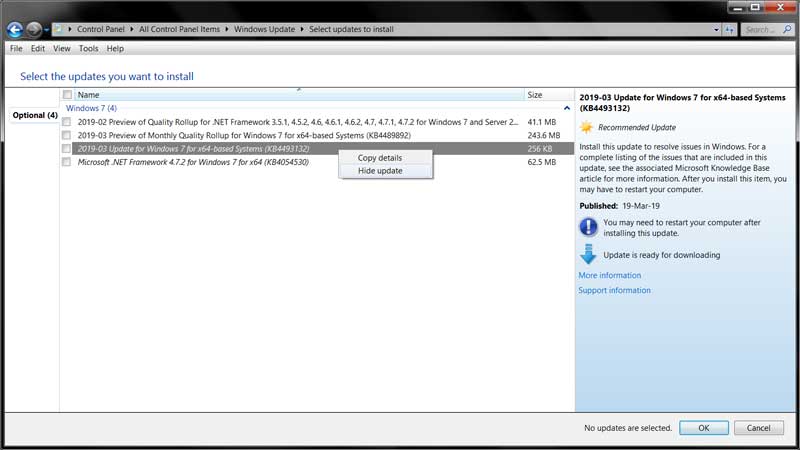 Reader Emails (may be edited for brevity or clarity)
Q – You stated earlier that you rip your cds to FLAC. What program do you use for this and what music player do you use to play them on for Windows 10?
A – You won't believe me…Winamp
edit: Ripping done with dBpoweramp Music Converter
Q – I added the Ultimate Power scheme as directed since my pc has only one power plan listed, the balanced plan. If you would be so gracious to provide it, I am looking for the codes to add the high performance power plan since I don't really need to go all out ultimate.
A – Try https://winaero.com/blog/restore-default-power-plans-windows-10/
Q – When support ends, are you going to upgrade your Windows 7 computers to Windows 10?
A – I have 6 boxes that run Windows 7 full time. 2 of those boxes dual-boot with Win10 for testing purposes. The 4 boxes that only have Windows 7 will not be upgraded. I will unplug them from the internet before I do that (well, maybe Linux on one). The other 2 (one of which is my laptop) will be upgraded only when the use of Windows 7 on those boxes becomes untenable. When that is remains to be seen.
Stuff I bookmarked recently. Some off topic, some not:
FEMA shared 2.3 million disaster survivors' personal information with contractor
Millions of hurricane and wildfire survivors are learning that they're at "increased risk of identity theft and fraud" because the Federal Emergency Management Agency shared their banking and other private information.
The Department of Homeland Security inspector general said Friday that FEMA had unlawfully disclosed the private data of 2.3 million survivors with a federal contractor that was helping them find temporary housing.
The 2.3 million people include survivors of Hurricanes Harvey, Irma and Maria and the 2017 California wildfires.
The data includes "20 unnecessary data fields" such as electronic funds transfer number, bank transit number, and address.
Question. Has anyone ever heard of any individual, public or private, being held accountable for this stuff?
This Spyware Data Leak Is So Bad We Can't Even Tell You About It
A consumer spyware vendor left a lot of incredibly sensitive and private data, including intimate pictures and private call recordings, for all to see on a server freely accessible over the internet. And it still hasn't taken the data down…This story is part of When Spies Come Home, a Motherboard series about powerful surveillance software ordinary people use to spy on their loved ones…The spyware app that's leaking this data allows its customers to monitor pretty much everything on the cellphone where it's installed. The spyware lets its operator read the target's phone contacts, text messages, listen to calls, record ambient sound by turning on the microphone, and much more.
At first I said, "yeah well, karma." But, the "intimate pictures and private call recordings" are of the people being spied on.
I Deleted Facebook Last Year. Here's What Changed (and What Didn't).
Our personal tech columnist didn't lose touch with his true friends — but strange things did occur, including Instagram thinking he was a woman.
#DeleteFacebook