New: O&O Lanytix
The makers of O&O Shtup10 have released a free, portable app "that enables quick and easy analysis of the local network".
I like it.
Download & Info

Stuff I bookmarked recently. Some off topic, some not:
Nvidia Warns: Severe Security Bugs in GPU Driver, vGPU Software
"5 GPU Display Driver Security Bugs…8 Nvidia vGPU Software Vulnerabilities"
Download the latest driver here.
Microsoft – Beyond Calibri: Finding Microsoft's next default font
"Calibri has been the default font for all things Microsoft since 2007, when it stepped in to replace Times New Roman across Microsoft Office…Five new fonts: Meet Tenorite, Bierstadt, Skeena, Seaford, and Grandview…All five families are now available via the cloud across your favorite Microsoft 365 apps and experiences. Go use the fonts starting today, and show us which you love best with feedback and comments on social."
I fired up Office 365 Word and they are there. A whole lotta meh IMHO but if I have to pick one it would be Bierstadt based on the name. The little bit of German I knew is beyond rusty but Bier=Beer and stadt=city so "Beer City" is a helluva name for a font: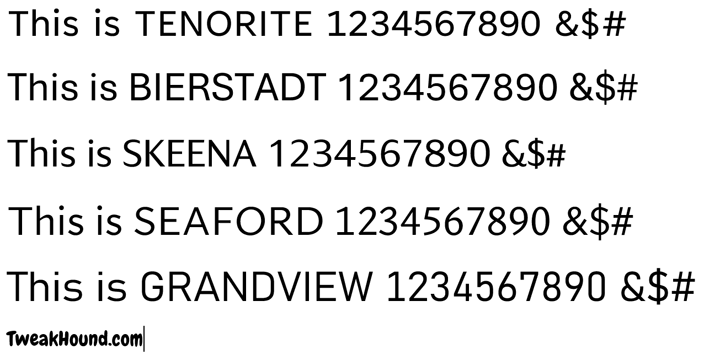 Busch Gardens offering free admission to U.S. military veterans, families through June
"U.S. military veterans and retirees must register their complimentary single-day ticket(s) for themselves and up to three dependents online before May 16.
After registering, all tickets must be redeemed by June 27."
REGISTER HERE
'Band of Brothers' Sequel 'Masters of the Air' Has Finally Started Production
""Masters of the Air," announced as an Apple TV+ production over 18 months ago, has finally, officially begun filming…The very expensive production is rumored to have a $250 million budget for its 10 episodes…Based on Donald L. Miller's 2006 history, "Masters of the Air: America's Bomber Boys Who Fought the Air War Against Nazi Germany," the series was developed originally for HBO as the third program in a trilogy with "Band of Brothers" (2001) and "The Pacific" (2010). HBO execs supposedly balked at the price tag, and Apple swooped in to make the financial commitment."
1954 Chevrolet Raffle
"1954 Chevrolet Pickup. Chevy 3100. 2 Door. 6 Cylinder Engine. 105 HP @ 3600 RPM. Manual Transmission. Max GVW Rating: 4800#."
Legandary PGA golfer John Daly's charity, Heart of a Lion is auctioning this off.
"The mission of the John Daly and Major Ed Heart of a Lion Foundation is to provide mental, physical, and wellness support to our nation's children, first responders and America's Veterans."
I'm in! https://www.jdme.org/product/1954-chevrolet-raffle/