This page is dedicated to making your openSUSE experience a little better.
I will continue to update this page as:
– Folks send in or post tips. Please send them in!
– I find tips somewhere else.
– I write tips myself.
Please keep in mind that I do not use and have no interest in any other desktop than KDE.

First and most important tip is where to get help: The openSUSE Forums
This is THE place for any openSUSE user to find help and info.
Download openSUSE 12.1: openSUSE, Get It
I use the DVD for install but new users may find the Live CD's a better option. These CD's also allow you to install from them.
– – – – –
Dual-Booting:
See: Dual-Booting Windows and openSUSE
– – – – –
Add Repos:
Repos is short for repositories. They are where you download and update programs from.
See Additional package repositories for links.
The most important is the Packman repo.
Repos I Use:
Packman
Mozilla
Muzlocker (see Make Fonts Clearer below)
Virtualbox and Virtualization (see section below)
VLC (disabled mostly)
Wine (disabled mostly)
Official repos added at install (updates, oss, etc.)
libdvd
KDE 3.5 (disabled mostly, see Install Amarok 1.4 below)
If you do not know how to add repos then see: Add package repositories
– – – – –
SSD Setup:
– You need to use ext4 or brtfs as the filesytem.
– You need to add discard as an option in your fstab for all the partitions on the SSD.
i.e. / , /home , but only for ext4 or btrfs formatted partitions (not swap, or Windows, etc.).
To edit your fstab to enable discard (trim)
– How I do it (openSUSE 12.1/KDE): press the alt + f2 keys > type kdesu kwrite > navigate to and open /etc/fstab >
find the partitions mentioned above > add discard to that line.
– What mine looks like:
/dev/sda2 / ext4 acl,user_xattr,noatime,discard
– – – – –
Install Video Drivers
AMD / ATI
Nvidia Easy Way, or Nvidia Hard Way
– – – – –
openSUSE 11.4 Multimedia
This guide will help you install everything you need to play any multimedia file:Multi-media and Restricted Format Installation Guide FOR openSUSE_12.1
– – – – –
Upgrade KDE:
Add the Upstream Release repos from here (both Core and Extra):
http://en.opensuse.org/KDE_repositories#Upstream_release_aka._KR47_.28KDE_SC_4.7.29
Then follow the instructions in the screen below:

– – – – –
Akonadi and Nepomuk
See my article: openSUSE 12.1 – Taming Akonadi & Nepomuk
– – – – –
Make Fonts Clearer:
See: Get yer subpixel hinted fonts. (other good tips here too!)
Where I differ from that guide.
1 – I install fetchmsttfonts via YaST (these are the base Microsoft fonts)
2 – Along with other fonts I've collected I use some fonts from Windows 7 (specifically: Calibri, Cambria, Segoe families). These I copy over from my Win 7 install. AFAIK this isn't technically legal.
3- See the following screen for the fonts I use in Firefox. They may not be the "best" fonts to use but it makes Firefox under Linux look more like Firefox in Windows which is better for my sanity: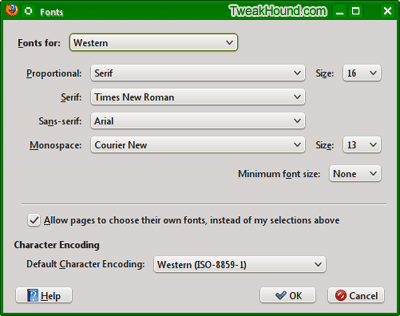 – – – – –
openSUSE Networking
See: How To Network openSUSE 12.1 And Windows
See also: Swerdna's Tutorials
– – – – –
Disable or Uninstall Pulseaudio and reconfigure sound card:
Pulseaudio is and has been the source of many issues.
If you are having issues with sound you can:
1 – Check all PulsuAudio settings by installing pavucontrol.
Once installed it will be in the KMenu > Multimedia > Volume Control section.
Use it to configure your settings.
2 – Disable PulseAudio.
3 – Uninstall PulseAudio.
New users should simply disable PulseAudio:
Open YaST and go to > Hardware > Sound >
click the Other button and choose PulseAudio Configuration >
Uncheck Enable PulseAudio Support and click OK.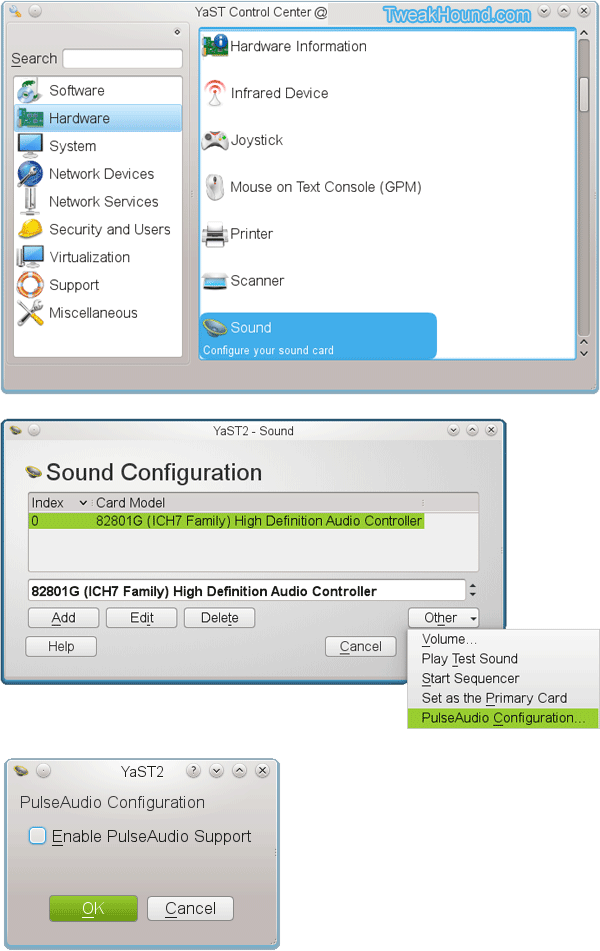 To uninstall PulsuAudio and reconfigure your sound card.
Go to YaST > Software Management:
– find and deselect pulseaudio
– optional, find and select alsamixergui
– find and select xine-ui (this installs the necassary packages for further steps).
– click Accept.
– Reboot.
– press the Alt + F2 keys, a box will appear at the top of the screen, type phonon and hit enter. Then click on the Backend tab. Next, follow the instructions in the screen below: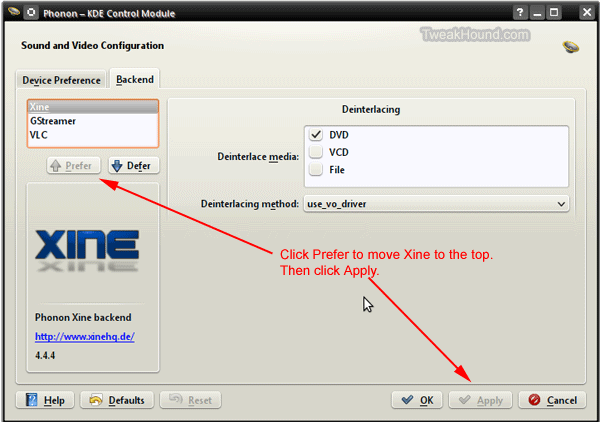 – – – – –
Install Amarok 1.4
Hate Amarok 2? Me too! For most folks the alternative can be a program called Clementine. I still prefer Amarok 1.4
– First make sure Amarok 2 is uninstalled.
– Then add the KDE 3.5 repo, then add Amarok from that repo.
– – – – –
Install and configure VirtualBox:
See: Using VirtualBox 4 (still holds true for openSUSE 12.1).
– – – – –
External USB Issues
External drives formatted with NTFS may not be seen/mounted. To fix this:
1 – Update openSUSE via YaST (specifically udisks). If this does not fix the issue see step 2.
2 – Press the Alt + F2 keys and type (or copy/paste) kdesu /usr/bin/kwrite /etc/filesystems . Add ntfs to the file list.
Be sure to save changes. (source: openSUSE forums)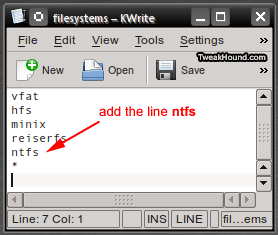 – – – – –
How To Install RPM's Without Apper (Kpackagekit)
If you are like me and have uninstalled / not installed default packages you will find Apper will often try to install / reinstall this stuff.
I should note that I disable Apper autostart though this isn't recommended practice for new users (Personal Settings > Startup and Shutdown > Service Manager > uncheck Apper Monitor).
To get around using Apper I do this:
1- I always download my rpm's to my Downloads folder.
2 – Add the folder to YaST. Go to YaST > Software Repositories. Click Add.
3 – Choose Local Directory and click Next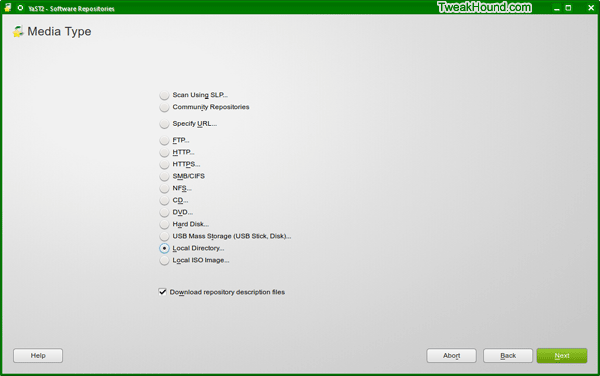 Browse to the folder you want to add, then name it, click Next.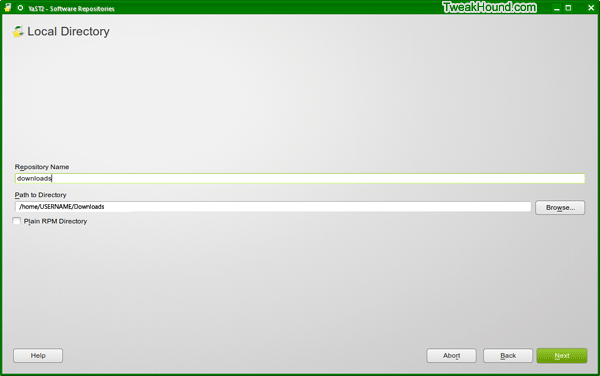 Once added, select your new repo, at the lower-right of the screen click on Refresh and choose either
Refresh Selected or Refresh All Enabled.
Your new repo is ready to go.
Click View > Repositories to add the Repositories tab.
Under that tab click on the name of your new repo to view it.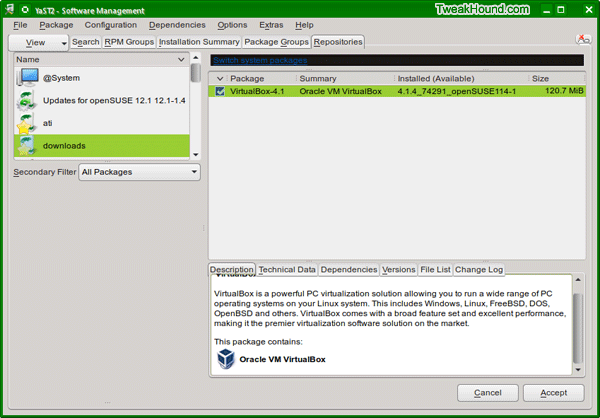 – – – – –
My Random KDE4 Tips
Make mouse select double-click (like Windows).
Go to Personal Settings > Input Devices > Mouse > Double-clcik to open files and folders > click Apply.
Manage Services
Windows users use Services.msc to manage services. In openSUSE 12.1 / KDE4 services are managed in 2 locations.
For KDE4 (users):
Go to Personal Settings > Startup and Shutdown > Service Manager
For System:
YaST > System > System Services (Runlevel)
24 Hour Clock
Go to Personal Settings > Local > Date & Time > Time format: > use HH:MM:SS > logout or reboot.
– – – – –
My Desktop
The pic below is an example of one of my openSUSE 12.1 desktops (click it for larger image).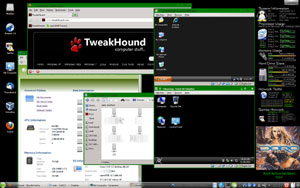 -END-
Got a tip? Please comment!