Please excuse this self serving post. This post is to document my audio issues with my new phone.

My new Samsung Galaxy S7 has a severe issue with audio out via the headphone jack.
Below are some examples.
The phone is hooked to my vehicle's radio via the headphone jack.
It IS NOT a hardware issue on my end as this setup works/worked with both my old Droid X and Droid Razr Maxx HD.
Please pardon the low volume. I just used my old Droid Razr Maxx HD to record the audio.
Here is where the noise/hiss is constant. The first part is music playing, the second is the phone making a call:



Here is where the noise/hiss comes and goes:



Now, I did find a "fix" for this problem.
Go to Settings > Sounds and vibration > Sound quality and effects > toggle UHQ upscaler to On.
(This setting is only adjustable when headphone jack is being used.
The problem is this "fix" does not stick. I sometimes have to toggle the setting off/on even though it shows as "On".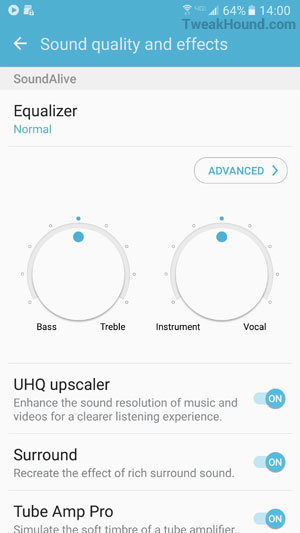 Since this "fix" sometimes is, I believe this to be a software issue. It is my hope they actually fix it.
If anyone knows how to reach Samsung's Android team please let me know.
-END-