***This article written in preparation for a new version of Tweaking Windows 10 (no, there is no time table for this).
Feedback wanted.

– – – – – – –
Microsoft released a lot of information about privacy settings and the information that it collects. They become far more transparent about the info it collects. They have given you buttons here and buttons there on turn off various information collecting. But, the amount of information they attempt to collect hasn't changed.
Yeah, I get that some of you don't care about this issue. I get that some of you will come back with the insipid, nonsensical, apples-to-oranges comparison to smart phones. But for those who do care about this issue, read on.
First, Local Account
– If you care about privacy you should be using a Local Account already.
– If using a Local Account there is far less personal information collected. What info that is collected is not stored in the cloud.
Privacy Settings
Very simple. I go through every setting in every section here and turn it off.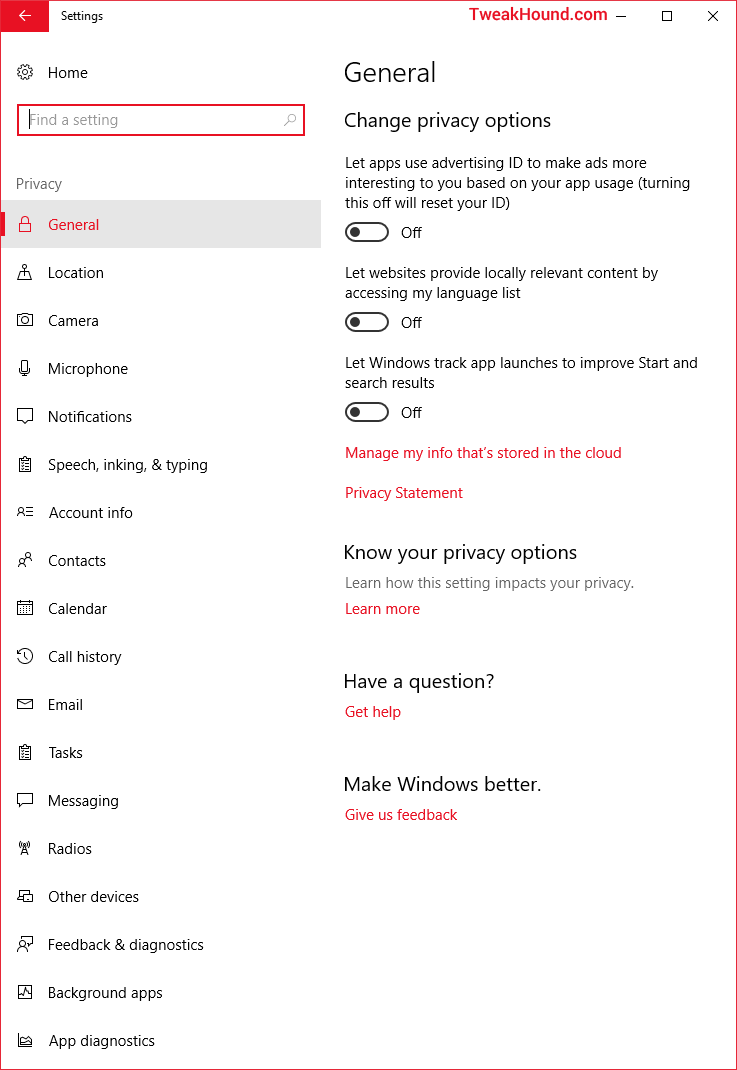 Privacy Dashboard
https://account.microsoft.com/privacy
If you use a Local Account there is nothing there.
If you use a Microsoft Account you have the option to clear browsing, search, location, and Cortana history.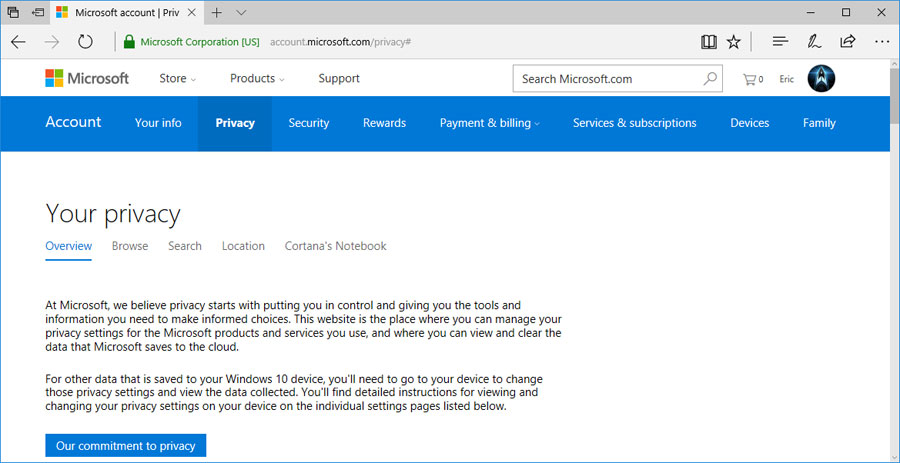 Windows 10 Browsers Ad Settings
Don't bother. If you clear your history like you should then the settings changes do not stick.
http://choice.microsoft.com/en-us/opt-out
"To opt out of personalized ads in this browser, your browser history must allow first-party and third-party cookies and you must have your browsing experience set to NOT delete browsing history on exit. Instructions for enabling cookies and configuring your browsing history may be available in your browsers settings, privacy, or help documentation."
O&O ShutUp10
Download it. Use it. Love it.
"O&O ShutUp10 means you have full control over which comfort functions under Windows 10 you wish to use, and you decide when the passing on of your data goes too far.
Using a very simple interface, you decide how Windows 10 should respect your privacy by deciding which unwanted functions should be deactivated.
O&O ShutUp10 is entirely free and does not have to be installed – it can be simply run directly and immediately on your PC. And it will not install or download retrospectively unwanted or unnecessary software, like so many other programs do these days!"


The Links You Need
Windows 10 privacy journey continues: more transparency and controls for you
Windows 10, version 1703 Diagnostic Data
General privacy settings in Windows 10
About Our Ads