***This is kinda a note-to-self thing in preparation for a new version of Tweaking Windows 10 (no, there is no time table for this). Thought y'all might find it useful.
Feedback wanted.

It should be noted. If you want any kind of control of Windows Update you need to be using Win10 Pro not Win10 Home.
The settings below are not present in Win10 Home.
Thanks to Chris for the reminder.
Location
Settings > Update & security > Advanced options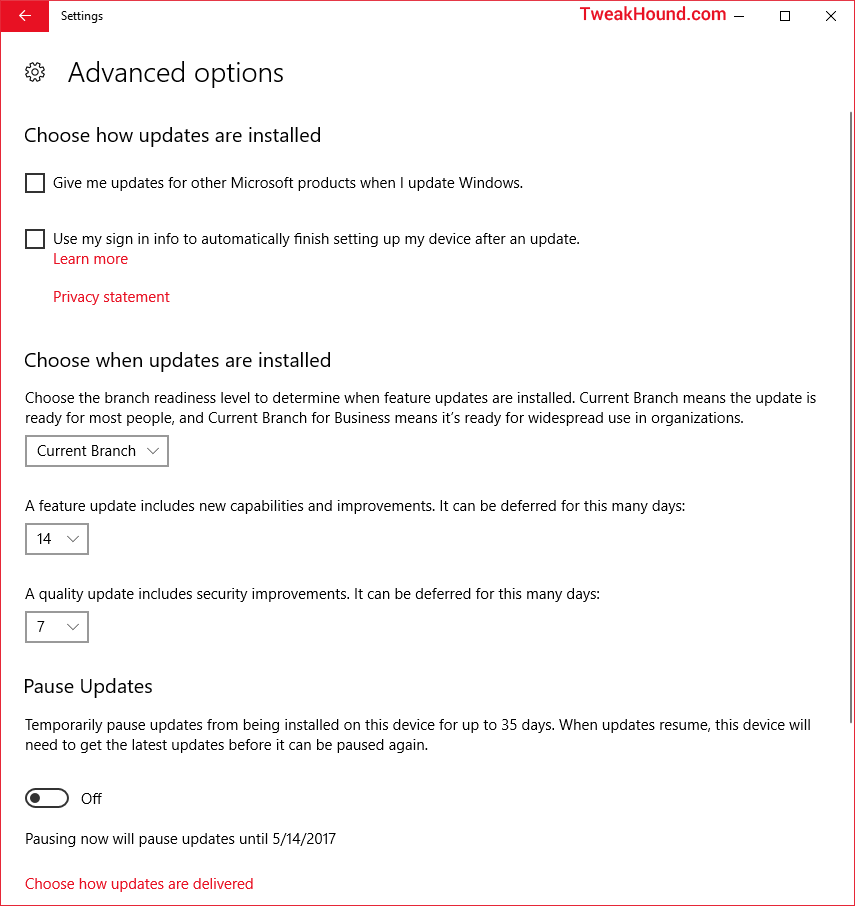 Branches
There are 2 main options; Current Branch and Current Branch for Business.
Current Branch (CB) standard settings are the normal setings you are used to. "Feature updates are available as soon as Microsoft releases them".
Current Branch for Business (CBB) feature updates are delayed "about 4 months".
Types Of Updates
Quality Updates – Security updates and some bugfixes. Think of this as the standard Patch Tuesday updates.
Feature updates – Big changes like the Anniversary or Creators updates. Akin to Service Packs or perhaps Update Rollups in older windows versions.
Deferring Updates
Quality Updates can be deferred up to 30 days
Feature Updates can be deferred up to 365 days
AND
You can add 35 days to both of these by using the Pause Updates button.
My Recommendation
Minimum 7 days, maximum 30 days delay on Quality Updates.
Minimum 14 days, maximum 180 days delay on Feature Updates.
You must monitor Ask Woody for when/if these updates are OK.
In particular, watch his MS-DEFCON level.
Maximum Deferral
Now, my understanding is the Pause Update delay is on top of the the Branch setting. So using the CBB option you can delay 4 months then you can apply the max of 365 days for Feature updates. This would mean 4 months + 365 days deferral.
Exclude drivers From Quality Updates
Not applicable to Windows 10 Home. (Unchanged from previous Win10 versions. Here for FYI.)
[HKEY_LOCAL_MACHINE\SOFTWARE\Policies\Microsoft\Windows\WindowsUpdate]
"ExcludeWUDriversInQualityUpdate"=dword:00000001
Sources:
https://technet.microsoft.com/en-us/itpro/windows/whats-new/whats-new-windows-10-version-1607
https://technet.microsoft.com/en-us/itpro/windows/update/waas-overview
https://technet.microsoft.com/en-us/itpro/windows/update/waas-configure-wufb