This week Microsoft pulled the Windows 10 October 2018 Update because peoples personal files were being deleted. The Windows 10 April Update was delayed by almost 3 weeks due to a "blocking bug". These are just 2 examples of Win10's broken update model. With Win10, software quality is as bad as it has ever been. This despite the extensive Insider Program that was supposed to alleviate this problem. I've never been bitten by these updates and much of the advice I pass out on this site is designed to help you to not get bitten either. I will try and put that in a convenient list:
– Keep current system image backups.
I use Macrium Reflect Free. Other programs include Clonezilla (free) and Acronis True Image (not free).
I store recent copies on the same computer and older copies on an external hard drive.
You MUST create a boot disc or flash drive.
Use this before EVERY patch Tuesday and Feature Update.
– Keep current personal files backups (docs, pics, etc.).
I either use copy/paste or Microsoft's free SyncToy.
I store them on an external hard drive, an old laptop hard drive, and burn to DVD.
I also store my music and pics on Google Drive.
I have a copy everything off site too.
– Separate your personal files from your OS (move your pics, docs, etc. folders).
Guides in every Tweak Guide.
– Delay Windows Updates. With Win10, consider skipping release altogether.
If you are using Windows 10 Home consider switching to Windows 10 Pro so that you can control your updates. You can by a legit key very cheap. Contact me if you cannot find one and I will point you in the right direction.
Security Updates for each release are provided for approximately 18 months so there is no rush to update to the latest release.
Win10's changes and new features have come along at a pitifully slow rate. The only welcome change for me since Win10's initial release is the Dark Theme.
– Advanced, Make a rescue flash drive.
Multiple tools to save yourself, friends, and family from disaster.
---
External Hard Drives at Amazon. Prices current as of 07OCT18
WD 4TB Black My Passport Portable External Hard Drive – USB 3.0
List Price: $159.99 – Price: $99.99 – You Save: $60.00 (38%)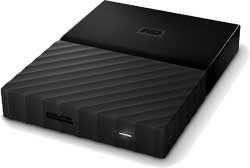 Seagate Expansion 8TB Desktop External Hard Drive USB 3.0
Was: $149.99 Price: $139.00 You Save: $10.99 (7%)