It's Thanksgiving week here in the U.S.A Expect the news to be slow as folks have other things to attend to. Please be safe and patient out there.
Don't forget that Uber, Lyft, and taxis are available if you've had too much holiday cheer.
I purchased:
Amazon Fire HD 10 Tablet [$50.00 off (33%)]
and the
Samsung 256GB microSD card to go with it [$40.00 off (47%)]
My aim is to watch stuff while on the treadmill or bike at the gym and maybe web surf while watching TV. There may be an article or two to follow.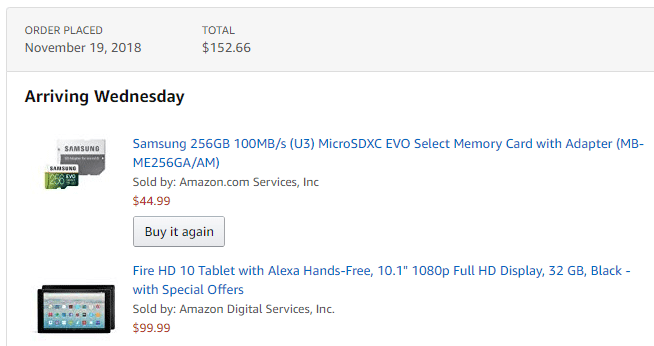 As Insurers Offer Discounts For Fitness Trackers, Wearers Should Step With Caution
"But just how much fitness trackers contribute — if at all — to better health and lower health care spending isn't yet known. Among the studies that cast doubt on their effectiveness is one published in 2016 by the University of Pittsburgh. That research found young adults who used fitness trackers in the study lost less weight than those in a control group who self-reported their exercise and diet…
Boyd is cautious but confident that some of the ongoing studies will show positive benefits for patient health. But he urges taking care before trading data for dollars. It's important to know the type of information your tracker is revealing about your health, he says, and to know exactly how it will be used. Your incentives could offer a clue "
Every breath you take
Every move you make
Every bond you break
Every step you take
I'll be watching you
Every single day
Every word you say
Every game you play
Every night you stay
I'll be watching you
Oh can't you see
You belong to me
My poor heart aches
With every step you take
Every move you make
Every vow you break
Every smile you fake
Every claim you stake
I'll be watching you
– The Police