Finished streaming Letterkenny while polishing off an entire bag of All Dressed Potato Chips as an omage :-/
Also streaming:
Last Kingdom season 4
Salem – Stopped watching
Motherland: Fort Salem
Outer Banks
Finished Homeland. Only started watching because season 7 was filmed here. Last season (8) stunk.
Recording – Belgravia
Tried – Little Fires Everywhere (because Reese Witherspoon) Didn't like it.
WTH?
In Virginia we are now allowed to go to the dentist but not the barber. Visualize that.
A barber and client can both wear masks and they are certainly not breathing DIRECTLY into each others faces.
Personally I don't care, I do my own using Wahl Balding Clippers. They are $90 at Amazon. Can be found cheaper if you hunt for it.
Sallybeauty.com = $60.29 + free shipping came up in my cart. I had bought mine in store a while back.
Intel Graphics – Windows 10 DCH Drivers
Version: 26.20.100.8141
"*04/29/20 Update* Reports of OEM errors are still occurring during installation. The majority, if not all of these, are due to the current driver on the system is non-DCH. This update will only install over OEM DCH drivers. If this occurs, follow these instructions:
WARNING: This will remove any OEM customizations. If the OEM does not have a DCH driver available, it's likely no customizations will be reinstalled by Windows Update after you upgrade to 100.8141. If you experience any issues such as flickering, BSOD, TDR, etc, please reinstall the latest OEM driver."
Download & Info
Microsoft rolls out Windows 10 2004 release preview ahead of expected May release to mainstream users
Blah, blah, blah, Win10 May 2020 Update will be release on May 28th.
Intel's 10th Gen Comet Lake for Desktops: Skylake-S Hits 10 Cores and 5.3 GHz
"Users wanting the 10-core 5.3 GHz will need to purchase the new top Core i9-10900K processor, which has a unit price of $488, and keep it under 70 ºC to enable Intel's new Thermal Velocity Boost. Not only that, despite the 125 W TDP listed on the box, Intel states that the turbo power recommendation is 250 W – the motherboard manufacturers we've spoken to have prepared for 320-350 W from their own testing, in order to maintain that top turbo for as long as possible."
Added bonus, it will heat your house in the winter.
Off Topic
Coronavirus NSW: Dossier lays out case against China bat virus program
"China deliberately suppressed or destroyed evidence of the coronavirus outbreak in an "assault on international transparency'' that cost tens of thousands of lives, according to a dossier prepared by concerned Western governments on the COVID-19 contagion…Its major themes include the "deadly denial of human-to-human transmission", the silencing or "disappearing" of doctors and scientists who spoke out, the destruction of evidence of the virus from genomic studies laboratories, and "bleaching of wildlife market stalls", along with the refusal to provide live virus samples to international scientists working on a vaccine."
You cannot trust anything the Chinese Communist government says or does.
Human Rights Watch – China's Global Threat to Human Rights
Amnesty International – Everything you need to know about human rights in China
Time – China Poses an 'Existential Threat' to International Human Rights, Says Rights Group After Director Barred From Hong Kong
How close are people to each other? These pictures are taken at the same time, but show two very different things
"Who are you going to believe, me or your lying eyes?" – Richard Pryor Video 100% X-rated, NSFW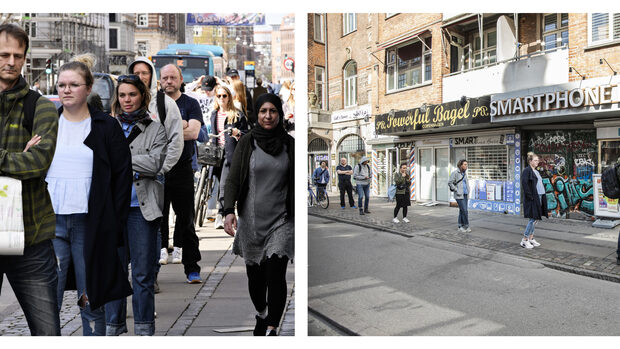 J.K. Rowling Honors 'Battle Of Hogwarts' Anniversary With $1.2 Million Charity Donation
"Today's the 22nd anniversary of the Battle of Hogwarts, but I'm going to be honest and say that it feels inappropriate to talk about fictional deaths today. Too many people are losing loved ones in the real world. So on this anniversary of a great wizarding victory, I'm thinking of the people who're out there doing their jobs to protect us and our way of life. I have 3 key workers in my immediate family, and like all such relatives, I'm torn between pride and anxiety.As ever in a crisis of this sort, the poorest and most vulnerable are hit hardest, so in honour of the Battle of Hogwarts, I'll be making a donation of £1m, half of which will go to crisis.org.uk, who're helping the homeless during the pandemic and half of which will go to refuge.org.uk, because we know that domestic abuse has, sadly, increased hugely during the lockdown."
Well done madam.