I'm not a fan of vegetables. About the only way I eat them is if they are in spicy Asian style dishes or in fajitas.
Salsa helps me get my veggies in. I use it for "taco salads", on southwestern fare, on a burger, and as a snack. It's fresh, delicious, and good for you.



You'll need a good food processor to slice/dice/mix everything. I use the Hamilton Beach 10 Cup Food Processor.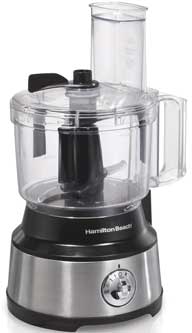 Everyone has their own taste. My wife likes her salsa on the tamer side. And although I don't want my salsa to be super hot, I do want a little kick. I do this by either making two batches or by splitting the single batch and adding some heat to the other half. I started off with several salsa recipes and after many batches came up with what is below.
A few notes:
– Most recipes claim the salsa is good for 6-12 days which sounds kind of nasty to me. It's gone in 3 days max around here so I can't vouch for that. IMHO tastes better on day 2 after the flavors are able to mingle in the fridge for a while. But then I feel the same way about pasta.
– I usually leave the seeds in on spicy peppers. It's up to you.
– Peppers vary in size. I consider the size of jalapenos I use to be "medium".
– I switch the type of onions I use almost every batch. Sometimes I combine types. See: What's the Difference between White, Yellow, and Red Onions?
– I prefer a fresh lime over lime juice. I use a simple squeezer like this and use the pulp too.
– I use "pulse" on the food processor. That allows me to control the consistency.
– I haven't tried the local, legendary Hanover tomatoes in the salsa but will when they come in to season.
– Once you get the hang of it, it only takes 10 minutes to make this.
Tame
4 Roma tomatoes, quartered
1/2 onion (your pick), peeled and quartered
2 garlic cloves, peeled
1 jalapeno
1/3-1/2 Green Bell Pepper
1/2-1 cup fresh cilantro (we love cilantro)
1 fully squeezed lime with the pulp or 3 tablespoons fresh lime juice
2 tablespoons apple cider vinegar (optional)
1 teaspoon chili powder
1 teaspoon black pepper
1 1/2 teaspoons ground cumin
1 teaspoon oregano (optional)
1 1/2 teaspoons salt (I sub Cajun seasoning)
1, 14.5oz can Muir Glen Fire Roasted Crushed Tomatoes
Put everything in the food processor and blend to desired consistency. Refrigerate until well chilled.
– – – – – – – – – –
Bold (half batch)
Use half the batch from above plus:
1 habanero
1 jalapeno
Sometimes I add a little more onion.
– – – – – – – – – –
Bold (full batch)
4 Roma tomatoes, quartered
1/2 – 3/4 onion (your pick), peeled and quartered
2 garlic cloves, peeled
2-3 jalapenos
2 habaneros
1/3-1/2 Green Bell Pepper
1/2-1 cup fresh cilantro
1 fully squeezed lime with the pulp or 3 tablespoons fresh lime juice
2 tablespoons apple cider vinegar (optional)
1 teaspoon chili powder
1 teaspoon black pepper
1 1/2 teaspoons ground cumin
1 teaspoon oregano (optional)
1 1/2 teaspoons salt (I sub Cajun seasoning)