This is how I set up and run Firefox on my Windows machines. It's pretty basic but it is all I need.

If you are looking for "speed tweaks" then this guide isn't for you. IMHO all the modern browsers are fast enough that I don't notice a difference. If you are finding Firefox too slow I recommend:
– Disabling add-ons. Basically every add-on is going to slow the browser down.
– Use an optimized version of FF. Pale Moon and Waterfox come to mind.
If you are looking for an ultimate privacy guide for FF then this guide also isn't for you and neither is Firefox.
You'll want Tor Browser
Download and install Firefox:
– U.S.A. Home Page
– All downloads
Step 1 – Move your profile directory
This helps all your FF settings, bookmarks, passwords, etc. survive OS related issues. You want to move this to a separate drive or partition.
– copy your profile to the new location. I put it a folder called Firefox.
press the Windows + R keys and copy/paste this: %APPDATA%\Mozilla\Firefox\
copy the Profiles folder to the new location
– press the Windows + R keys and type firefox -P (the P is capitalized)
delete the old profile > click the Create Profile… button > enter your name in the Enter new profile name box >
click the Choose Folder… button and navigate to the Firefox folder you created > click Finish > Done
Step 2 – Privacy Options
Go to Hamburger Menu > Options > Privacy & Security > Firefox Data Collection and Use > uncheck all boxes
Double check the Security / Deceptive Content and Dangerous Software Protection section and make sure all boxes are checked
Step 3 – Download Extensions
I only use 3:
Noscript – Default to disabled until I feel I need it.
uBlock Origin – Ad blocker
Privacy Badger – Blocks spying ads and invisible trackers
* I do not whitelist sites. Not even my own. Here is why.

---
Helpful Pics
Options & Customization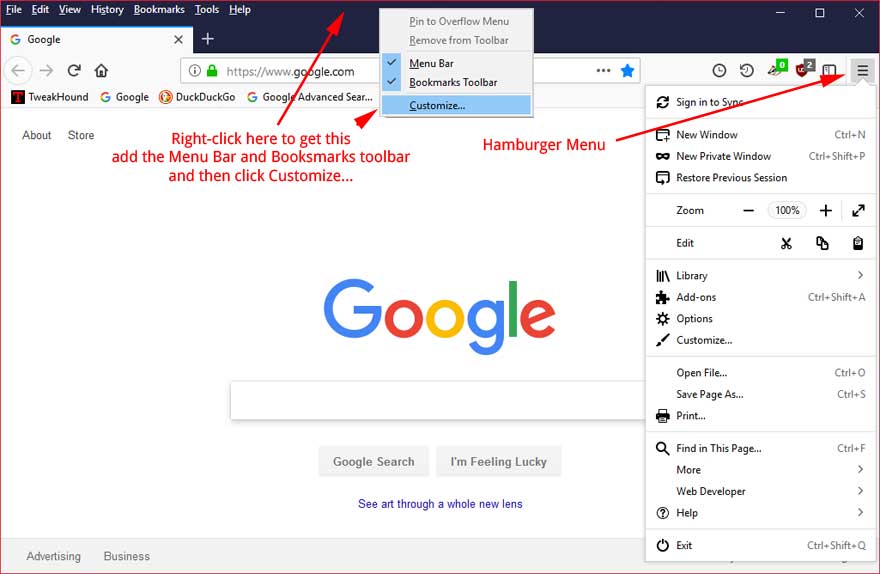 Add/Remove icons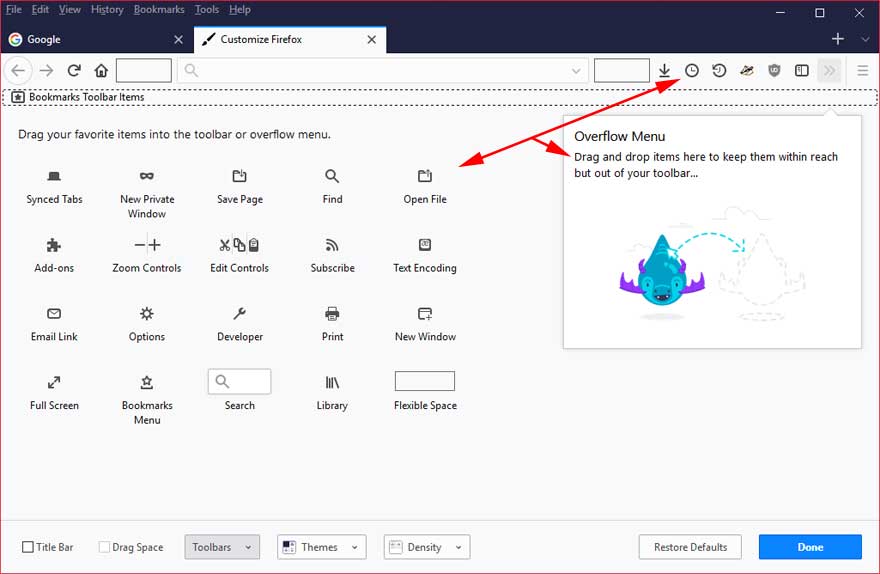 ---
Miscellaneous Tweaks:
Block Notifications
Go to Hamburger Menu > Options > Privacy & Security > Permissions
Go to the Notifications line > click the Settings… button >
check the box next to Block new requests asking to allow notifications to keep websites from annoying you.
Disable Pocket
type about:config in the address bar >
Type pocket.enabled in the search box > change value to false
Disable Ads
Open Firefox > go to File > New Tab > click on gear icon > uncheck Show Sponsored Stories (I uncheck everything) > click Done.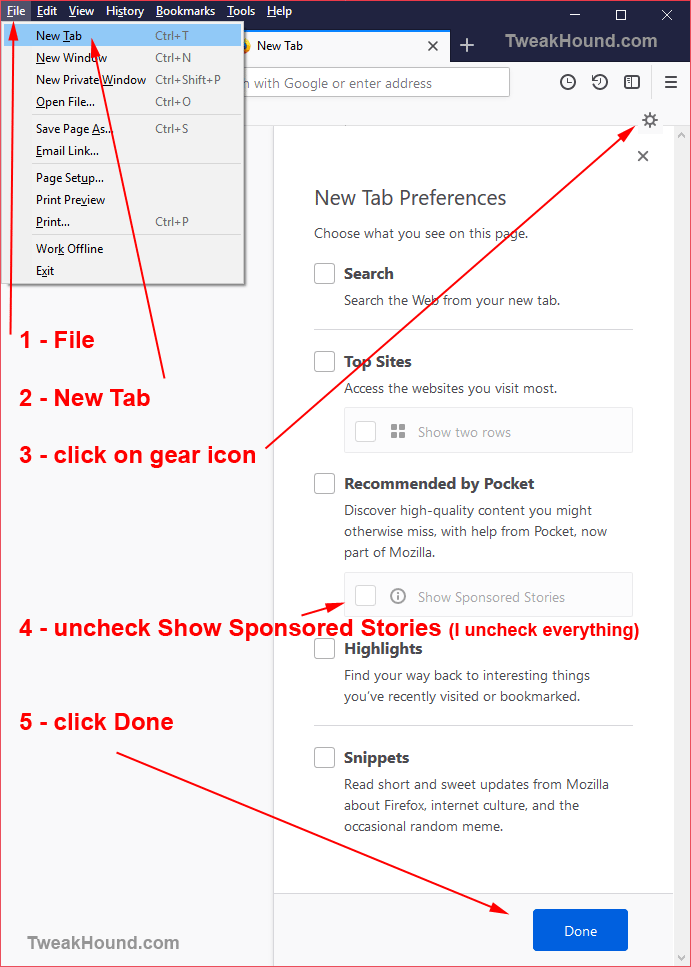 I know you guys have your own tweaks. Please share.