Here is my "review" of the Samsung 970 EVO Plus 250GB PCIe NVMe – M.2 Internal SSD.
No bravo sierra, no fluff, just some numbers and my not so humble opinion…

I wanted a 3rd NVMe SSD to replace and older SATA SSD. No use going backwards so I decided to get the 970 EVO and play swapsies with the drives I had. I pre-ordered it at Amazon for $90. The 970 EVO replaced a 960 EVO. When I ordered the SSD I had already read the reviews from the major hardware sites. I knew the numbers said it was faster. I also knew that we have hit a point where most of us aren't going to see or feel the change in the last few generations of SSD's.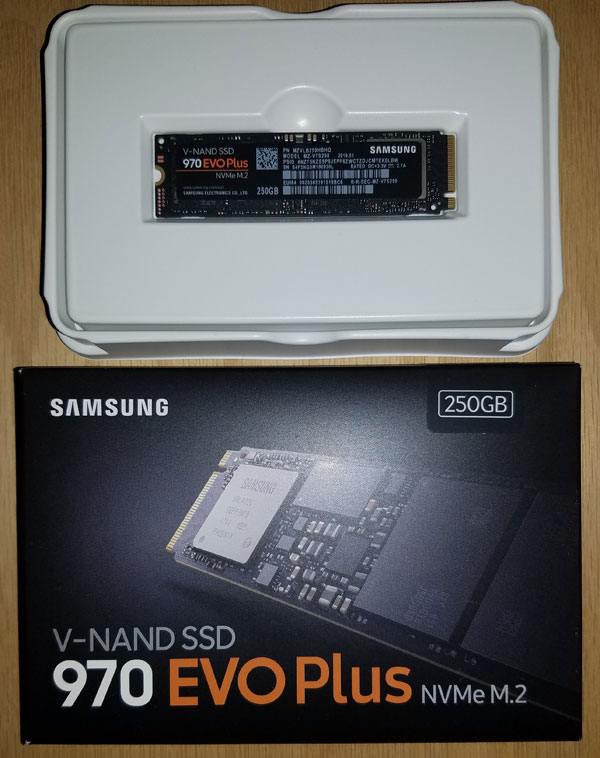 Here are some reviews from the big sites:
AnandTech – The Samsung 970 EVO Plus (250GB, 1TB) NVMe SSD Review: 96-Layer 3D NAND
For most purposes, the 970 EVO Plus can now be regarded as Samsung's flagship consumer SSD, and it deserves that title. Its primary competition comes from NVMe drives that are much cheaper but offer similar real-world performance with lower worst-case synthetic benchmark performance.
HotHardware – Samsung SSD 970 EVO Plus Review: Optimized For Speed
That cost per gigabyte puts the Samsung SSD 970 EVO Plus among the more expensive M.2-based NVMe gumsticks currently on the market, and nearly double the price of more mainstream drives like the Crucial P1…Among the enthusiast-class drives on the market however, the SSD 970 EVO Plus is easily among the best options available, especially at its higher capacities. And while they carry a clear premium based on their strong all-around performance, they are not prohibitively more expensive either.
Guru3d – Samsung 970 EVO Plus NVMe M.2. (1TB) SSD review
The new EVO PLUS mostly offers improved write speeds. For the tested 1TB model if we compare the 970 EVO and 970 EVO PLUS, that's a 100 MB/sec on reads, but a substantial 500 MB/sec on writes. That metric won't bring anything noticeable for your game PC other than bragging rights. It, however, does make Samsung the fastest on the globe, as they squeeze out every little bit of performance the M2 on x4 can take. The throughput is insane, the writes are insane.
Swapsies
I backed up my the 960 using Macrium Reflect, swapped in the 970 and restored the image to that drive. I already had the latest NVMe driver so I was good to go. After boot I fired up Samsung Magician and double checked everything. That too was good to go.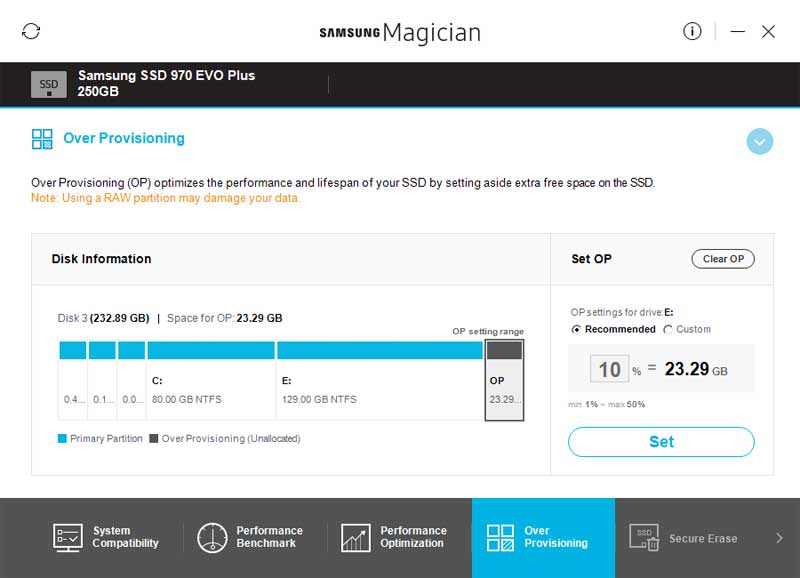 Benchmarks
The numbers are impressive on their own. Not so much vs. the 2 generations old 960 EVO.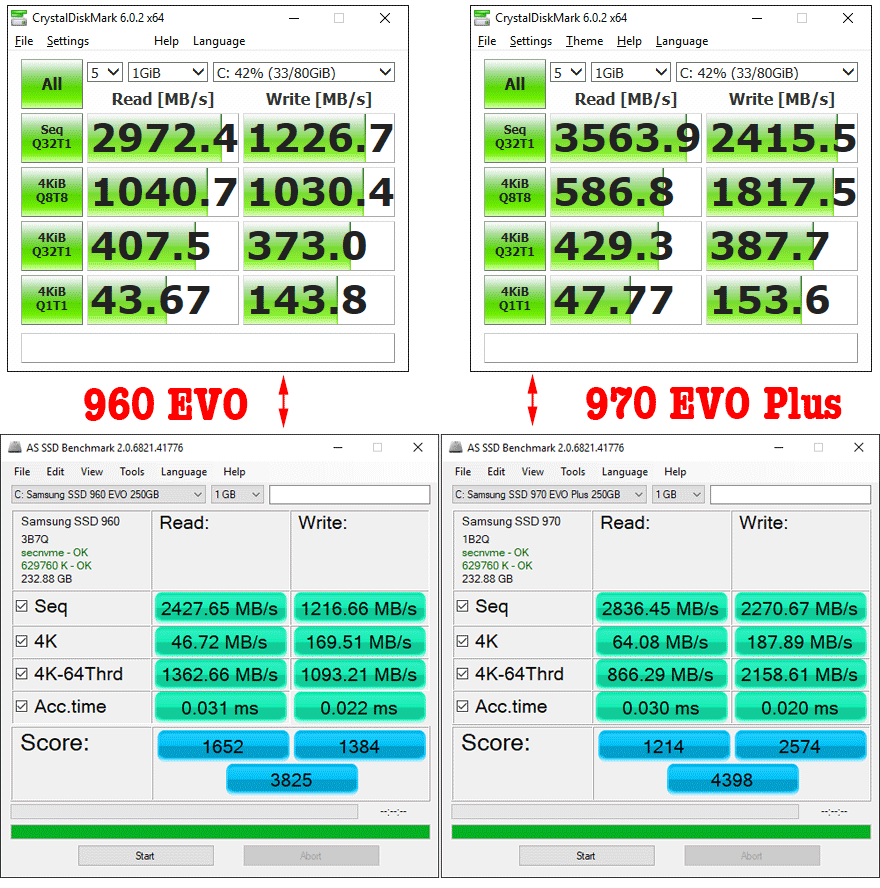 PCMark
I like PCMark because the benchmarks it runs use a variety of tasks that simulate real-world use. It can give to a glimpse of whether you can actually see and feel differences.
Again, the numbers are impressive on their own. Not so much vs. the 2 generations old 960 EVO.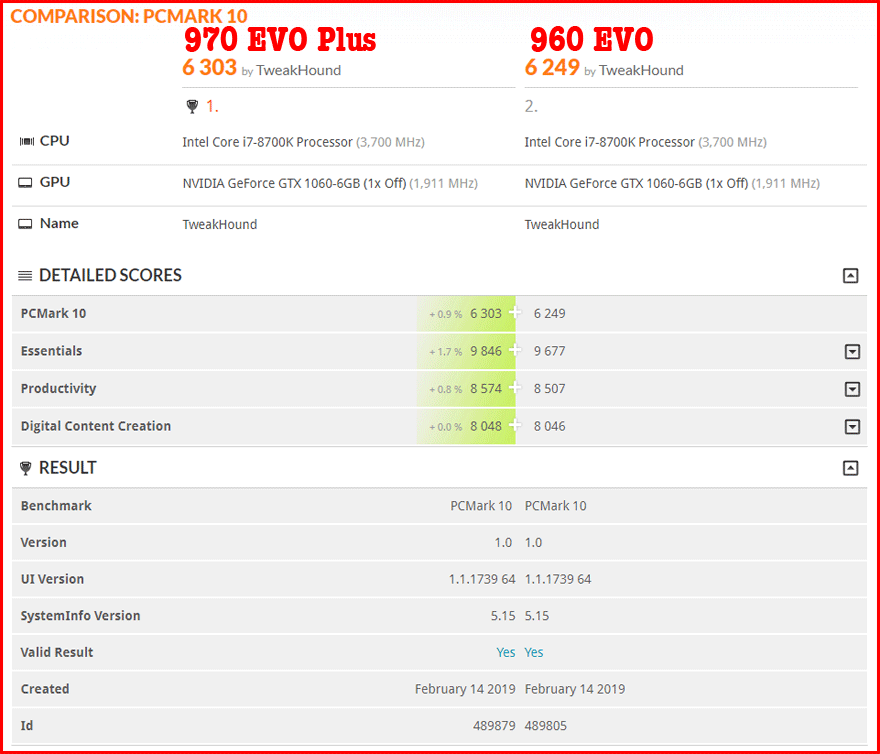 Real World
I had told a friend last night via text, "Had a 960. Not much difference". Yeah, it's a fast dive but I'm not all that impressed with the 970. You would think after 2 years they could do better. Still, the price is OK and I've yet to have an issue with the many Sansumg SSDs I've had. If you need a new NVMe SSD I say go for it. If you're looking for an upgrade you may want to reconsider.
Amazon – Samsung 970 EVO Plus Series – 250GB PCIe NVMe – M.2 Internal SSD (MZ-V7S250B/AM)
Price: $89.99