On March 10th a reader contacted me over an issue with O&O Shutup10. He pointed to this thread:

https://malwaretips.com/threads/o-o-shutup10-one-setting-keeps-getting-reset-automatically.107151/
"for some reason under the "Security" settings the "Disable Telemetry" was reset automatically some how. I had to set it to green again and restart my computer, but since then I have noticed that so far the "Disable Telemetry" was reset automatically at least 5 times now? Even once after I had reactivated the setting and had restarted my computer and did nothing for about 10 minutes on my computer … the setting was again reset to red?"
Here is the setting referred to: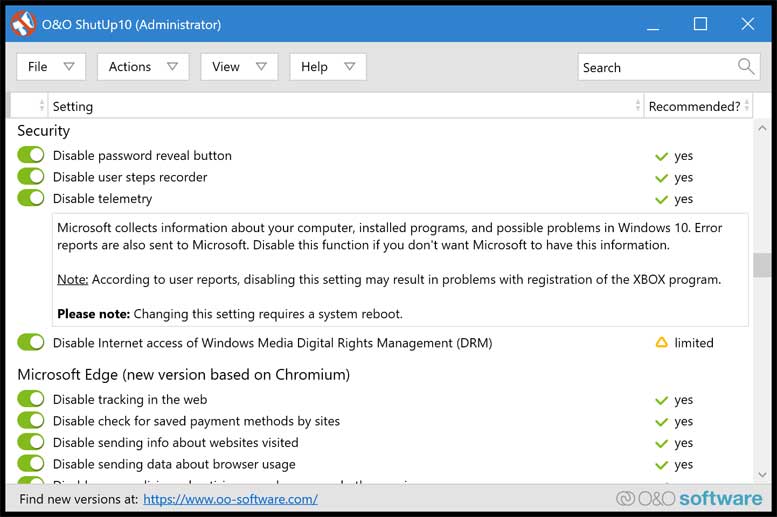 What this setting does is disable the dmwappushservice. Microsoft has been playing games with this service since people started disabling it almost immediately after Win10 was released. Originally it was named in the Services Management Console as dmwappushservice with a display name of dmwappushsvc . Then people started disabling it so Microsoft renamed it to Device Management Wireless Application Protocol (WAP) Push message Routing Service. You'll remember they pulled the same crap with DiagTrack.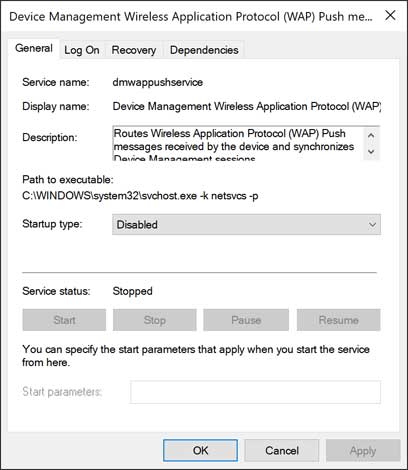 I can confirm that this service does reenable itself on reboot on SOME computers.
I manually disabled the dmwappushservice rebooted, waited a bit, checked services.msc and it is back to Manual (Trigger Start).
Hmmm…
I check the Error Log and find:
Error Event ID 406 Microsoft-Windows-DeviceManagement-Enterprise-Diagnostics-Provider
MDM PushRouter: Pushrouter failed to start because the dmwappushservice service is disabled.
A bunch of Googling suggests this started with KB4598291. This is an optional "Preview" and "non-security update" that I don't have installed. So I checked the file list against the last Patch Tuesday files and it is pretty obvious that and both contain a lot of similar changes.
Next I used Macrium Reflect to return one of the computers to an image from January 26th. The dmwappushservice service was already disabled. I turned it on and off and rebooted multiple times. The status stayed the same confirming to me that a Windows Update did indeed change things.
Here is what pisses me off. There is no way any update by Microsoft should consistently bypass my Services settings. This isn't just changing things via an update, this is continually changing a service setting on every reboot. If I disable a service it should stay disabled. I can see only 2 reasons for this happening:
1 – This is another big screwup brought to you by Windows Update.
2 – Microsoft just gave us the middle finger.
Conclusion
Microsoft created this issue with Windows Updates KB4598291 and KB5000802. O&O Shutup10 cannot fix what Microsoft broke. I haven't tried a workaround but I suppose you could try and delete the service. I'm not deleting it and wouldn't recommend it. There is a goofy supposed workaround that involves inherited permissions but I have not and will not try it. Unless someone finds a legit workaround we are just gonna have to wait for Microsoft to fix it.