Clean, Defrag, & Optimize
CCleaner
First download and install CCleaner Slim.
Configure it – Poke around and choose your options (I enable: Run CCleaner when the computer starts).
Here are my recommendations: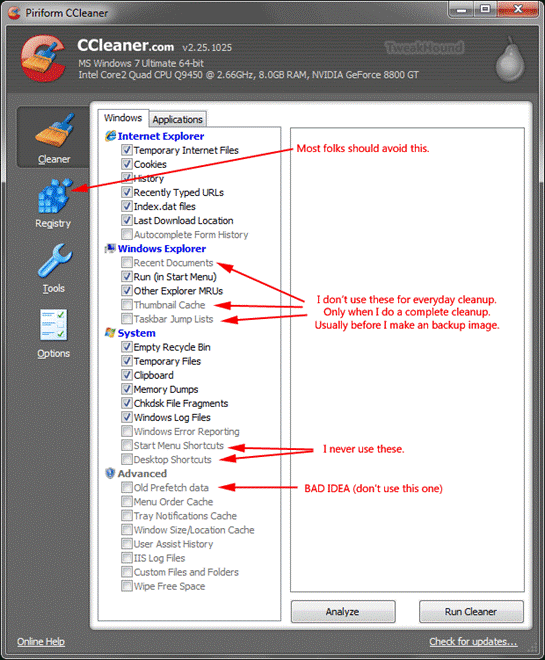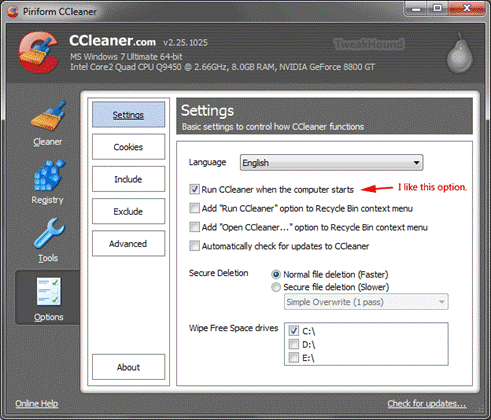 Now Run it.
Autoruns
Next, download Autoruns.
Extract the folder to your root drive (usually C) as in C:\Autoruns. We will work with this in a minute.
Step 1:
Get everything you possibly can out of the Notification Area (by the time in the lower right hand of the screen) The best way to do this is in the applications options. If that fails, use Autoruns. Navigate to and open the Autoruns folder, double-click autoruns.exe. Click on the Logon tab, Uncheck anything you do not want to start with Windows 7. The fewer things the better. If you don't know what it is, leave it alone. Advanced users may want to go to the SERVICES tab and make modifications there.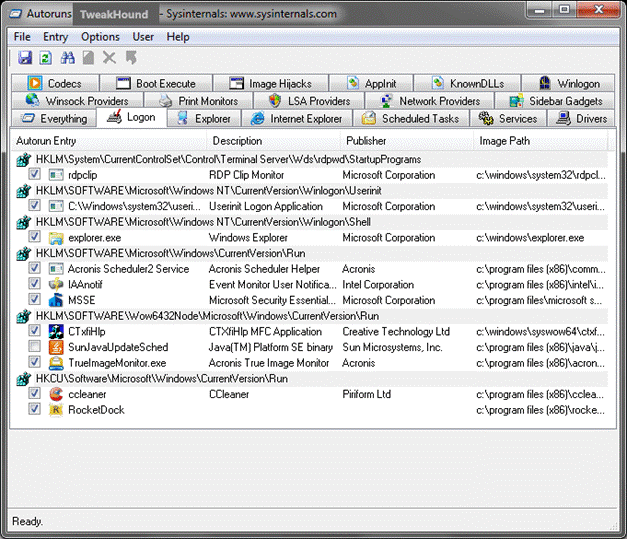 Delete All But The Most Recent Restore Point
Type disk cleanup in the Start Menu search box and click on disk cleanup from that menu. (Start Orb > All Programs > Accessories > System Tools > Disk Cleanup).
Click on the More Options tab > then in the System Restore and Shadow Copies section click the Cleanup… button >
in the resulting screen click the Delete button.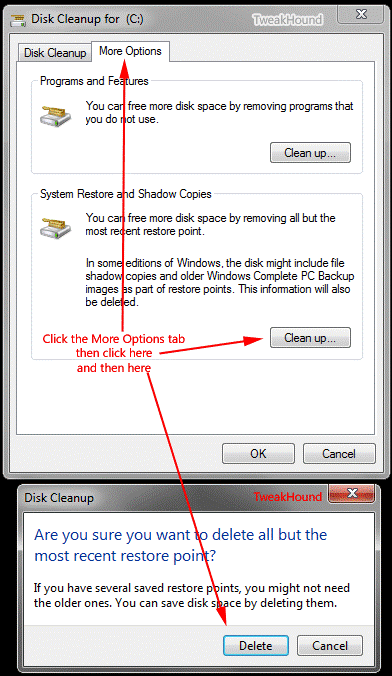 Advanced Disk Cleanup
-Press the Windows + R keys, type cleanmgr /sageset:50
-Select the options you desire. Click OK and close out the window.
-Press the Windows + R keys, type cleanmgr /sagerun:50
(note – there is a space between the r and the /)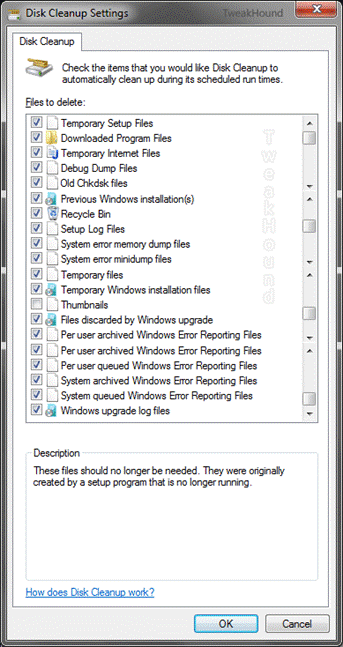 * You can use this command at any time for regular disk cleanups. I use the number 50 because it is easy to remember, you can use any number you want.
Step 3:
Start up in Safe Mode (press F8 while booting and choose Safe Mode)
Run CCleaner and Advanced Disk Cleanup (just the sagerun part) again.
Reboot
Step 4:
Press the Windows + R keys > type dfrgui.exe (Start Orb > All Programs > Accessories > System Tools > Disk Defragmenter).
While you are here you may want to reconfigure or disable Automatic Defrag. When finished shut down and restart.
If you use a 3rd party defragmenter, use that instead of Windows defragmenter.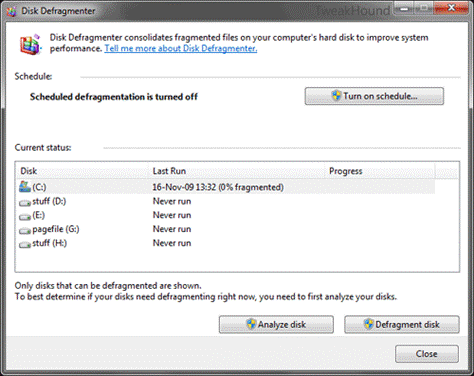 If you do not use a 3rd party defragmenter download PageDefrag and run it.
Step 5:
If you use a drive imaging program, make an image now.
Step 6:
After 4-7 days of use repeat this section. Then make an image. This will give you a perfect image with prefetching (Superfetch) optimized.